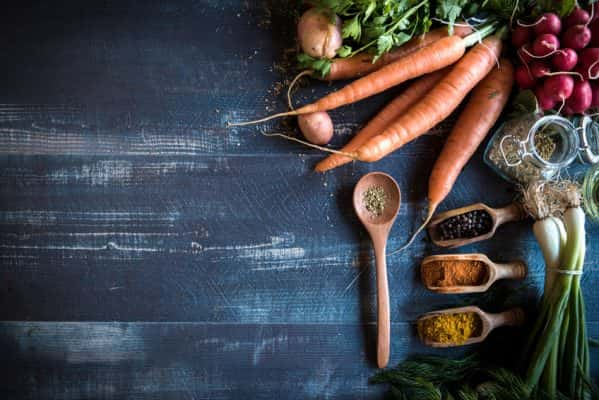 Cooking concept with vegetables and copy space in the middle on wooden background
This is a great salad for the winter months which takes advantage of seasonal ingredients.  To make it more of a substantial course, drape some paper thin slices of proscuitto or coppa around the plate.
Serves 6
3 cups mixed savory greens such as arugula, watercress, tat tsoi, endive and/or radicchio
2 firm fuyu persimmons, sliced thinly into rounds
2 ripe pears, sliced in wedges
1 medium bulb fresh fennel, sliced thinly
Fig Vinaigrette (recipe follows)
1/2 cup pecan halves, lightly toasted
Arrange greens, persimmins, pears and fennel attractively on plates, drizzle some fig vinaigrette over all and top with pecan halves.
Fig Vinaigrette
Yield:  Approximately 1 1/4 cups
1/2 cup coarsely chopped dried figs
1 1/2 cups apple juice or cider
1 teaspoon minced fresh thyme (1/2 teaspoon dried)
1  tablespoon minced shalllots
4 tablespoons sherry vinegar
1/4 cup olive oil
salt and pepper to taste
Combine dried figs and apple juice in a small saucepan.  Bring to a boil.  Reduce heat and simmer uncovered for 6-8 minutes or until liquid is reduced by 1/3.
Pour fig mixture into a blender and puree.  Pour into a mixing bowl.  Whisk all other ingredients and season with salt and pepper.  Store refrigerated up to 5 days.
John Ash © 1998