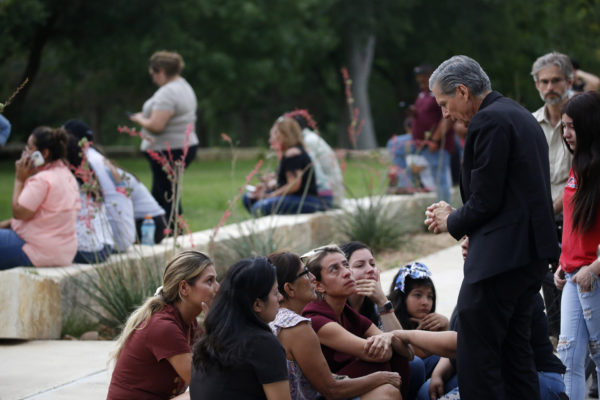 The archbishop of San Antonio, Gustavo Garcia-Siller, right, comforts families outside the Civic Center following a deadly school shooting at Robb Elementary School in Uvalde, Texas, Tuesday, May 24, 2022. (AP Photo/Dario Lopez-Mills)
Locals are speaking out after the deadly shooting in Uvalde, Texas left 19 children and two adults dead. About 20 people participated in a vigil at Walnut Park in Petaluma Tuesday evening, holding candles and signs for Moms Demand Action. Congressman Mike Thompson of St. Helena sent his condolences but again pushed for gun control legislation saying in part "Thoughts and prayers are not enough, and gutless politicians that have opposed life-saving measures in the past must step up and help us end gun violence."
Congressman Thompson spoke with KSRO's Michelle Marques and Larry Olson on gun violence.
Dr. Steve Herrington, the Superintendent of the Sonoma County Office of Education, said that local schools districts are always working to keep students safe but "
vigilance and commitment at the local level is no substitute for strong federal action and changes in our nation's laws that will ensure tragedies like those in Uvalde, Newtown, Parkland, and Columbine, among many others, stop happening."
At the state level, California's Governor is being critical of the Republican party after a shooting in Texas killed at least 19 children and two adults. Governor Gavin Newsom tweeted yesterday about "another shooting" and claimed the GOP won't do anything about it. Newsom is critiquing what he says is California's lack of progress on passing gun control laws. Right wing politicians tend to target Newsom and the state's progressive policies.