TUNA AND AVOCADO NUTA (TUNA AND AVOCADO IN MISO DRESSING)
Serves 4 – 6 as an appetizer
Use only sashimi-quality tuna for this dish from a responsibly fished source. Salmon may be substituted in place of the tuna with same provisos. Traditionally, Nuta is made with miso, sugar, and vinegar. The addition of Japanese mayonnaise adds a creamy finish. Regular American mayo can be used in its place. Water or stock can be used in place of dashi, though the dressing will be slightly less flavorful.
1 tablespoon white or light red miso paste
2 tablespoons mayonnaise (preferably Japanese Kewpie)
2 teaspoons sugar
1 tablespoon dashi (see recipe, bottom)
1 pound sashimi-grade tuna, cut into 1/2-inch to 3/4-inch cubes
1 firm-ripe avocado, cut into 1/2-inch to 3/4-inch cubes
2 scallions, sliced thin
1/4 cup picked cilantro leaves
Combine miso, mayo, sugar, and dashi in small bowl and mix until smooth. Toss gently with tuna, avocado, scallions, and cilantro. Serve immediately.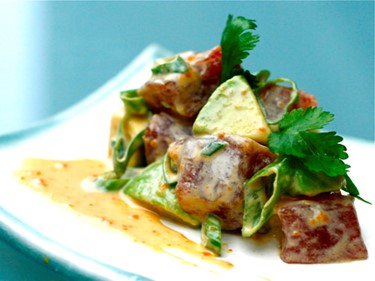 BAGNA CAUDA
One of my favorite appetizers to share with friends is an ancient concoction from Italy called Bagna Cauda. It a warm olive oil, garlic and anchovy sauce that you dip cooked or raw vegetables, crusty bread or almost anything into. It couldn't be simpler to make and you can adjust ingredients to suit your taste.
3/4 cup extra virgin olive oil
3 tablespoons butter
2 teaspoons garlic, chopped very fine
8 – 10 drained anchovy fillets, chopped fine
Salt and freshly ground pepper
Add all ingredients to a heavy bottomed saucepan. Heat gently stirring with a wooden spoon to mash and dissolve the anchovies. Add salt and pepper to your taste and serve warm. This is a great opportunity to use one of those little candles warmed serving dishes that you got as a wedding present! It'll keep it warm you'll be able to enjoy the Bagna Cauda through the evening.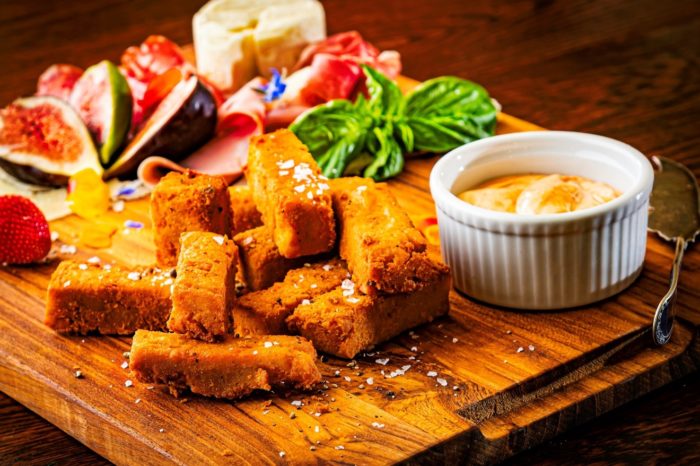 PANISSES
6 – 8 servings as an appetizer or first course
Panisse is a specialty from Provence in France made with chickpea flour. Typically fried, it is of Ligurian origin and now known and appreciated in the southeast of France, particularly in Marseille. Many refer to it as a chickpea "French Fry" which it resembles. Crisp fried foods have a special affinity for sparkling wine. Serve these warm with charcuterie and the unique and gorgeous 2017 Grand Noir de Noir.
2 tablespoons olive oil plus more for frying
Olive oil for frying and coating dish
2-1/4 cups chickpea flour
4 peeled garlic cloves, pressed
2 teaspoons kosher salt
1 teaspoon ground cumin
1/2 teaspoon ground fennel or fennel pollen
1/2 teaspoon freshly ground pepper
1/2 teaspoon smoked paprika
Zest and juice from 1 small lemon
1 quart chicken or vegetable stock
Coarse flaky salt and freshly cracked pepper, for serving
Lightly oil an 8-inch square cake pan or dish with 1 tablespoon of olive oil.
Pour the chickpea flour in a medium saucepan along with the garlic, salt, cumin, fennel, pepper, paprika, lemon zest and juice, and remaining 1 tablespoon olive oil. Add half of the stock and stir with a sturdy whisk until the mixture is smooth. Whisk in the rest of the stock.
Bring the mixture to a boil over moderately high heat, stirring frequently with the whisk until it just begins to boil and thicken. Reduce the heat to low-to-medium, and continue to cook, stirring with the whisk (or a wooden spoon or spatula) until the mixture thickens and holds its shape and pulls away from the side of the pan, about 8 minutes. It should resemble stiff, sticky mashed potatoes.
Immediately scrape the mixture into the oiled pan, smooth the top, and let cool. It may be a little difficult to get the top smooth but don't worry. Do it as quickly as you can. You can use an offset spatula with a little more oil to help smooth the top. Cool completely in the refrigerator for at least an hour or overnight.
To fry the panisses, unmold the solidified mixture on a cutting board and slice into three rectangles. Then use a knife to cut 3/4-inch batons.
In a heavy-duty skillet, heat 1/2 inch of olive oil. When shimmering hot, fry the panisses in batches, not crowding them in the pan. Once the bottom is nicely browned and crisp on the bottom, turn with tongs, turning them until each side is deep golden brown. They will take at about 4 minutes to fry them and the first batch will cook slower than subsequent batches.
Remove the panisses from the pan and drain on paper towels or on a brown paper bag, sprinkling them very generously with salt and pepper. Don't be stingy with either. Continue frying the rest of the panisses, heating more oil in the pan as needed. Serve the panisses warm.
While it's traditional to serve panisses just with salt and pepper, it is also often served with a flavored mayonnaise. If you want to liven things up, mix some harissa with mayonnaise to taste and use that as a dip.
JAPANESE FRIED CHICKEN
Serves 4 – 6
Known as Kara-age this is a classic nibble sold all over Japan and especially at Izakayas, the Japanese bars that dot Tokyo's nighttime foodscape. Instead of the thick flour-based batters that have come from America, this chicken is traditionally marinated, dusted with potato starch and then beautifully and crisply fried. Its got everything you'd want in a bar snack: crispy, juicy, and salty.
1-pound boneless skinless chicken thighs, trimmed of excess fat
3 tablespoons soy sauce
2 tablespoon mirin
1 tablespoon sake (optional)
2 cloves garlic, finely minced or pressed through garlic press
1 tablespoon grated fresh ginger
Vegetable oil for frying
3/4 cup potato or corn starch
Sea salt
1 or 2 lemons, cut into wedges
Cut the chicken into 2-inch pieces. Combine the soy sauce, mirin, sake, garlic, and ginger in a small bowl, add the chicken and gently stir to coat the chicken. Marinate refrigerated for 30 minutes or so.
Add vegetable oil to a heavy, deep skillet to a depth of 1 inch or so. Heat to 350º. Remove chicken from the marinade and dredge them in the potato starch, shaking to remove excess. Add chicken pieces in batches if necessary to the hot oil and cook turning occasionally until brown and crisp, about 5 minutes. Drain chicken pieces on paper towels and season immediately with salt. Serve with lemon wedges to squeeze over.
QUICK MARINATED SALMON
Serves 4 as a starter course
This is a gravlax approach which the Scandinavians are famous for. Here I don't marinate for a day or two as we would for ordinary gravlax but cure it for just a few minutes and then top with a lemon and herb vinaigrette.
1/2-pound salmon, skin on and chilled
Kosher salt and freshly ground black pepper, to taste
1 teaspoon coarsely chopped tarragon
2 teaspoons coarsely chopped parsley
1 teaspoon chopped chives
Juice of 1 lemon
3 tablespoons extra virgin olive oil
2 teaspoons drained small capers
2 teaspoons rinsed fresh salmon caviar
Caperberries for garnish
Good crackers or black bread, sliced, to serve alongside.
Slice the salmon on a 45-degree bias as thinly as you can without tearing it. Using the skin as your guide, slide the knife as close to it as possible (there should be no skin adhering to the slice). Use long sawing strokes to make the slices. It's best if you can almost see through the fish. Cut away and discard any of the dark meat. Each slice should be about 1 ounce.
Sprinkle each plate of 4 plates with a little salt and pepper and lay two slices of the salmon neatly on top. Sprinkle with a little more salt and pepper and cover with plastic wrap for 15 minutes to allow the salmon to quick cure.
To serve: Whisk together the herbs, lemon juice and olive oil. Drizzle over the salmon and scatter the capers and salmon eggs over. Serve immediately with crisp crackers or thinly sliced black bread.
John Ash © 2023