Sonoma County Pride & Graton Resort & Casino presents "Behind the Curtain" Wizard of Oz, Sing-Along Movie & Dinner Sponsored by U.S. Bank
Grab your ruby slippers and click your heels three times to transport yourself to Sonoma County Pride's "Behind the Curtain" Dinner & Wizard of Oz Sing-Along! We are transforming Sally Tomatoes into a magical wonderland, and you are invited to come to watch this classic movie musical with all the words to the songs displayed on the screen for you and your friends to sing along!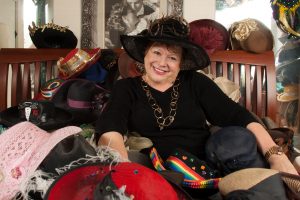 Follow the Yellow Brick Road and sing along with Dorothy, Auntie Em, Toto, The Tin Man, Scarecrow, Cowardly Lion, and the rest of the characters as they make their way to the enchanting Emerald City. Master of Ceremonies for the evening's festivities will be the SF Bay Times' Jan Wahl, two-time Emmy Award winner, television and radio broadcaster, film critic, and Hollywood historian. Excited for the event, "Your Favorite Movie Critic" Wahl rhapsodizes, "What a perfect time, and perfect movie, to celebrate life, Pride and gorgeous Sonoma County!" Concurring is Grace Villafuerte, Sonoma County Pride's VP, who adds "After a year of the pandemic, it will be such a relief to come together, while still following covid guidelines, to watch such an iconic movie for our community, sit outdoors enjoying a Sonoma County summer, and sing along with such familiar songs!"  Wahl will lead the crowd through the evening's audience participation events, which will include a trivia quiz and a movie-themed costume contest. Dress as your favorite Wizard of Oz character and be prepared to test your Wizard of Oz knowledge for fun and exciting prizes.
Check out Jan Wahl's weekly column "Off The Wahl" every week at the San Francisco Bay Times.
Dinner Options (you will select them at checkout) Include:
Fried Chicken – Airline breast chicken with gravy.

BBQ Pulled Pork – Comes with small Hawaiian rolls and Pineapple coleslaw.

Grilled Vegetable Napoleon – Grilled veggies stacks and topped with a balsamic drizzle.
Each main entry comes with Garlic Mashed Potatoes and Succotash (sweet Corn with Lima Beans or other shell beans)