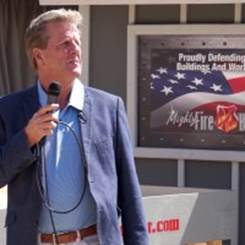 Ask the Expert: Fire Ready North Bay-Wildfire Depot
Steve Conboy is the Founder and President of Mighty Fire Breaker and the first-ever Wildfire Depot, located in Rohnert Park.
Wildfire Depot is a fire suppression company dedicated to serving homeowners, architects, contractors, and fire professionals. It's their mission to reduce the risk of fire events affecting the insurance industry, saving property, human lives, and animals, while reducing damage to the environment.
Now open by appointment only, please call 1-877-4-SAFE HOME or 1-877-472-3346- 5050 Commerce Blvd Rohnert Park, CA. 
More information about Steve Conboy
Steve Conboy, born in Brooklyn, transferred from AFGE Local 940 to California over 40 years ago. Steve is an award-winning and nationally recognized in early fire elimination programs. He was recently written about in the American Entrepreneur Book and his own book Nature Is Screaming Are We Ready to Listen just published. His next book series is for children called BigWood and LittleWood. This book teaches children about nature forest science and what humans have to start doing to defend the future of our environments.