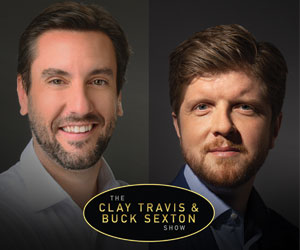 The Clay Travis & Buck Sexton Show
Buck Sexton is co-host of The Clay Travis & Buck Sexton Show, a three-hour talk radio program weekdays 9a-12p on KSRO. Joined by Clay Travis, the duo broadcasts in the legendary timeslot held by The Rush Limbaugh Show for more than three decades. Each day on the program, Travis and Sexton carry on a new form of broadcast excellence in the tradition of the late radio icon as they tackle the biggest stories in news, politics and current events with intelligence and humor. Together, they guide listeners through the latest headlines and hot topics with fun and entertaining conversations and opinions. Sexton previously served as a CIA officer in the Counter terrorism Center (CTC) and the Office of Iraq Analysis. He completed tours of duty as an intelligence officer in Iraq and Afghanistan, as well as other hot spots around the globe, and led intelligence briefings for senior U.S. officials including President George W. Bush and Vice President Dick Cheney. Sexton also served in the New York Police Department (NYPD) Intelligence Division working on counter terrorism and counter-radicalization issues. A native of New York City, Sexton is the author of Occupy: America Spring, a behind-the-scenes exploration of Occupy Wall Street, including the radical roots and revolutionary goals that lie beneath the not-so-ragtag movement. He holds a B.A. in Political Science from Amherst College.
Clay Travis is co-host of The Clay Travis & Buck Sexton Show.  As a noted columnist and tv host, Clay has anchored political coverage both on air and online, gaining particurlarly strong traction through a project called Outkick, attracting an average of two million unique visitor each month. A graduate of George Washington University as well as VanderbiltLaw School, Travis is married with three children, and lives in Nashville, Tennessee.