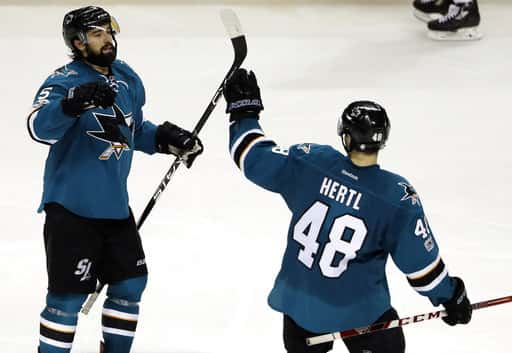 Sharks set a franchise record by lighting up Edmonton 7-0
By Mike DeWald | April 18th
Momentum can be a nebulous term in sports, and especially the NHL playoffs.  Does one game have an effect on another?  Does the manner in which a game is won have any relevance to how the next game is played?  Tuesday night the San Jose Sharks made their case that momentum is a true phenomenon, and that they have grabbed every bit of it in their first round playoff series against the Edmonton Oilers.
With lingering questions piling up about the teams poor performance, the Sharks took the ice at SAP Center and put on an 'all-time' level performance and beat the previously surging Oilers to a pulp.  The teams biggest stars shine brightest in series in which they had otherwise been invisible; Brent Burns tallied 3 assists while Joe Pavelski and Logan  Couture each netted 2 goals respectively, with Patrick Marleau, rookie Marcus Sorenson, and defenseman David Schlemko each adding a goal of their own. The Sharks Power Play also finally found it's game, which had some missing over a majority of the season, scoring at and impressive 50% clip (4/8). Clear frustration set in for the Oilers, who pulled starting goalie Cam Talbot from the game after being scorched for 5 goals, it didn't go much better from there.  Leon Draisaitl was then ejected from the game following a spear to the nether regions of the Sharks Chris Tierney.  Sharks goalie Martin Jones was also stout in net, stopping all 23 shots he faced.  The capacity crowd in San Jose shook the SAP Center at levels usually reserved for Sharks teams of the mid-2000s.
If there is any truth to the idea that momentum matters in an NHL playoff series, we may just see it in Game 5 of this series, set for Thursday night back in Edmonton.  The Edmonton Oilers are a young team finding themselves in the playoffs for the first time in a decade, riding the hopes of their frenzied fanbase on their shoulders for a pivotal game that will put the victor within a win of advancing to the next round.  The dramatic nature of tonight's victory may cast just a little bit in the minds of a young Oilers team that has generally played well in this series, save for Tuesday's performance in Game 4.  Will the Sharks keep up their newfound fire power or will the Oilers bounce back from a performance they likely want to forgot?  As they say, that's why they play the games.