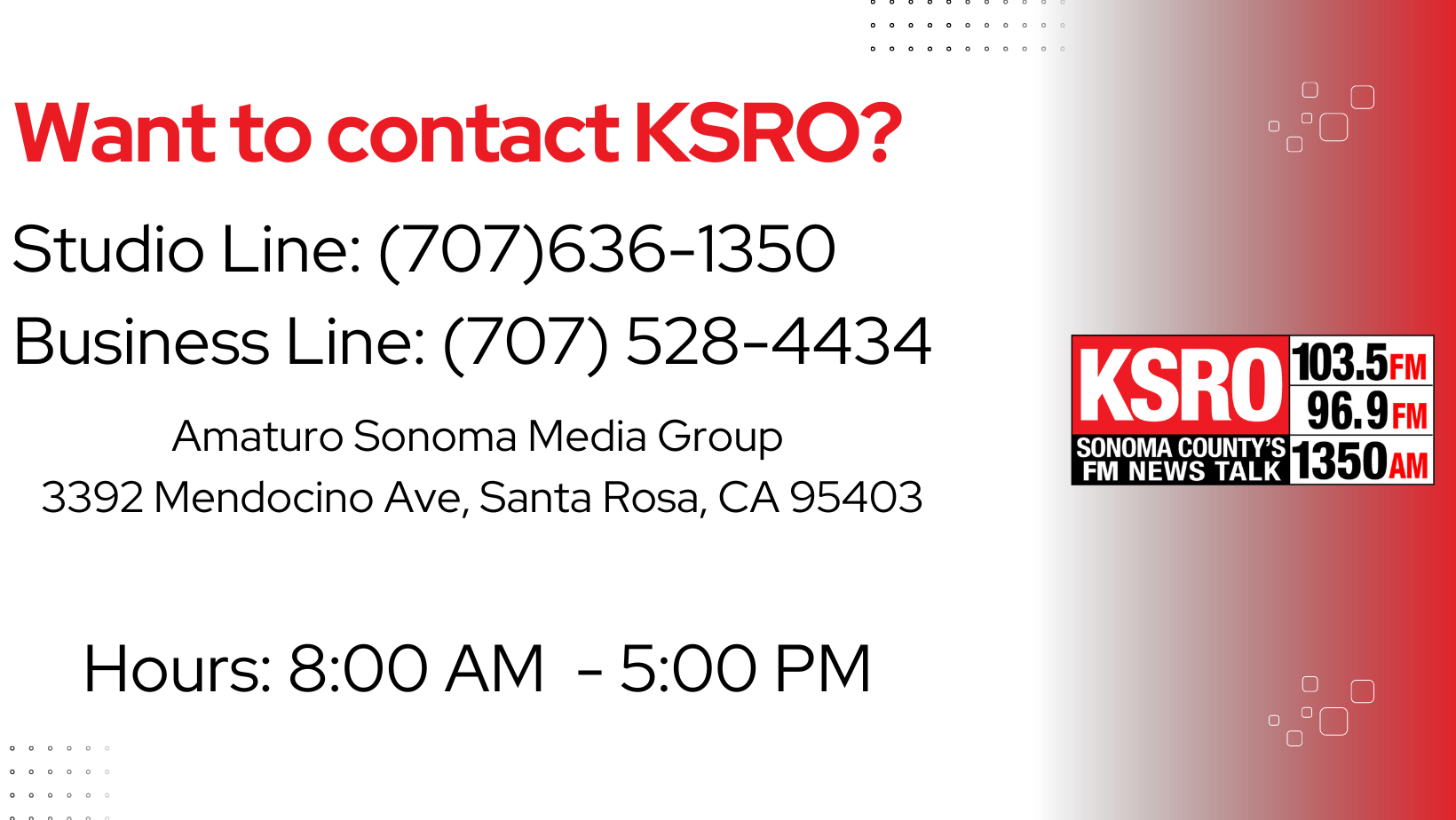 News Department
News Director and Host of Sonoma County's Morning News
Michelle Marques
Sonoma County's Morning News with KSRO News Director Michelle Marques and Larry Olson is your gateway to the stories you need to know.  KSRO Hosts focus their broadcast straight at the people of Sonoma County, who want to know what's happening in their own backyard.  Many stories demand a serious approach, but they make sure to have fun too.
Morning News Producer
Daniel Trucios
A Sonoma State University Graduate in Communications, Daniel Trucios produces the Sonoma County Morning News with Michelle Marques. He's been part of the team for nearly a decade, producing and reporting on a wide range of stories from large fires to crime to county fairs. You can also find him on the mic with daily newscasts and weather reports.
Advertising
Vice President of Sales
Steve DiNardo
Steve DiNardo is Vice President of Sales for Amaturo Sonoma Media Group's radio, digital, and print properties with responsibility for revenues and the sales organization. He joined the company in February of 2023, after a decades-long career managing various San Francisco radio and digital properties.
Steve's Bay Area radio experience includes Sales Management and Market Management positions at CBS Radio's All News KCBS, the founding of Alice 97.3, as well as iconic brands like KOIT, 99.7 KMVQ, and KBLX. Additionally, Steve worked in National Sales in New York City and was National Sales Manager for heritage All News WCBS-AM. He began his career in Boston while in college and has worked in broadcast media for the vast majority of his professional life.
 Steve has served as Chairman of the Northern California Broadcasters Association as well as the President of the Bay Area Society for Radio and Television. As a member of a musical family, Steve enjoys playing music with his 3 brothers and lifelong friends for relaxation.
KSRO Sales Manager
Cathy Slack
Cathy Slack, a proud 4th generation Sonoma County resident, is KSRO Sales Manager and Senior Account Manager for ASMG as well as a voice-over actor for the radio stations. She has worked in radio since 2004.
Cathy is deeply involved in the local community. She is most proud of her work in collaborating with elected officials to found Rohnert Park's popular Friday Night Markets. In 2011 she received the "Spirit of Sonoma County Award" from the Sonoma County Economic & Development Board.
Cathy has also enjoyed a long career as a working musician and is currently a lead singer with the North Bay band The Poyntlyss Sistars.
Key Accounts Sales Manager
Kevin Wodlinger
Kevin Wodlinger is the Key Accounts Sales Manager for KSRO's parent company, Amaturo Sonoma Media Group. Kevin has been in the radio industry most of his life and has built and managed markets from Missouri to Santa Barbara over the last four-plus decades. He holds certifications in both branding and recruiting.  He was excited to join ASMG and KSRO in 2013.
Kevin's passion is helping people solve problems. He is inspired by his team and thrives on their success in serving the community.
Kevin and his wife live in Santa Rosa and love it!
Management
President, General Manager
Michael O'Shea
Michael O'Shea is the President and General Manager of Amaturo Sonoma Media Group, parent company of KSRO.  He has been with the company since its beginning in 2013. In addition to overseeing all day-to-day managerial duties with ASMG he also coordinates National Sales responsibilities.
Michael has worked in commercial radio for over 40 years and in upper management for the past 30-plus years, with CEO, COO and President tours-of-duty in Seattle, Los Angeles, Chicago and others.
Michael started in radio when he was a teenager, as a radio deejay in the Midwest where he grew up and advanced into radio programming with stations in markets such as Dallas, Miami, Cincinnati, Seattle, San Francisco and Los Angeles. He has twice been named Program Director of the Year by Billboard Magazine and was inducted into the Texas Radio Hall of Fame in 2008.
In addition to radio Michael is an avid aviation enthusiast, having held a Private Pilots License for over 40 years. He's also an avid astronomer and serves as a docent at Santa Rosa's Robert Ferguson Observatory, where he operates the observatories large telescopes for the public and speaks to groups of all ages on astronomical subjects, including planets, stars and deep-space objects.
Michael lives in Santa Rosa with two of the cutest dogs you'll ever meet-  Cosmo and Mojo.
VP of Programming and Operations
Jim Murphy
Jim Murphy is the VP of Programming and Operations for Amaturo Sonoma Media Group, parent company of KSRO.  Jim works closely with Michelle Marques, Steve Jaxon and more to keep KSRO live, local and all about Sonoma County.
Jim has also been involved in developing local music festivals and in strengthening the company's digital assets. Prior positions include operations manager at KBAY and KEZR in San Jose, program director at WHDH Boston and general manager positions at stations in the northern Boston metro. Jim is a graduate of the University of Notre Dame.
Jim lives right here in beautiful Santa Rosa, CA.
Tel:707-528-4434 Ext. 128