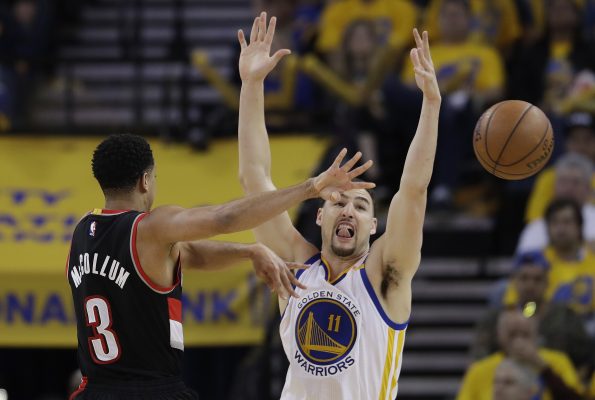 Portland Trail Blazers' CJ McCollum (3) passes the ball as Golden State Warriors' Klay Thompson (11) defends during the first half in Game 2 of a first-round NBA basketball playoff series Wednesday, April 19, 2017, in Oakland, Calif. (AP Photo/Marcio Jose Sanchez)
Golden State used stellar defense and contributions from supporting players to grab a 2-0 series lead.
By Cole Reece| April 19th
Golden State is the best team in the league this is an absolute fact. Tonight the Warriors won with an outstanding defensive effort and took a 2-0 series lead in the process. Portland's backcourt dropped 75 points in the 1st game of the postseason matchup. In game 2 Golden State held the tandem of Lillard and McCollum to just 23 points. The Dubs held the Blazers to just 33% shooting from the field en route to an 110-81 victory. The Bay's team was without several key players as KD, Shaun Livingston, and Matt Barnes all sat with injuries. The supporting cast for the Dubs stepped up in a big way. Javale McGee was a difference maker yet again with 15 points and 4 blocks. Pat McCaw netted 9 points, starting in place of Durant. While starting Center Zaza Pachulia added 10 points for the Warriors. Golden State jumped out to a (33-17) lead after the 1st quarter of play. Portland slowly climbed back in thanks to the play of Harkless who sparked a 2nd quarter run. The led shrunk to just a single point (43-42), then Javale McGee changed the complexion of the game. He provided energy and scoring at the Center position and helped the Warriors to a (55-46) lead at halftime. In the 2nd half, the defense continued to stifle the Trailblazers. Steph Curry also sprang to life to score 13 points in the 3rd quarter. Steph finished with 19 points on the night. The Blazers simply had no answer for the Warriors defense tonight. Up next the Dubs travel to Portland where the series continues on Saturday. Make sure to tune into KSRO for playoff coverage beginning at 7:00 PM.
Stars of the Night: McGee 15 points 5 rebounds and 4 blocks. Steph Curry 19 points 6 assists and 4 steals.2