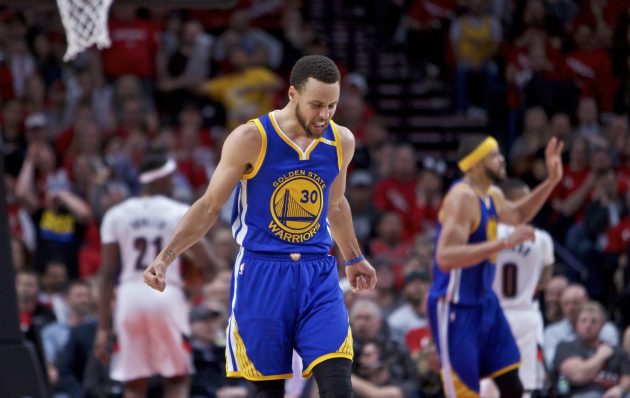 Golden State stormed back from a 16 point deficit to push the Blazers to the brink. 
By Cole Reece | April 23rd
The deck appeared as if it was stacked against the Warriors on Saturday night in Portland. Steve Kerr would not coach due to excruciating pain, that stemmed from his multiple back surgeries. Kevin Durant was also held out of game 3 once again as a precaution. Not to mention, the return of Portland's prized big man Jusuf Nurkic. The Blazers came out with a purpose in Game 3 they refused to go down 0-3. In front of their home crowd, Terry Stotts and company roared to a (67-54) lead at halftime. Golden State made their move in the 3rd quarter. Down (82-66) their defense sprang to life. Steph Curry and Klay Thompson were once again in the middle of the comeback. However, it was Javale McGee who donned the superman cape. The big man's unique skill set allowed the Warriors to space the floor. It also doesn't hurt when your big man can throw down monstrous dunks to the tune of 14 points. Andre Iguodala also came up clutch with 16 points off the bench. Golden State's 19-1 run put them up (85-83). In the 4th quarter, the Dubs continued to hold the lead thanks to the 34 points from Steph. Curry also played the role of the setup man with 8 assists in the contest. Portland was unequal to the task despite tremendous play from the duo of McCollum and Lillard. The Warriors looked focused and determined. They eliminated a 16 point deficit and shocked the Blazers to take game 3 (119-113). Up next the Dubs look to close out Portland Monday at 7:30 pm. Make sure to listen in to KSRO on Monday for the next exciting installment of Golden State basketball.
Stars of the night: Steph Curry 34 points, 8 assists, 2 steals. Klay Thompson 24 points, 4 of 9 on three's. Andre Iguodala 16 points, 7 rebounds, 6 of 7 from the line. Javale McGee 14 points on an impressive 6 of 8 from the field.