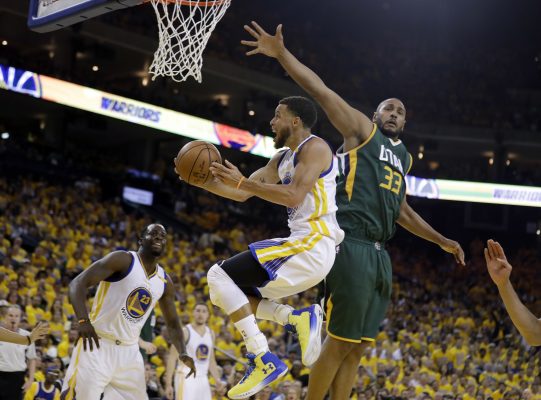 Golden State Warriors' Stephen Curry, center, drives past Utah Jazz's Boris Diaw (33) during the first half in Game 1 of an NBA basketball second-round playoff series, Tuesday, May 2, 2017, in Oakland, Calif. (AP Photo/Marcio Jose Sanchez)
Curry and Green lead the Warriors past the Jazz in game 1.
By Cole Reece| May 2nd
Golden State started off the 2nd round with a convincing win over the Utah Jazz. The plethora of all-world players was on full display for the Dubs tonight. At the heart of the tremendous Game 1, performance was none other than Draymond Green and Steph Curry. Steph dropped 22 points, 7 rebounds, and 5 assists. He was masterful as he punished the vaunted interior defense of the Jazz with a variety of spectacular shots. Draymond played his heart out in front of the sell-out crowd at Oracle Arena. On the defensive end, Green had a monstrous game with 2 steals and 2 blocks. Draymond also scored 17 points on 5/10 shooting from the field. Kevin Durant and Klay Thompson rounded out the scoring with 17 and 15 points respectively. Golden State imposed their will from tip-off until the final buzzer. The Warriors capitalized on Utah turnovers and once again crossed the 30 assist mark. Utah could never get the Dubs lead down to single digits. Golden State completely eliminated Utah's dynamic duo of Gobert and Heyward. The pair scored a combined 25 points and fell off in the 2nd half as the Warriors ran away with the contest. Despite their best efforts Utah trailed (84-73) headed into the final frame. In the 4th quarter, the Bay's Team quickly pushed the lead to 20 points. The Dubs showed no rust after a 7-day layoff and took Game 1 106 to 94 thanks to their timely defense and elite offense. Up next the series resumes Thursday at 7:30 Pm at Oracle Arena. Make sure and tune into KSRO for the next installment of the 2nd round.