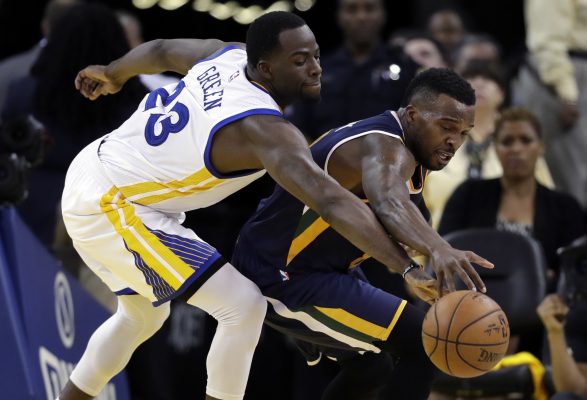 Golden State Warriors' Draymond Green, left, defends on Utah Jazz's Shelvin Mack during the first half in Game 2 of an NBA basketball second-round playoff series, Thursday, May 4, 2017, in Oakland, Calif. (AP Photo/Marcio Jose Sanchez)
In a game of momentum shifts the Dubs managed to walk away with a 115-104 victory.
By Cole Reece| May 4th
Golden State and Utah went toe to toe in Game 2 of the Western semi-finals. The Warriors jumped out to a (33-15) lead after a dominant 1st quarter of play. Draymond Green led the charge with 12 points, and 4 made three-pointers on 5 attempts. Utah shot just 29% thanks to the Dubs dominant defense. As the game entered the 2nd quarter Golden State pushed their lead to 20 points. Gordon Hayward kickstarted the Jazz's offense and trimmed the Dubs lead down to 10 (49-39). The Warriors maintained a (60-43) lead headed into halftime. Utah continued to persist in the 2nd half as they managed to cut the lead to just 6 points. Every time Golden State looked as if they were ready to run away with the game the Jazz answered. The difference for the Warriors was the abundance of firepower they have at their disposal. Durant scored 25 points to go along with 7 assists. Curry dropped 23 points and drained 5 three-pointers. Draymond Green once again filled the stat sheet as the heart and soul of the Dubs feasted on Utah. Green continued his unbelievable shooting from beyond the arc going 5 for 8. Draymond finished with 21 points 7 rebounds 4 steals, and 3 blocks. Gordon Hayward did his best to push the Jazz past the Dubs. Number 20 scored 33 points on 11 of 21 from the field. Golden State was able to weather the storm and take a 2 games to none lead in the series. They came up with clutch stops and shots in crunch time to secure the win 115-104. Up next the series shifts to Utah, make sure to tune into KSRO Saturday at 5:30 pm for the call.