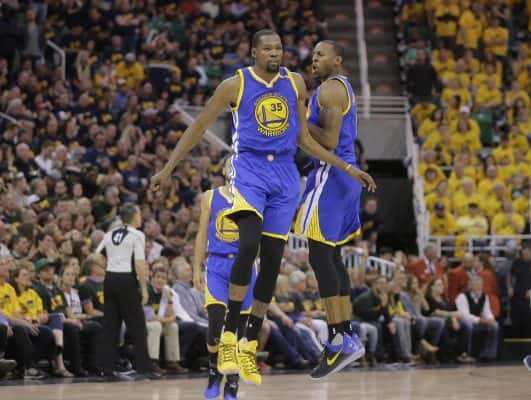 Golden State Warriors' Andre Iguodala, right, celebrates with Kevin Durant (35) after he scores against the Utah Jazz in the second half during Game 3 of the NBA basketball second-round playoff series Saturday, May 6, 2017, in Salt Lake City. (AP Photo/Rick Bowmer)
KD's 38 points led Golden State past the Jazz 102-91.
By Cole Reece| May 7th
On Saturday night in Salt Lake City Kevin Durant stepped into the spotlight. Durant was nothing short of spectacular dare I say Jordan-like in his performance. Tonight KD was automatic, and his confidence and skill carried the Warriors to a 3-0 series lead. Utah gave the Dubs their best shot as they tried to slow down the top seed in the West. Both teams struggled to score in the early going as Golden State led the Jazz (27-17) after the 1st quarter. Utah slowly found their way into the lead. Gordon Hayward was once again in the driver seat for the Jazz. Along with Rudy Gobert, Hayward pushed the Jazz on a 10-2 run to close out the 2nd quarter to take a (50-49) lead. Utah continued to hold the Dubs sharpshooters not named Durant at bay. At one point Steph Curry had missed 10 consecutive shots in a row. Curry hit his 1st three-pointer in the 3rd quarter after scoring only 5 points in the 1st half. Klay Thompson was not existent the entire night. Headed into the final quarter the Warriors led (72-70). From there KD and Steph went to work as the Jazz were overwhelmed by the tandem. Golden State took Game 3 102-91 despite shooting 44% from the field. Gordon Hayward finished with 29 points followed by 21 from Gobert. Steph finished with 23 points on a horrendous shooting night. Kevin Durant was unstoppable pure and simple. He scored 38 points on 15 of 26 from the floor. He sunk 4 three-pointers and grabbed 13 rebounds, all in a nights work for #35. The series continues Monday at 6 PM as the Dubs look to finish off the Jazz.