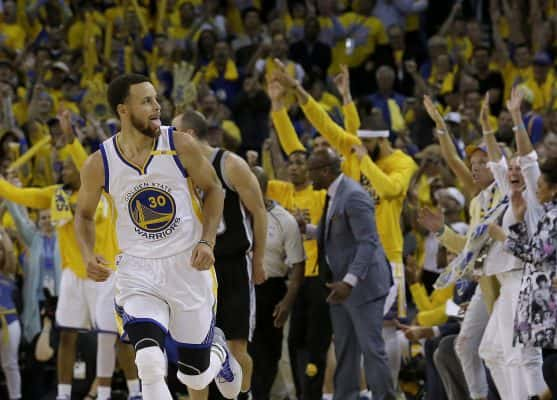 Golden State Warriors guard Stephen Curry (30) reacts after scoring against the San Antonio Spurs during the second half of Game 1 of the NBA basketball Western Conference finals in Oakland, Calif., Sunday, May 14, 2017. The Warriors won 113-111. (AP Photo/Jeff Chiu)
Following the Kawhi Leonard injury Golden State rallied from down 20 to take Game 1 113-111.
By Cole Reece| May 14th
Sunday morning at Oracle Arena the much-anticipated Western Conference Finals got underway. Golden State was under the gun fro the get go. After a 6 day lay-off, it was more than apparent the Dubs were rusty. San Antonio was more than ready to go as they took a (30-16) lead after the 1st quarter. LaMarcus Aldridge set the tone as he was unstoppable in the post. The Spurs managed to hold the Warriors to just 28% from the field to open. Gregg Popovich's squad furthered their lead in the 2nd quarter as they pushed their lead to 25. Kevin Durant and Steph Curry were the only Warriors who brought their A game today. Kahwi Leonard along with Aldridge scored 18 points and 17 points respectively in the 1st half. KD and Steph both scored 14 points to lead the Warriors. San Antonio never the less held a (62-42) lead at halftime. Early in the 3rd quarter, the game turned on its head when Leonard rolled his ankle twice. The Spurs star was unable to return and what followed was an 18-0 run for the Dubs. Curry led the charge with 19 points in the 3rd quarter. Headed into the final frame the Spurs led (90-81). With under 3 minutes remaining, Golden State took a 101-100 lead. Durant was huge in the closing minutes. LaMarcus Aldridge put the Spurs back up by 3 late. Steph Curry tied the game with a three-pointer as the Warriors gathered 3 offensive rebounds. Golden State was able to hold on for an 113-111 victory. This game was by no means a picture perfect win for the Dubs. There were far too many passengers as Klay Thompson, Shaun Livingston, and Draymond Green were invisible. Steph Curry was lights out with 40 points, and 7 made three's. KD bullied the Spurs all day long to the tune of 34 points. A win is a win, and Golden State now holds a 1-0 lead in the series. Tune into KSRO on Tuesday for Game 2 of the series.