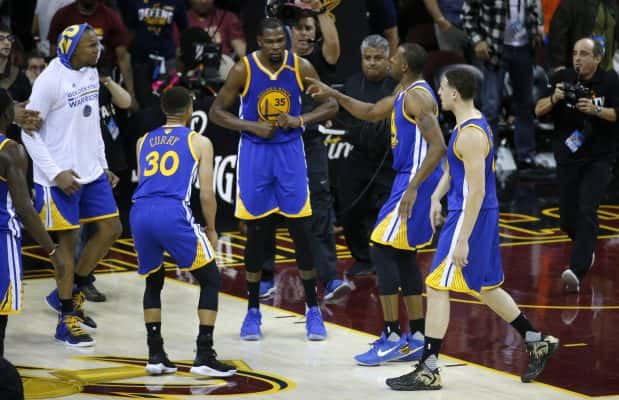 Golden State Warriors forward Kevin Durant (35) celebrates with teammates after the Warriors defeated the Cleveland Cavaliers 118-113 in Game 3 of basketball's NBA Finals in Cleveland, Wednesday, June 7, 2017. (AP Photo/Ron Schwane)
Durant scored 14 points in the 4th quarter including the game winning three to give the Dubs a 118-113 victory.
By Cole Reece| June 8th
In sports, most professional coaches will tell their players to win the big moments. Kevin Durant did just that in the final 3 minutes of Wednesday night's 118-113 victory over Cleveland. Golden State took control early as Klay Thompson netted 16 points in the 1st quarter. He was playing unconscious and was one of the best players on the floor all night. At halftime, the Dubs held a (67-61) lead over the Cavaliers. Behind Lebron James and Kyrie Irving, the Cavaliers seized the lead in the 3rd quarter. It appeared to be the Cavs night as seemingly every shot went in. Lebron scored 39 points to go along with 38 from Kyrie. Golden State stayed close and trailed all the way until 3:10 remaining in the 4th quarter. What transpired next is truly difficult to put into words. What we saw was a defining moment in Kevin Durant's Career. Down 113-109 Durant converted on a quick lay-up over Tristan Thompson to close the gap to 113-111. Golden State's defense got the stop on Cleveland's next possession and got the ball back to KD. Number 35 then walked up to Lebron James and drilled the game-winning three-pointer. Kevin scored 31 points 14 of which came in the 4th quarter. He was unfazed, and would not be denied as he scored 7 points in the closing minute. His play pushed the Dubs to the brink of their 2nd championship in the last 3 years. Despite nearly 45 minutes from Lebron and 77 points from him and Irving, the Cavaliers were unable to beat the Warriors. An 11-0 run by Golden State ultimately sealed the Cavalier's fate. Klay Thomspon was sensational with 30 points and 6 three-pointers. Steph Curry was remarkable with 26 points and 13 rebounds. It was Kevin Durant who played the role of closer for Golden State his 31 points led the Warriors to an 118-113 win and a 3-0 series lead. Up next the Dubs go for it all Friday night in Cleveland at 6:00 PM. Make sure to tune into KSRO for the next installment of Warriors basketball.