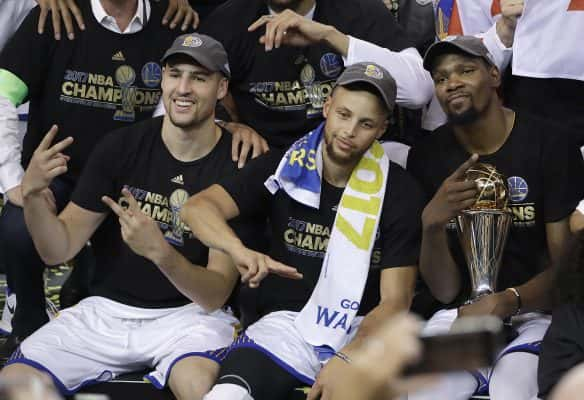 Golden State Warriors guard Klay Thompson, from left, guard Stephen Curry and forward Kevin Durant celebrate after Game 5 of basketball's NBA Finals against the Cleveland Cavaliers in Oakland, Calif., Monday, June 12, 2017. The Warriors won 129-120 to win the NBA championship. (AP Photo/Marcio Jose Sanchez)
Durant led the Warriors to their 2nd title in the last three years with his MVP performance.

By Cole Reece| June 12th
Golden State finished what they couldn't last June to raise the trophy for the 2nd time in 3 years. The Warriors beat the Cavs by the final score of 129-120. Kevin Durant was the Dubs best player and is the 2017 Finals Most Valuable Player. KD was brilliant all Finals long and tonight was no different. Durant scored 39 points with 5 made three pointers. The Warriors held the lead early in the 1st quarter but turnovers fed the Cavs' offense. Lebron threw everything he had at Golden State as Cleveland led (37-33) after the 1st quarter. In the 2nd quarter, the Dubs took command. The tremendous defense led to an offensive explosion as the Warriors pushed their lead up to 17. Durant was sensational, and Curry was right behind him in the passenger seat. JR Smith kept the Cavs afloat as some late three-pointers cut the Warriors halftime lead to (71-60). Lebron fought Golden State with everything he had as he finished with 41 points. Seemingly every offensive possession ran through him in the 2nd half. Cleveland stayed close but was never able to tie the game up. Iguodala was great off the bench as he saved his best play for the finale. Andre added 20 points off the bench and played invaluable minutes on defense. Curry added 34 points as he quietly picked the Cavs apart all night long. The Warriors could do nothing but smile in the closing minutes as they knew they were champions! No more 3-1 talk, only a trophy that belongs to the best team in the NBA…. the Golden State Warriors. 16-1 in the playoffs a truly historic feat. Up next a championship celebration in Oakland. I would like to thank everyone who allowed me to cover the Warriors this season. You guys are amazing and I thank you from the bottom of my heart! See you next season Dub Nation!!!