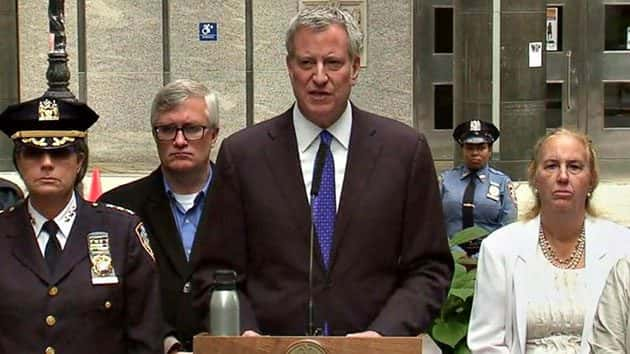 ABC
ABC(NEW YORK) — A 17-year-old who was injured in the deadly terror attack Tuesday in lower Manhattan came to school the next day "because he was working on 100 percent perfect attendance," New York City Schools Chancellor Carmen Fariña said.
The teen was on a school bus when it was struck by the suspect's truck just across from Stuyvesant High School. Eight were killed in the attack, and 12 others were injured. A police officer shot and injured the suspect, ending the threat.
The collision left the school bus mangled. Another student on that school bus, a 14-year-old girl, was injured, suffering a fractured hip, internal bleeding and a laceration to the liver. She is one of six people who remain hospitalized Thursday. Two adults on the bus were also injured.
Fariña said she talked to the 17-year-old. He told her, "I told myself I'm going to be fine because a lot of people want to help me."
New York City Mayor Bill de Blasio visited Thursday morning with students and school officials at Stuyvesant High School, including a teacher who happened to be on the nearby bike path when a truck driver plowed into people there, killing eight and wounding a dozen others. That teacher was injured but still came to work the following day, the mayor said.
The suspect mowed down cyclists and pedestrians on a bike path near West Houston Street and the West Side Highway on Tuesday, then drove south for about a mile, leaving strewn bodies and mangled bicycles in his wake. The suspect crashed into a school bus near Chambers Street, just across from Stuyvesant High School.
De Blasio, who spoke to the media Thursday morning after visiting the school, told reporters that everyone at the school "handled a very tough situation exceptionally well."
"The training and preparation worked," he said of the school security protocols. "They called the alert immediately to shelter in place, and students could tell it was not a drill. … No one stopped and questioned."
After the incident, the students thought it was important to come to school to mourn those who were lost and to show that "terror would not stop us," de Blasio recalled to reporters.
The mayor said it "very moving" to hear teenagers think about their responsibility to respond to an act of terror.
De Blasio said that while the school was on lockdown, "students of all backgrounds, every nationality, every faith" were checking on each other and supporting each other. De Blasio said students told him they had great faith that all the adults in the building were protecting them.
Overall, the solidarity in the school was very evident, the mayor said. "Everyone had each other's backs, and they knew they had to be there for each other," de Blasio said. "And no one — no one — expressed to us a sense of fear or insecurity. They simply were resolute. And it was very, very admirable."
The man suspected of plowing into the victims, 29-year-old Sayfullo Saipov, was shot and injured by a police officer after crashing into the school bus. He allegedly was inspired by ISIS videos he watched on his cellphone, according to the criminal complaint against him. Saipov was charged Wednesday with providing support to ISIS, and violence and destruction of motor vehicles.

Copyright © 2017, ABC Radio. All rights reserved.