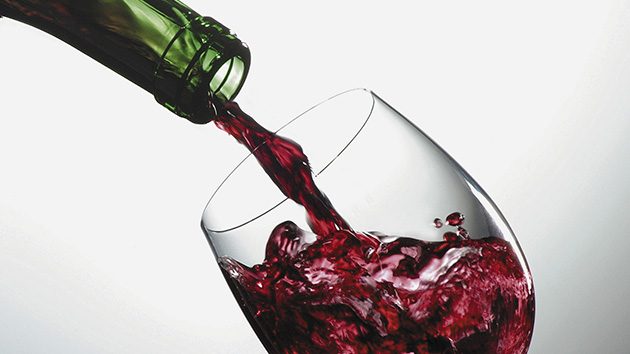 Purestock/Thinkstock
Tom Simoneau's Wines of the Year 2017
Best Whites
Sparkling Wine:
Longboard Vineyards, Brut "Z", Late Disgorged, $75
Sparkling Wine Wiz Oded Shakked has produced this multi vintage beauty. A blend of 56% Pinot Noir and 44% Chardonnay and aged 4 years on the yeast. Oded tells me what makes this wine unique is the fact that the dosage has no sugar and is simply a splash of pure "Z" from another bottle. Crisp, delicate… nice and dry.
43 cases produced.
longboardvineyards.com
Chardonnay:
Albatross Ridge 2014 Estate, Carmel Valley, Monterey County, $55
Owned by the Bowlus family, who purchased the property in 2006, after searching from Oregon to Santa Barbara and planted in 2008 on a rocky Carmel Valley ridge rising 1250 feet in elevation. The location, only seven miles from the Pacific Ocean, makes for one of the coolest sites to ripen Chardonnay. Winemaker Garrett Bowlus has produced a white wine of balance between mineral, fruit, and oak.
Albatrossridge.com
Sauvignon Blanc:
Dry Creek Vineyard, 2016 Dry Creek Valley, $20
Winemaker Tim Bell takes Sauvignon Blanc to a new level. The blend has 12% Sauvignon Musque for weight and 5% Sauvignon Gris for texture. Add to that a small amount of the cuvee that was aged in Chestnut, Acacia, and French Oak barrels. As exciting a Sauvignon Blanc I've had in years.
Drycreekvineyard.com
Available at Bottle Barn, Santa Rosa, CA.
Bottlebarn.com
Off Dry White:
Mayo Family Winery 2015 Pinot Gris, La Cruz Vineyard, Sonoma Coast, Courtney's Cuvee, $25
From the well known Keller Estate La Cruz Vineyard. I don't know how he does it, but Jeffrey Mayo sources grapes for his family owned winery from some of California's most well known vineyards and turns them over to winemaker Michael Berthound who hasn't met a grape he didn't want to make into wines. The Pinot Gris is light, refreshing, and full of flavor.
mayofamilywinery.com
Alternative White:
Paraduxx 2016 Proprietary White Wine, Napa Valley, $32
Long known for it's Zinfandel based proprietary blend, Paraduxx has begun an exciting new chapter with the inspiration from great blends from around the globe. This new Paraduxx white is 65% Viognier, 28% Chardonnay, 4% Roussanne, and 3% Marsanne. Here California meets Rhone with aromas of spiced apple, all mineral, and white peach.
Paraduxx.com
Best Value White:
Pedroncelli 2016 Sauvignon Blanc, East Side Vineyard, Dry Creek Valley, $17
Since 1927 the Pedroncelli Family has been making wine to enjoy every night at your dinner table. You can't miss when you reach for a Pedroncelli wine. This 2016 is all apple, citrus, and stone fruit. Often discounted.
Pedroncelli.com
Available at Bottle Barn, Santa Rosa, CA
Bottlebarn.com
Rosé:
Jonas Cellars 2016, The Aerialist Rosé, Napa Valley, $30
This tiny producer is owned by husband and wine team Katy and Zach Long. Zach's day job is winemaker at Sonoma Valley's Kunde Family Winery. And as with so many talented young winemakers he has a little wine brand on the side. And you ask why Aerialist? Well, that would be Zach's wife Katy. Look for her on the label. This easy quaffer is all bright raspberry and balanced acidity.
Jonascellars.com
Book of the Year
A new category this year.
I TASTE RED The Science Of Tasting Wine by Jamie Goode, $29.95
This is a crazy good book! It will give you a whole new perspective on tasting wine If you're a wine enthusiast and can read, you need this book.  Ucpress.edu
Best Reds
Cabernet Sauvignon:
Beringer 2015 Knights Valley, Sonoma County, $34
Is Knights Valley the little brother to the older and more well known Napa Valley? I say with one taste of this 2015 you'll wonder Napa… Napa who? Located between Napa Valley and Sonoma's Alexander Valley, Beringer has been growing these grapes since the mid-1960's. This wine shows red fruit flavors, olive, and chewy tannins.
Beringer.com
Zinfandel:
Kelley & Young Wines 2014 Robert Young Vineyards, Alexander Valley, Sonoma County, $36
From the husband and wife team Kathleen Kelley and Jim Young. Jim, one of California's finest grapegrowers, is the son of pioneer grape grower Alexander Valley's Robert Young. This wild fermented Zin is as rich as they get all warm off the vine blackberry fruit.
Kelleyyoungwines.com
Merlot:
La Storia 2015 Alexander Valley, Sonoma County, Block 500, $28
Alexander Valley's Trentadue Winery is a family owned winery producing some of the best under the radar wines you may not have heard of. Winemaker Miro Tcholakov has been working his magic there since 1999. The 2015 Merlot shows why Merlot is making such a comeback. All dark plum fruit, juicy with cherry and light oak.
Trentadue.com
Syrah:
Ramey Wine Cellars 2013 Rodgers Creek Vineyards, Sonoma Coast, $75
If every winemaker made Syrah as good as Dave Ramey, Syrah would have become the next Merlot. This Rodgers Creek Syrah is grown in what is now called the Petaluma Gap Appellation. With 10% Viognier the aromatics leap from the glass, black fruit, orange peel, leather and spice.
Rameywine.com
Blended Red:
Rodney Strong Vineyards, 2015 Upshot, Sonoma County, $28
Blends are all the buzz, especially with young wine drinkers. Winemaker Justin Seidenfeld says, "Life simply doesn't blend itself." Sooo… he blended Upshot with Zinfandel, Merlot, Malbec, Petit Verdot, and Riesling. Yes, Riesling for aromatics. The label has to be seen. It's a diagram of the life of the wine from harvest to release. This medium bodied red could even stand up to a chill. Screw cap topped.
Rodneystrong.com
Best Buy Red:
Toad Hollow Vineyards 2016 Pinot Noir, Monterey County, $16.99
When looking for a Best Buy, varietal character is essential. This wine displays all the cherry and spice that has made Pinot Noir so popular without breaking the bank; screw cap topped.
Toadhollow.com
Available at Bottle Barn, Santa Rosa, CA
Bottlebarn.com
Most Fun Wine:
19 Crimes, 2015 Red Wine, South Eastern Australia, $19
Named after British rogues guilty of at least one of 19 crimes; who were sentenced to colonize Australia rather than death. Each varietal has a picture of one of the criminals punished with conviction by transportation. Now get this, get their app, point it toward the label, and hear the scandalous stories. Called augmented reality you won't believe your ears; bringing the bottles to life. The blend is defiant by nature, bold in character, always uncompromising. It's a taste you'll never forget.
19crimes.com
Sweet Red
Sattui Madeira, Solera Blend, California, $61
Solera-made, wood aged wine, fortified with brandy. The Solera is 120 years old; one of the few in the U.S. Madeire is a fortified wine originating from the Portuguese Madeira Islands. It's a category that is up and coming. Here in the U.S. these are very rare and this V. Sattui is one of the best showing hints of brandy in the nose with sweet hazelnut and caramel in taste.
Vsattui.com
Pinot Noir:
Goldeneye 2014, The Narrows Vineyard, Anderson Valley, $82
Located on a narrow ridge top in the deep end of Mendocino's Anderson Valley, a mere 10 miles from the coast. The coolest and lowest yielding of the Goldeneye Estate Vineyards. This wine epitomizes terroir, all lush cherry and smooth black and blue fruit. Yum!
Goldeneyewinery.com
Luxury Wine:
Simi 2013 Reserve Cabernet Sauvignon, Alexander Valley, Sonoma County, $100
This 100% Cab from the best blocks from Simi's Landslide Vineyards is long known as a classic for the well healed Cabernet lover. Full bodied, blackberry fruit, juicy with toast and medium tannin, this wine will not disappoint if enjoyed now or over the next decade.
Simiwinery.com
Winery of the Year:
Simi Winery celebrating 140 Years of Winemaking on the north side of Healdsburg.
This big, little winery is the gem of conglomerate Constellation Brands. Winemaker Susan Lueker and her team produce so many small batches it's hard to know where to begin, some 20 different bottlings. The facility itself is a museum. If you haven't visited Simi lately… what are you waiting for?
Simiwinery.com