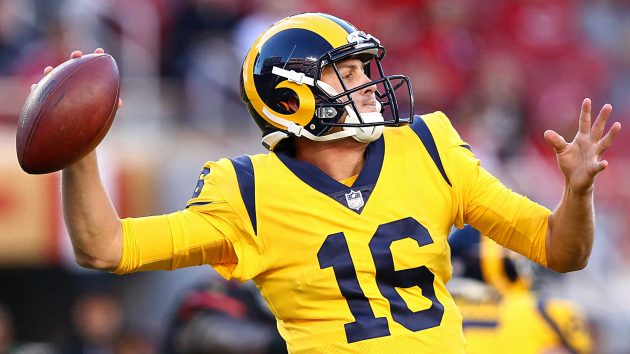 Mike DeWald//@mike_dewald
It seems unusual to classify a prohibitive pre-season favorite as having a Cinderella season, but in the case of the Los Angeles Rams it just might hold true. Halfway through its third season in Southern California, the 10-1 Rams have seen their share of adversity. A Monday Night Football game planned for Mexico City had to be relocated back to LA due to poor field conditions, then the ensuing week saw a pair of tragedies in the Thousand Oaks shooting and Southern California fires. A desperate community reeling from adversity needing something to rally around got exactly that. Monday night's game showcased two high-powered offenses, combining for over 100 points and 1,000 total yards. First responders were honored and those impacted by the wildfires were also in attendance. The game garnered the attention of the rest of the country as well, netting the highest rating for Monday Night Football since 2014. It was a highwater mark for a team on the verge of big things.
Leading the way for the Rams' offensive juggernaut is Quarterback Jared Goff.  Following a disastrous rookie season that saw the young QB go 0-7, Goff has since flourished in Head Coach Sean McVay's high powered offense. Goff's football story is rooted in Northern California, born in Novato where he played High School football at Marin Catholic. Sports runs in the family for Goff, his father Jerry also played professional baseball as a catcher for the Pirates and Astros. Goff's team went a combined 39-4, went to a state title game, won an NCS title, three NCS playoff appearances, and three MCAL championships. Goff stayed in northern California to continue his football career with the University of California, Berkeley where he set 26 Cal football records before being drafted by the Rams in 2016.
"The guys just love Jared," says Rams Team Reporter Sarina Morales,  "he has such a great relationship with Sean McVay. Sean always talks what a smart player Jared is, and it comes out of being comfortable."
That comfort has been evident, leading the Rams to their first division title since 2003 last year and priming them for another deep run into the playoff this year. Morales credits Goff's even-keeled nature as being the key to his success.
"You're the first pick in the draft, there's a lot of hype around that," says Morales, "he never really let all of the talk effect him, it was really just growing pains."
Aside from being one of the top QB's in the league, off the field Goff is known by his teammates for his trademark sense of humor. Goff went viral when he pranked a college football team, posing as a walk-on looking to transfer in a parody YouTube video. Goff was also "ecstatic" when he found out that Actress Halle Berry had heard his audible call and tweeted him about it.
"For being as young as he is, and through the poise that he carries himself, he loves to joke around. It's part of his personality that we don't get to see everyday," says Morales.
The sky is the limit for this Rams team, currently with a comfortable lead in the NFC West well on their way to a second straight playoff appearance. Morales says the biggest challenge for the team will picking each other up and getting the ball to their star QB.
"We've seen it all season, but maximizing on those takeaways and getting the ball back into Jared Goff's hands is truly what will keep this team going into the playoffs."
Listen to Sarina Morales', Team Reporter for the Los Angeles Rams and SiriusXM Host, full interview on The Drive with Steve Jaxon