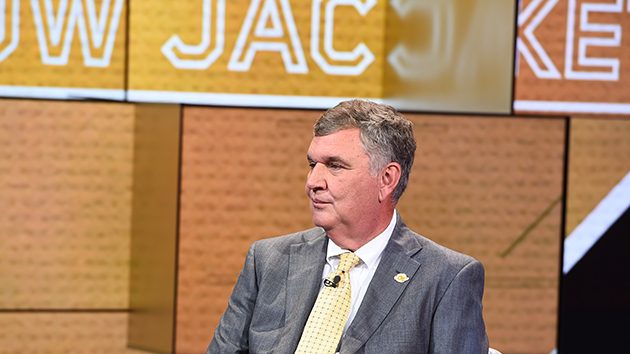 Photo by Melissa Rawlins / ESPN Images
Photo by Melissa Rawlins / ESPN Images(ATLANTA) — After 11 seasons as the head football coach at Georgia Tech, Paul Johson is expected to retire.
Johnson, who brought his unique flexbone option offense to the Yellow Jackets in 2008, went 82-59 in his eleven seasons. In that time, Georgia Tech appeared in nine bowl games and two Orange Bowls.
ESPN's Adam Rittenberg reports that former Georgia Tech player Ken Whisenhunt — currently the offensive coordinator for the Los Angeles Chargers — is among the people being considered to take Johnson's place.
Prior to taking the job at Georgia Tech, Johnson spent five years as the head coach at Georgia Southern, going 62-10, and six years as the head coach at the U.S. Naval Academy, winning 45 out of 74 games.
Georgia Tech went 7-5 in the regular season this year, losing their regular season finale to in-state rival Georgia last weekend.
Copyright © 2018, ABC Radio. All rights reserved.