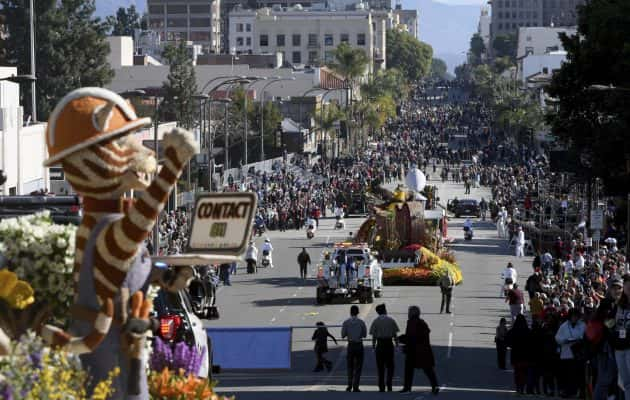 Floats at the end of the parade make their way along Colorado Boulevard as people spill into the streets after a delay due to a small fire on a float at the 130th Rose Parade in Pasadena, Calif., Tuesday, Jan. 1, 2019. (AP Photo/Michael Owen Baker)
A fire on a float is being blamed for breaking up the Rose Parade early. These guys were watching yesterday morning as a float caught fire and had to be towed along the route.
The display from the Chinese American Heritage Foundation caught fire at the point where Orange Grove and Colorado Boulevards meet in Pasadena. Smoke billowed from the heavily-adorned vehicle and a backup of floats formed behind it. A lot of people thought that signaled the end of the parade and they began streaming away from the route. The tow truck driver says he's worked the parade for years, but has never seen a complete breakdown of a float.
In the past float makers have had to face a Tournament of Roses Association panel after breaking down during the parade, with the power to issue fines up to 80-thousand dollars.  Shortly after the fire New Year's Day people scattered to get off the float and no one got hurt, but folks thought the parade was over and started flooding the streets.