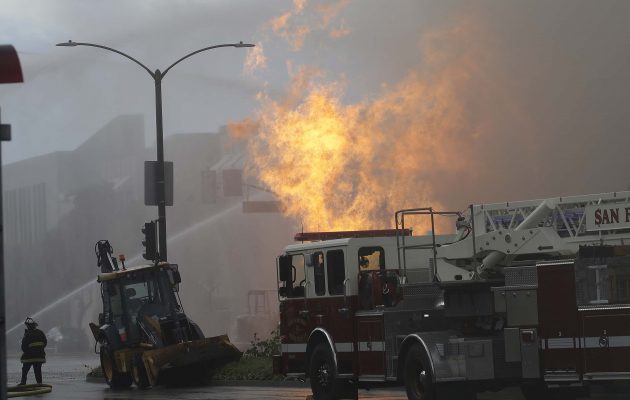 San Francisco firefighters battle a fire on Geary Boulevard in San Francisco, Wednesday, Feb. 6, 2019. A gas explosion in a San Francisco neighborhood shot flames high into the air Wednesday and was burning several buildings as utility crews scrambled to shut off the flow of gas. Construction workers cut a natural gas line, San Francisco Fire Chief Joanne Hayes-White said. (AP Photo/Jeff Chiu)
PG&E says it did mark the underground gas line that a construction crew severed, causing a massive explosion and fire in San Francisco Wednesday. The utility says it has photographic proof of its employees properly marking the location of its lines at Geary and Parker on January 28th, nine-days before the blast. That would seem to shift the onus onto Florida-based MasTec, the company hired by Verizon to install fiber optic cables at that location. In a Thursday statement, MasTec pointed the finger at two subcontractors it hired to do the actual work, Advanced Fiber Works and Kilford Engineering, but those companies have not commented yet.
PG&E officials say state law requires contractor to hand dig within two-feet of a marked gas line, but the workers were using a backhoe. The explosion and fire damaged five buildings and sent people fleeing for their lives, but there were no injuries.