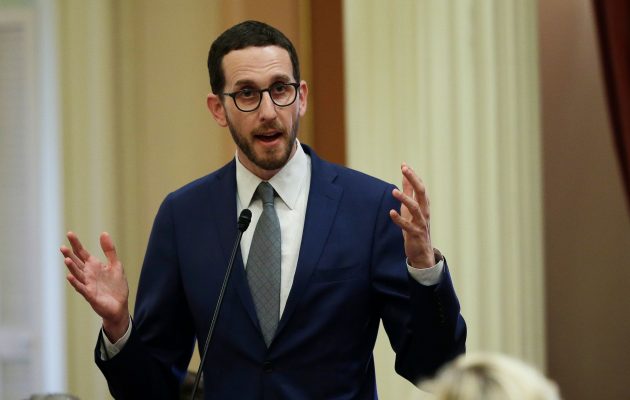 In this June 28, 2018, file photo, State Sen. Scott Wiener, D-San Francisco, speaks to members of the Senate in Sacramento, Calif. A new California bill would ban doctors from performing treatment or surgery on the genitalia of intersex children unless its medically necessary or the child is old enough to consent. The California Medical Association said it has serious concerns with the legislation because it removes doctors ability to respond to cases on an individual basis. Wiener's bill released Monday, Feb. 4, 2019, is the latest effort in California aimed at giving minors more control over their bodies and gender identities. (AP Photo/Rich Pedroncelli, File)
A state senator is pushing legislation aimed at banning medically unnecessary genital surgery on intersex babies. Pidgeon Pagonis, an intersex activist, says if Senate Bill 201 existed when she was born, it would have prevented her parents from hiding her truth and given her a choice.
Senator Scott Wiener introduced the bill with a coalition of civil rights, intersex, healthcare, and LGBT advocates to ensure intersex babies can provide confirmed consent before undergoing surgery to assign them a gender. The term intersex is used for people born with variations in their sex characteristics, including genitalia. Senator Wiener calls the bill long overdue in order to protect babies from these "risky" surgeries. If passed, SB 201 would make California the first state to mandate intersex patient participation in decision-making before a procedure can be performed.