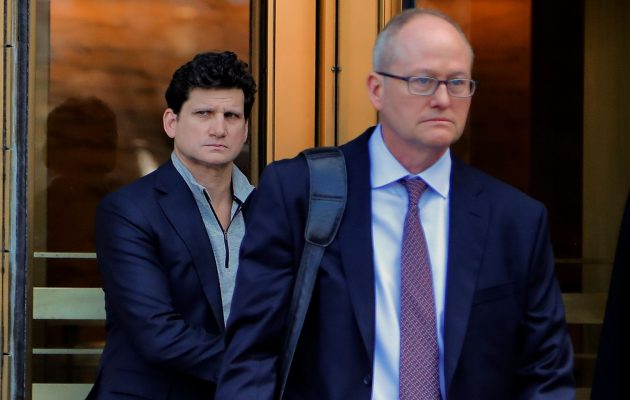 Gordon Caplan of Greenwich, Conn., left, walks out of federal court Tuesday, March 12, 2019, in New York. Fifty people, including Hollywood stars Felicity Huffman and Lori Loughlin, were charged Tuesday in a scheme in which wealthy parents allegedly bribed college coaches and other insiders to get their children into some of the nation's most selective schools. Caplan, who is co-chairman of the international law firm Willkie Farr & Gallagher, was accused of paying $75,000 to get a test supervisor to correct the answers on his daughter's ACT exam after she took it. (AP Photo/Julie Jacobson)
In Marin, two parents listed as Trustees for local schools have been indicted as part of the massive college admissions bribery case across the country.
First, Todd Blake of Ross, who retired last December from his role as a trustee in the Ross School Districts, was indicted along with his wife, Diane, suspected of paying bribery money and misrepresenting their daughter as a Volleyball star to get her into USC. The other trustee is William McGlashan of Marin Academy who's accused of creating a profile for his son to get into USC as a football player from Marin Academy which has no football team. TPG, the investment firm that McGlashan founded, has placed him on indefinite administrative leave.