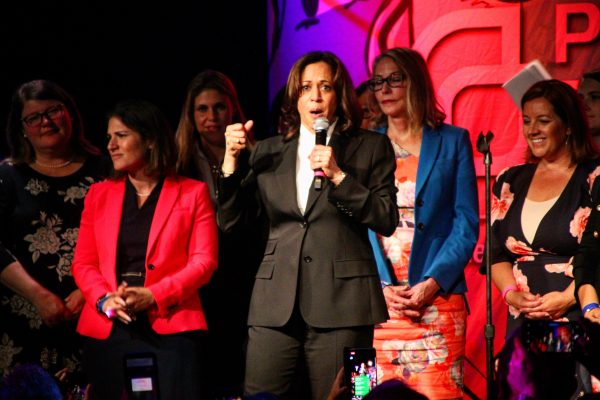 Kamala Harris speaks at a rally hosted by Planned Parenthood at the Mezzanine in San Francisco on May 31st, 2019. (Photo: Mike DeWad)
Mike DeWald // @mike_dewald
The 14 Democratic hopefuls wasted little time in speaking to Bay Area progressives Friday as the annual California Democratic Party Convention opened its doors in San Francisco. While the majority of the candidates will speak to the general assembly on Saturday and Sunday, many of them got started early with Friday evening rallies and speeches.
While Senator Elizabeth Warren held a rally across the Bay in Oakland, her fellow Senator and campaign rival Kamala Harris took the stage in front of a fired up and engaged group of younger voters at a rally and reception organized by Planned Parenthood. Hosted a San Francisco's Mezzanine night club, a venue that might be just as likely to feature the latest cutting edge DJ or indie band on a Friday night, the Senator took the stage just after 9:15p to an enthusiastic crowd of supporters. Harris kept her remarks relatively brief, but energizing, speaking to the fight ahead against the recent wave of anti-abortion legislation being passed across the country.
The rally comes at a vital moment for the health care nonprofit, with restrictive abortion bans passing in Alabama, Georgia, and a number of other southern states, as well as uncertainty with the Supreme Court and the presidency. The organization knows the legal battles will not only be drawn out through the court system, but also on the campaign trail in 2020. The legislation has also catapulted the issue as one of the current marquee issues galvanizing the progressive base.
"We will not throw up our hands when it's time to roll up our sleeves," said Harris to one of her biggest reactions of the night, "we will not despair, we will not be overwhelmed, we will not be tired, we will be vigilant, and we will fight."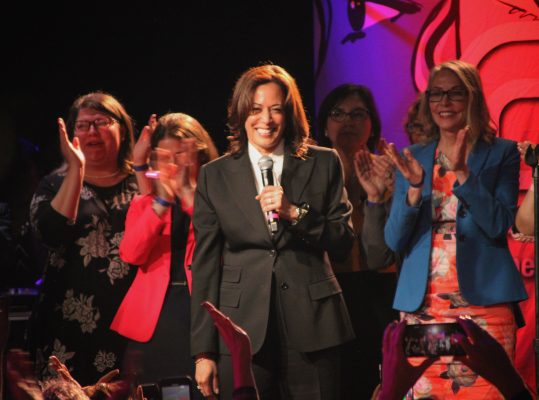 Thematically, Harris' remarks of being a fighter echo many of the campaign motifs from her campaign rollout rally a few months prior. Harris encouraged the crowd to stay vigilant and to get involved int he
"I find it interesting about these folks down in Alabama," said Harris, "these are the same folks that by the time this baby is born, they could care less,"
One of the biggest cheers of the night also went to Maggy Krell, Chief Legal Counsel of Planned Parenthood Affiliates of California, and someone who will most assuredly be busy throughout the legals battles to come.
"Let me be clear, abortion is health care," said Krell, "and health care is under assault like never before,"
Harris picks up where she left off Saturday morning, first addressing an early morning SEIU breakfast along with 5 other Democratic hopefuls, before later addressing the full convention general assembly at Moscone Center.