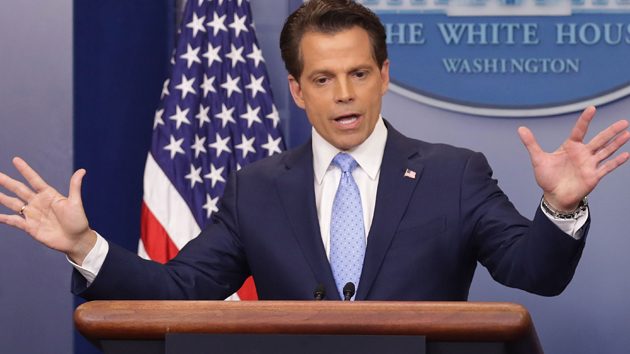 Chip Somodevilla/Getty Images
Mike DeWald (@mike_dewald)
Full Interview Audio:
Former White House Communications Director Anthony Scaramucci joined The Drive with Steve Jaxon Wednesday to talk about his recent break with President Trump. Earlier this week, Scaramucci announced that he no longer supported the President and suggested the GOP run a different candidate in the 2020 election. In the days following, a social media battle between the two followed on Twitter, Scaramucci says he's since faced multiple death threats since his turn against the President.
"I'm getting death threats because of this guy," says Scaramucci, "he's done it to others and he's using the office of the Presidency in a disgraceful way."
Scaramucci served in the White House for an eventful 11 days in 2017 before announcing his departure. In the months following his departure, Scaramucci continued his public support of the President up until his recent turn earlier in the month. He called the President's actions 'despicable' and vows that he will not be bullied by the President's words and actions.
To those asking, "what took so long?" You're right. I tried to see best in @realDonaldTrump based on private interactions and select policy alignment. But his increasingly divisive rhetoric – and damage it's doing to fabric of our society – outweighs any short-term economic gain.

— Anthony Scaramucci (@Scaramucci) August 12, 2019
His suggested the GOP nominate a candidate other than Trump, noting he was encouraged by former South Carolina Governor Mark Sanford's consideration of running but also said that another former South Carolina Governor would be his prime choice: former UN Ambassador Nikki Haley. While he was supportive of Haley's candidacy, he also believed that she would not break her loyalties to the President. Scaramucci has been on an extensive media tour since his initial comments appearing on multiple cable news networks to discuss his remarks.