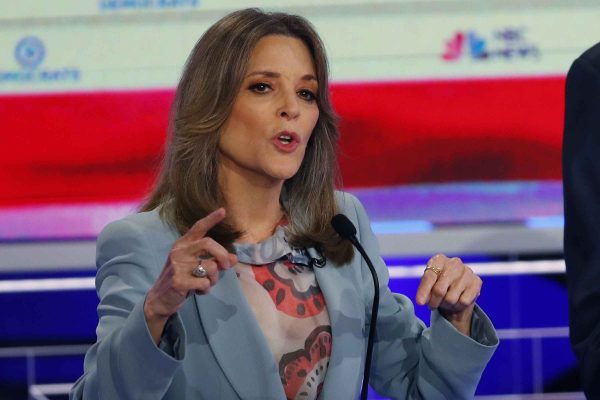 Democratic presidential candidate author Marianne Williamson speaks during the Democratic primary debate hosted by NBC News at the Adrienne Arsht Center for the Performing Arts, Thursday, June 27, 2019, in Miami. (AP Photo/Wilfredo Lee)
Mike DeWald (@mike_dewald)
Full interview audio:
Democratic hopeful Marianne Williamson joined The Drive with Steve Jaxon to discuss her unorthodox campaign of 'radical love' as she spends the week campaigning in Northern California. Williamson gained attention following her performance in the first two Democratic debates, even leading her to be the most Googled candidate after CNN's recent debate. Williamson spoke on her platform of providing what she called 'moral alternatives' to President Trump, policies including reparations for slavery and the creation of a 'Department of Peace'. The self-help author made the point that Democrats have been successful in identifying the President's 'immoral' actions, but have to do a better job at providing alternatives. Williamson also reacted to Israel's announcement of barring Democratic Congresswomen Ilhan Omar and Rashida Tlaib from traveling to the country following a tweet from President Trump.
"It was outrageous that the President pressured the Prime Minister of Israel and it was outrageous that the Prime Minister took the pressure," said Williamson.
Despite the momentum and added attention, it will be an uphill climb for Williamson to qualify for the third Democratic Presidential debate in September, hosted by ABC News. While Williamson is nearing the threshold of donors, she will need some help in polling to qualify, with the threshold rising to 2%. The candidate also responded to some of the recent criticism she's received about past comments on her radio show about vaccinations.
"I could not be more pro-science, I don't have an anti-science bone in my body," said Williamson, "I made a sloppy comment, which I regret and I've apologized for, I can say that a million times and it seems like it doesn't get put to bed."
Williamson continues her campaign across the state Friday, before returning to the Bay Area next Thursday to appear at the DNC's annual meeting being hosted in San Francisco.