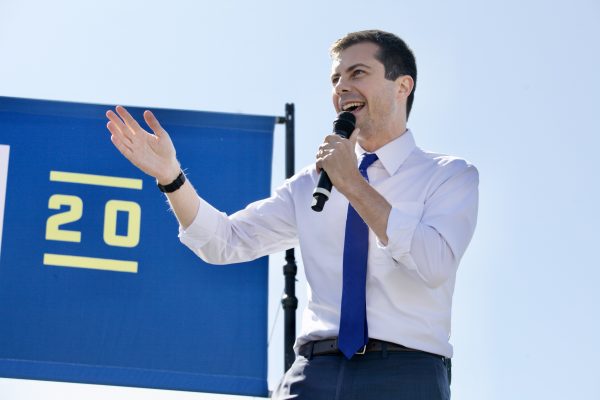 South Bend Mayor Pete Buttigieg speaks at a campaign stop in West Sacramento, CA on September 29th, 2019. (Photo: Mike DeWald)
Mike DeWald (@mike_dewald)
South Bend Mayor Pete Buttigieg returned to Northern California Sunday afternoon for a rally the campaign dubbed a 'grassroots picnic' at Drake's: The Barn in West Sacramento. The rally comes in the midst of Buttigieg's effort to cash in on his big fundraising numbers as he builds out his campaign ground operation in early voting states. An enthusiastic crowd of thousands of supporters came out to see the candidate simply known as 'Mayor Pete.' West Sacramento Mayor Christopher Cabaldon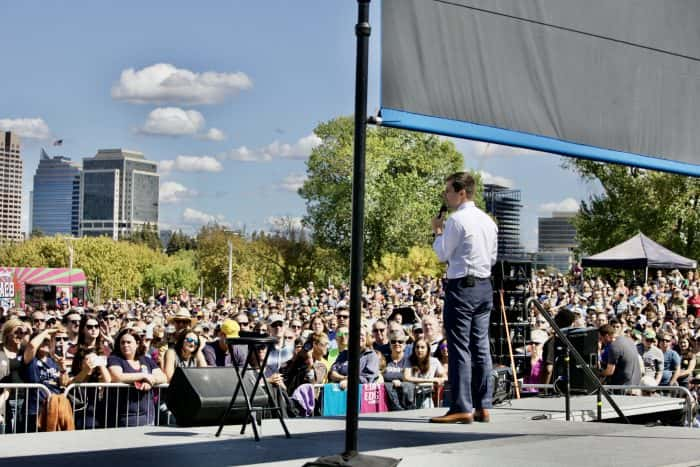 announced early on that the event was in fact the campaign's largest grassroots event to date in the primary cycle.
The stop is a continuation of Buttigieg's strategy to appeal to a broad constituency of voters, including independents and even conservative voters looking for other options. Buttigieg has visited many rural and nontraditional strongholds for Democrats, including a trip to Fresno earlier in the year. Buttigieg says these cities will play a big role in building support for his campaign.
"We're finding tons of support, not just in the biggest cities and population centers, but places that maybe haven't gotten as much love from the party," said Buttigieg, "we think it will be important to continue to speak to communities that remind me of South Bend along with the biggest communities in California."
Buttigieg's spoke for around a half hour before doing an extended Q&A, taking questions from supporters and rally attendees. Buttigieg has refined his message slightly in recent weeks, drawing distinctions between his campaign and Senator Elizabeth Warren's, without mentioning the Massachusetts Senator by name. Buttigieg said it's possible for the next Democratic nominee to present big ideas without sacrificing a unifying message that can bring together a divided country.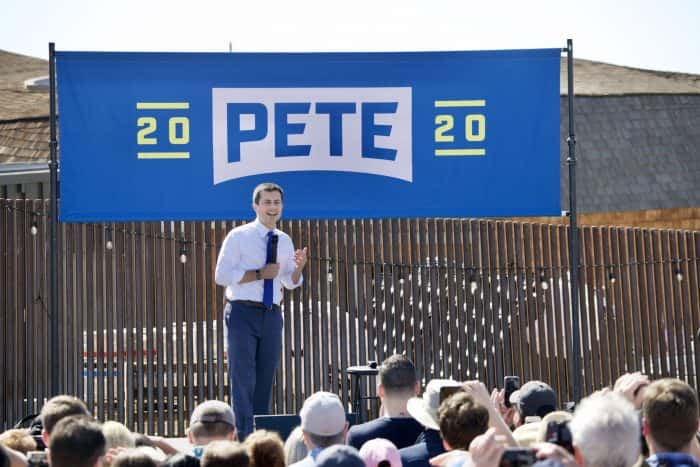 "We have a chance to be bold enough to meet these issues that we have in front of us and unify the American people," said Buttigieg, "Being bold doesn't have to mean it's my way or the highway, and being unifying doesn't have to mean softening up our values."
Buttigieg took aim at the President a number of times during the course of his remarks, but again rarely to never mentioning him by name. The South Bend Mayor told the crowd that he sees the President as a symptom of greater underlying issues in the country.
"I'm asking America to consider the circumstances that got us here," said Buttigieg, "a President like the one we've got now should not be able to get within cheating distance of the Oval Office, and the fact that he's there tells us there's something bigger going on."
Buttigieg's speech was wide ranging, cover campaign hot button issues, the current impeachment inquiry debate, along with more personal topics. On the issue of impeachment, when asked to respond to Senator Cory Booker's remarks that the process could be a distraction to the parity, Buttigieg said that the party could manage the multi-tasking.
"I believe in a constitutional crisis and a moment like this you have to do the right thing and then deal with the politics afterwards," said Buttigieg, "we have to be capable of handling two things at once."
North Bay resident Paula Radell, who also serves as a volunteer for the campaign, made the trip to the West Sacramento rally. Radell says she liked what she hear from the Democratic hopeful.
"He speaks to everything I believe in," said Radell, "he is the most inspiring candidate that I've seen in my lifetime."
The success of Buttigieg's upstart campaign has been a mixed bag depending on the metric. The campaign's fundraising effort has been impressive, with Buttigieg bringing in big dollars that afford him the flexibility and time to build out a campaign ground game operation and place ads ahead of early state voting. While Buttigieg's national polling has remained in the mid-single digits, there is reason for optimism for the campaign with state polls in Iowa and New Hampshire showing that he's beginning to make strides.
On the lighter side, Buttigieg responded to briefly being featured on NBC's Saturday Nigh Live season premiere episode depicting a satirical CNN debate with the Democratic hopefuls on the topic of impeachment.
"What can you say? It's not my job to be a theater critic," said Buttigieg, "we'll see if I get a little more airtime."
The work continues for Buttigieg, who will continue on the campaign trail leading up to the next Democratic debate, a single night debate hosted by CNN in Westerville, OH on Tuesday, October 15th,