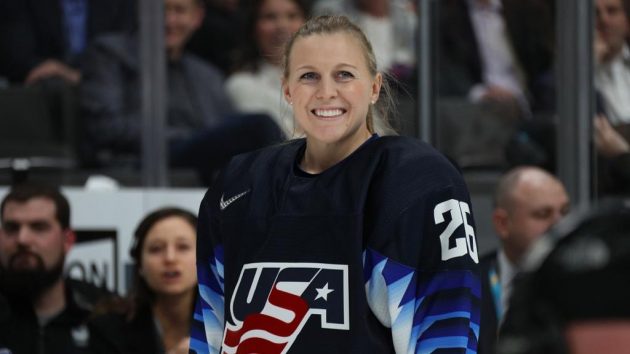 Kendall Coyne Schofield participates in the 2018 NHL All Star Game Skills Competition in San Jose California (Photo Courtesy: San Jose Sharks)
Listen to complete interview audio with Kendall Coyne Schofield here:
Kendall Coyne Schofield is used to breaking down barriers. The decorated Olympian made national headlines when she became the first women to compete in the NHL All Star Game Skills Competition Fastest Skater contest. Her 14.346 time ranked right in the mix with some of the fastest-skating hockey players in the world, less than a second behind Edmonton Oilers superstar Connor McDavid who won the event. It was a whirlwind that followed for Coyne Schofield, taking her to the NHL Network as a studio analyst, between the benches for color commentary for a national  NBC telecast, as well as a handful of other broadcasting opportunities around the league including work with the San Jose Sharks during their playoff run.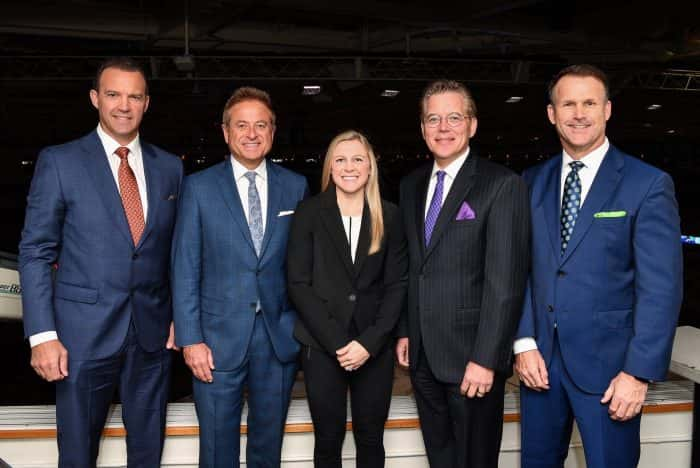 The welcome Coyne Schofield received in San Jose from both fans and the organization stuck with her long after her thrills participating in the All Star Game, also hosted in San Jose that year. That welcome did not go unnoticed by the Sharks organization either. Leading up to the start of the 2019 season, the Sharks organization announced that Coyne Schofield would be joining the team's broadcast as a color commentator. Coyne Schofield joins longtime Sharks TV play-by-play man Randy Hahn, as well as former players and fellow analysts Bret Hedican or Jamie Baker providing additional rinkside color commentary. The opportunity provided Coyne Schofield another chance to break down another barrier in a field traditionally dominated by men.
Coyne Schofield's love of hockey was born out of watching her brother play and wanting to emulate what he did. The Illinois native says that she was given initially given a pair of figure skates because, as she says, twenty five years ago the expectation was that girls would go into figure skating.
"After a week in the figure skates, I looked at them and cried," says Coyne Schofield, "I didn't know much because I was only three years old, but I knew my skates were different than his."
Growing up outside of Chicago, Coyne Schofield grew up watching Chris Chelios play for the Blackhawks with dreams of one day playing in the NHL. Her plans changed after meeting Cammi Granato the summer after she won a gold medal with the US National Team in 1998. Granato held the medal and knew instantly that the Olympics were where she wanted play.
Her dreams were tested when she saw no other girls around her playing and started to question whether the people telling her that hockey wasn't a sport for women. That outlook changed when she attended one of Granato's hockey camps. Coyne saw hundreds of girls like her playing and learning the sport she loved and was inspired that it was in fact something she could do, which quieted the doubts from naysayers she was feeling.
"They're wrong," said Coyne Schofield, "I can play this sport, I'm supposed to play this sport, and this sport is awesome."
As a member of the US National Team, Coyne Schofield racked up an impressive amount of hardware including 6 IIHF World Championship gold medals, a silver medal in the 2014 Sochi Winter Olympics, and a gold medal in the 2018 Pyeongchang Winter Games. For a women's hockey player, an Olympic gold is the pinnacle of achievement, it is the Stanley Cup. With the opportunity only coming every four years to represent your country in winter games, an Olympic gold is one of the most difficult achievements in sports.
It's with all this experience that Coyne Schofield draws upon for her insights into the NHL game in the booth. Whether it's success on the ice, or breaking down barriers in the game, these are the moments that help grow the game of hockey to new fans, providing a gateway to learn about the game from a new and diverse voice. Coyne Schofield remembers her experience finding hockey and applies that to her work as a broadcaster, in hopes of not only providing insight but being a role model for younger girls looking to get into the game.
Coyne Schofield likens broadcasting in many ways to playing with improvement coming through preparation, practice, and being ready in case things don't go as planned. Her day is structured similarly as it would be if she's playing, fitting in time for rest, using the production meeting as her 'warm-up,' and getting into the right mindset to call the game.
"Hard work is something I never take for granted, I always put in the work" said Coyne Schofield. "throughout this year on the broadcast side I've really focused on putting in the work to get better."
The Olympian's goals are plentiful, both on and off the ice. While continuing to work on the broadcast side, she's also still very active on the playing side, playing in events and tournaments with the US National Team working toward earning a roster spot for the next winter games.
On the ice, Coyne Schofield assess the Sharks as a team still finding their game but trending in the right direction. As the team's young players continue to develop chemistry and the new core of leadership develops, she says the sky is the limit.
"When the team plays to their roles and their strengths, which is offense through their defense, they are successful," says Coyne Schofield, "November was a glimmer of what this team is made of and it's only going to continue to get better game by game."