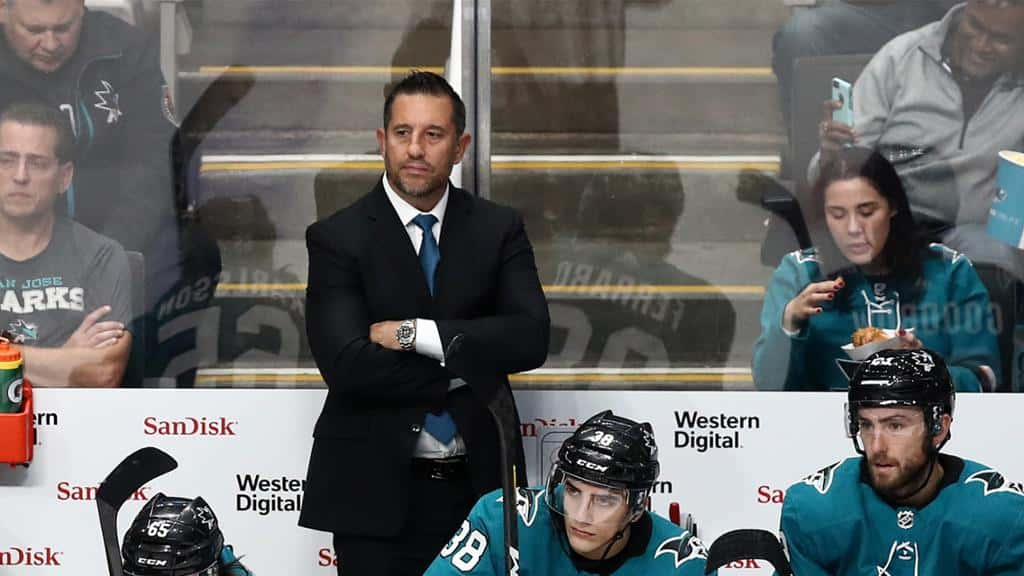 The San Jose Sharks looked to turn around a recent losing streak that stalled the momentum built by the team's November success. Earlier this week the team took the extraordinary measure of relieving four of its longtime coaches of their duties, including Head Coach Peter DeBoer. Interim Head Coach Bob Boughner had a little extra time to prepare for Saturday night's game against the Canucks than the few hours he had before his debut on Thursday. The Sharks also made a change in net, going with back-up Aaron Dell after an up and down game from starter Martin Jones.
The Sharks jumped out to an early 1-0 lead with Tomas Hertl putting home a pass from Joe Thornton halfway through the first period. It's a first goal that' been important for the Sharks, with their record varying substantially depending on which team scores first. The team found its footing midway through the first after an uneven start to the game. Boughner promised in his introductory press conferences that areas of the team's game would change, and the Sharks seemed to warm up to those adjustments as the game progressed. Aaron Dell was tested early, turning away all 13 shots he faced in the first, including two back-to-back delay of game penalties. The Sharks took the 1-0 lead into the break.
It was a milestone evening for the Sharks, with longtime defenseman Marc-Edouard Vlasic playing in his 1,000th NHL game, all with the Sharks. The Sharks continued to carry the momentum into the 2nd period, pelting Canucks goalie early and often with shots from all angles but the Vancouver netminder kept the puck out. The ice began to tilt in the opposite direction halfway through the 2nd as the Canucks tried to push back, but the Sharks defense held serve and kept the puck out of the net. The Canucks took a slight edge in shots 20-19 heading into the second intermission.
Aaron Dell saved some of his best goaltending for the third period, fighting off a number of Canucks chances that led to a 2-on-1 transition with Timo Meier and Evander Kane with Meier putting home the goal to put the Sharks up by two. The Canucks responded 40 seconds later with Jake Virtanen putting Vancouver on the board with a wrist shot by Aaron Dell. The Sharks top-ranked penalty kill kept it up, killing all three Vancouver power plays, including a chance late in the third. A flurry of goals closed out the game with Evander Kane scoring a goal with 1:21 left to put the Sharks up 3-1, the Canucks would add one more goal with :27 left, but Captain Logan Couture would get another empty netter.
After the game, Boughner spoke highly of the work of his team and especially goaltender Dell, calling the Sharks current goalie situation a 'competition.'