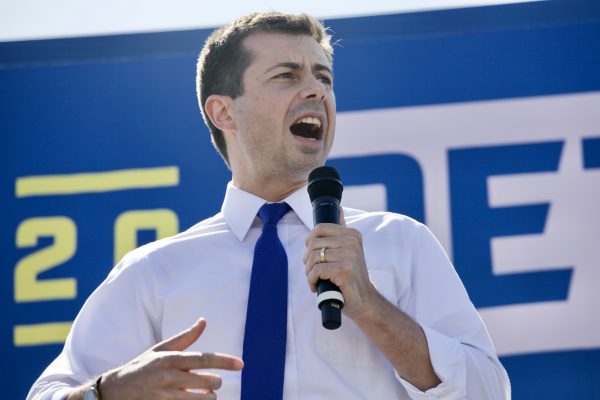 South Bend Mayor Pete Buttiegieg speaks at a rally in West Sacramento in late September 2019. (Photo Mike Dewald//KSRO)
South Bend Mayor Pete Buttigieg released his plan for immigration Sunday morning. The plan, entitled "I was was a stranger and you welcomed me": An Immigration Policy, aims to modernize the country's immigration and naturalization framework, bolster the rights of immigrants as well as roll back a number of the immigration actions taken by the Trump Administration. The plan aims to create a path for citizenship for the approximately 11 million undocumented people living in the United States, as well as revising the way asylum seekers' cases are heard at the border by allowing asylum officers to conduct full asylum interviews and adjudication.
Buttigieg's plan aims to roll back a number of Trump Administration immigration policies including ending the travel ban on immigrants from primarily Muslim countries, ending the practice of family separation at the border, as well as promising to end private, for-profit prison contracts for detaining immigrants.
"Our policies should acknowledge that immigrants are not outsiders," said Buttigieg in a statement, "They are already members of our communities."
The plan also promises to bolster the rights of immigrants currently living in the country as well as for those seeking asylum at ports of entry along the border. The plan calls for the creation of a National Office of New Americans, an office the campaign says would be tasked with promoting and supporting immigrant and refugee integration and inclusion through coordination across federal, state, and local governments. The office would work with state and local governments, as well as the private sector, to provide more visible and affordable naturalization information and assistance.
In the first 100 days, Buttigieg promises to pass legislation that provides a pathway to citizenship, while on day one also restoring and extending temporary immigrant protections that were rescinded by the Trump administration.The plan for asylum seekers was born out of the issues of their cases not being heard in court, as well as  the inability for immigrants to have lawyers represent them.
"We will do more than simply end these outrages," Buttigieg's statement continues, "We will reform a system that has been in dire need of reform for decades and create an immigration system for a new era that reflects America's values of welcoming and belonging."
On the issues of health care and access to social services, the plan promises to allow all immigrants to access health coverage on the marketplace as well as to eliminate the five-year waiting period for green card holders to gain access to health insurance and food assistance programs. Undocumented workers would be protected from retaliation when reporting labor violations such as an enforced minimum wage, union rights, or other protections under labor and employment rights.
Buttigieg looks to tap into opportunities for immigrants to support rural and economically-struggling communities. The plan promises to restore H-1C visas to bring immigrant doctors and nurses to the country to support medically-underserved rural communities as well as creating a local Community Renewal visa which would be targeted toward counties that have lost prime working-age population over the last 10 years. Eligible communities can apply to join the program with requests for migrants in fields such as agriculture, manufacturing, or health care. Visa applicants would then specify one or more preferred destinations and be matched with a community. Applicants would be eligible for a green card on an expedited basis three year basis if they remain in the community or within five years if they move, according to the policy plan.
Immigration is traditionally one of the most difficult issues in Congress to find progress, with both Democrats and Republicans generally agreeing on the need for reform but not on the form it should take. Issues with the immigration system exist beyond simply what happens at the border and spread to the communities, workforces, and local economies across the country.
On the issue of border security, Buttigieg says he will halt construction on the President's border wall and re-allocatie the funding to more technologically-based solutions. True to Buttigieg's ongoing messaging strategy, the plan is just as much a statement of the candidate's values as it is a comprehensive plan of actionable policies, a statement that Buttigieg hopes will resonate and connect with voters.
Buttigieg was thrust to the forefront of the campaign dialogue earlier this week at the sixth Democratic debate hosted at Loyola Marymount University where he and Senator Elizabeth Warren sparred over transparency and fundraising, partly in relation to the Mayor's recent Napa Valley fundraising activities. Much of Buttigieg's attention turns now to Iowa, where the candidate must have a strong finish to remain competitive. A recent Iowa State Univserity poll had the Mayor up by 3% over Senator Bernie Sanders.The Real Clear Politics polling average also shows him holding on a to a slim 2% lead in Iowa, also over Senator Sanders. The next planned Democratic presidential debate will take place in the vital early primary state in January.