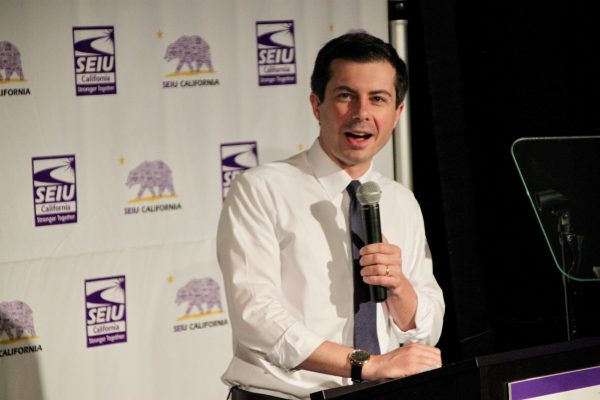 South Bend Mayor Pete Buttigieg speaks to California SEIU workers at an annual breakfast prior to the California State Democratic Party Convention (Photo: Mike DeWald)
Former South Bend Mayor Pete Buttigieg released his plan for infrastructure early Friday morning. The $1T plan aims to provide support to local governments in a number of areas including public transportation, clean drinking water, road improvements, and rural broadband access.
"Under my administration, local governments will finally have a partner in Washington." said Buttigieg in a statement, "As a former mayor, I know that priority-based budgets made locally are better than the budget-based priorities set in Washington."
Buttigieg says that his infrastructure plan will create six million jobs with labor protections, with an emphasis on underrepresented communities, while also updating and fixing half of the country's roads and bridges in poor condition by 2030. The package also aims to invest in sustainable infrastructure that enables half of U.S. counties to grow over the next decade, as measured by an increase in jobs, businesses, or population. Infrastructure, usually viewed as a traditionally more bipartisan issue, is sure to be a focal point among the Democratic hopefuls as the campaign progresses.
Buttigieg plans to pay for the hefty $1T price tag by reforming the capital gains tax and repealing the Trump tax cuts. To cover the additional budget for the infrastructure package, Buttigieg plans to collect revenue through an increase in the estate tax and a decrease in the exemption, as well as eliminating some estate tax loopholes. The campaign estimates these measure would raise an estimated $400 billion over 10 years.
Projects like the North Bay's SMART Rail Project could prove to stand as a potential benefactor under Buttigieg's infrastructure plan. The democratic hopeful says that he would establish a $3 billion per year grant program to help states and metropolitan planning organizations to purse projects of regional and national significance that serve increasingly interconnected networks of cities and towns.
As with a number of Buttigieg's plans, much of the emphasis is on rural development and advancing rural communities to catch up with modern connectivity. It's a strategy Buttigieg has also utilized along the campaign trail, especially in early voting states like Iowa and New Hampshire, holding rallies and town halls in counties that flipped from Barack Obama to Donald Trump in the 2016 election.
The plan looks to make a dent in the number of poor roads and bridges around the country, pleading to cut the backlog of critical road repairs in half over 10 years as well as repairing half of the the structurally deficient bridges by 2030. Buttigieg plans to do this by incentivizing states to use federal formula funds to repair existing roads and bridges.
Buttigieg's plan includes bolstering broadband access to rural communities through an $80 billion capital investment. Buttigieg hopes to create new opportunities for rural and underserved communities for job creation, Telehealth, and education. The former promises to offer more competitive capital grants to provides, including rural co-ops and Indian tribes, in underserved areas as well.
In regards to climate change, Buttigieg plans to invest in wildfire protections following years of damaging wildfires across California, Buttigieg plans to convene a national expert working group to improve wildfire prevention strategies, as well as recruiting 5,000 firefighters and related experts across federal, state, tribal, and local agencies to work on wildfire safety and prevention. In response to California's recent string of Public Safety Power Shutdowns, Buttigieg's plan aims to work with public agencies, utilities, and grid operators to harden the grid by requiring annual audits of risk and emergency response plans.
Buttigieg release the plan as his campaign heads toward a critical stage of the Democratic primary with the looming Iowa caucus. A most recent CBS News/YouGov poll showed a three-way tie at the top between Buttigieg, former Vice President Joe Biden, and Senator Bernie Sanders. The poll also showed close competition from Senator Elizabeth Warren and continued momentum from Senator Amy Klobuchar. A Monmouth poll of New Hampshire reflected a very similar story with Buttigieg leading a tightly packed field by a razor thin 1% margain.
The race continues with a planned Tuesday night debate in Iowa hosted by CNN and the Des Moines Register, the debate begins at 6 p.m.