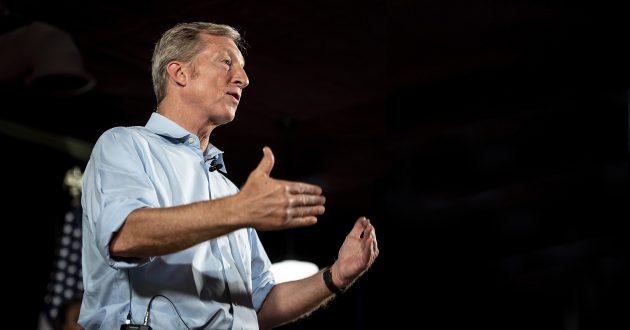 Tom Steyer announces the launch of the Need to Vote campaign, a part of his Need to Impeach movement, aimed at encouraging voter turnout for the 2018 mid-term elections at a town hall event in Lansing, MI on Monday, August 13, 2018. Photographer: Christopher Dilts / Need to Impeach
Listen to complete interview audio with presidential candidate Tom Steyer here:
Tom Steyer received some very important advice from his oldest son via text moments after he stepped off the stage at the most recent Democratic debate hosted in Iowa. Minutes prior, the candidate had stepped into what became a viral moment in the tense exchange between Senators Bernie Sanders and Elizabeth Warren as the debate came to a close.
"Within 2 minutes, he texted me 'Dad, whatever you do, don't be a snitch.' " said Steyer looking back, "so I figured they deserved their privacy."
The businessman, philanthropist, and Democratic hopeful has run a slow but steady campaign centered around the principles of social justice, whether that be related to climate change, race, housing affordability, or a host of other issue. Steyer adds to an already unique primary dynamic, being one of a pair of candidates with the means to self-fund their campaigns. Steyer has blanketed the airwaves in early states with ads in hopes of increasing his name recognition to voters as well as getting out his campaign messaging.
Between the media blitz and an exhausting campaign schedule, Steyer has started to see polling dividends for his efforts. A recent Morning Consult poll of early state voters placed Steyer in 3rd place with 17% of respondents, putting him ahead of other frontrunners Senator Elizabeth Warren and former South Bend Mayor Pete Buttigieg.  Without the need for fundraising, Steyer seems primed to see the race through for the long haul.
Steyer's main passion is the fight against climate change, citing it as the most urgent issue facing the country. Spending much of his life in Northern California, Steyer knows all too well the implications of climate change to local communities.
"I drove up through Sonoma last year after the fires to really see what fire devastation looks like," said Steyer, "that's one of the many reasons I've said climate is my number one priority."
Steyer said, if elected, he would declare a climate emergency on day one to be able utilize the emergency powers of the presidency to take action in combatting climate change. He says the a renewed focus on clear energy would be a top priority, including cars and building codes, to change the industrial mindset in manufacturing.
Steyer sees an interconnectedness in many of the issues he speaks about, from climate to housing to criminal justice, saying that most of these issues most adversely impact minority populations in the country. On the issue of housing and homelessness, Steyer says that the number of affordable units in the country is sorely lacking and sees a role for the federal government to play.
"Republicans told us 40 years ago, starting with Ronald Reagan, to not worry about about the government because the market will provide," said Steyer, "well, forty years in, we know that's a bunch of bull."
Sometimes considered a state or local issues, Steyer says he would not only budget significant dollars for the development affordable housing units, he would also ensure that the construction would be done in a climate-smart fashion.
Steyer met with leaders in the Bay Area last week to discuss his new criminal justice plan. It's a plan he says aims to shake up the system and promote prevention and rehabilitation.
"It's hard to look at the criminal justice system in America without noticing that there's racial bias in it," said Steyer, "from the way we police to the way we sentence, to the way people are treated when they're incarcerated to how they're treated when they're released."
The candidate he said he would take a number of the reforms he worked to implement in California, including ending cash bail and automatic sentence enhancements. Steyer says that one of the issues he's most passionate about that doesn't get enough airtime on the national debate stage is the conversation about reparations. He cites it as one of the most important racial justice conversations that needs to be happening within the country.
"We have to start much earlier than when someone is being incarcerated and understand why it is that this society incarcerates seven times as many people as other advanced societies."
A businessman himself, Steyer looks at the way the Trump administration has operated as disqualifying the old campaign talking point that government should run more like a business. It's a belief system Steyer says that drove him to run for President in the first place.
"A business has a completely different set of rules," said Steyer, "[a government] has be well-organized, and execution is critical, but also needs to value-driven and understand that it reports to the American people."
One of the earliest advocates of taking up articles of impeachment against the President, his petition drive through NextGen America received 8.5 million signatures. Steyer says he believes the public pressure was one of the driving factors that led to impeachment debate in Congress.
"I believe they dragged Washington into doing the right thing here," says Steyer, "the court that counts here is the court of public opinion and the jury is the American people."