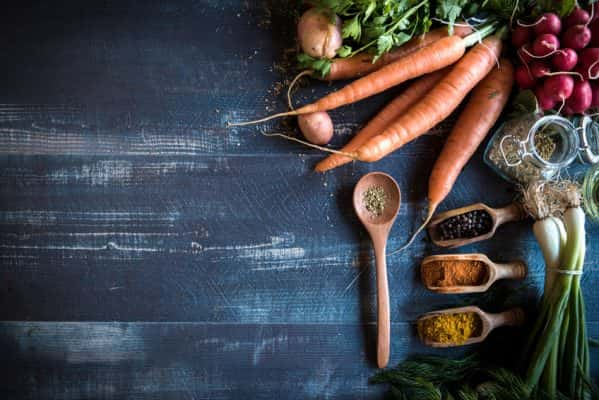 Cooking concept with vegetables and copy space in the middle on wooden background
RELISH CULINARY MOTHER'S DAY CLASS 2009
On the Menu:
Buttermilk Cinnamon Coffee Cake
My Grandmother's Cheese Blintzes
Green Chile and Chorizo Strata
Slow Cooked Eggs with Herb Salad and Crème Fraiche
Mangoes in Spiced Syrup
BUTTERMILK-CINNAMON COFFEE CAKE
Makes 12 servings
This is one of my favorite coffee cakes that has a pleasing crunchy top.
2-1/4 cups all purpose flour
1/2 teaspoon salt
2 teaspoons cinnamon
1/2 teaspoon ginger
1 cup brown sugar
3/4 cup white sugar
3/4 cup neutral vegetable oil such as corn
1 cup finely chopped walnuts or pecans
1 teaspoon baking soda
1 teaspoon baking powder
1 egg, beaten
1 cup buttermilk
Preheat oven to 350 degrees.
Mix together in a large bowl the flour, salt, 1 teaspoon of the cinnamon, ginger, both sugars, and corn oil.  Make the topping by removing 3/4 cup of this mixture, and add the nuts and the remaining teaspoon of cinnamon.  Mix well, and set aside.
To the remaining batter, add the baking soda, baking powder, egg and buttermilk.  Mix to combine all ingredients.  Small lumps in the batter are OK.
Pour the batter into a well-greased 9" by 13" by 2" inch pan.  Sprinkle the topping mixture evenly over the surface.  Bake for 40 to 45 minutes or until a wooden toothpick inserted in the center comes out clean.
MY GRANDMOTHER'S CHEESE BLINTZES
Serves 6
The crepes for the blintzes can be made a couple of days ahead.  Stack them on a plate, cover tightly with plastic wrap and refrigerate.  You can also makes the blintzes completely ahead and freeze for up to a month stored in a tightly covered container.  They don't have to be thawed before frying which will take a little longer than unfrozen ones to heat thru and crisp.
3 large eggs
1-1/3 cup milk
2 tablespoon melted butter
3/4 cup unbleached all purpose flour
Vegetable oil spray
Butter for the pan
Cheese filling (recipes follows)
Add the eggs, milk, melted butter, salt and flour to a blender and blend until smooth.  Let the batter rest at room temperature for at least 30 minutes.
Heat an 8-inch non stick crepe or omelet pan over medium heat and spray with oil or wipe with an oil soaked paper towel and a bit of butter to very lightly coat.  Pour a scant 1/4 cup batter into the hot pan, wait a couple of seconds and then tilt the pan in all directions to make a thin crepe that comes up the sides of the pan.
Cook until the surface of the crepe is dry and edges release easily with the tip of a knife or spatula.  It'll only take 20 – 30 seconds.
Turn the cooked crepe out onto a plate and repeat until you've run out of batter.  You should have at least 12 nice crepes plus a few.
Fill the crepes with a heaping tablespoon of the cheese filling then fold the top and bottom, followed by the sides over the filling to enclose and make a compact package.  Store seam side down in the refrigerator until ready to cook.  Place a skillet over medium heat for a couple of minutes.  Add a bit of oil and melt in a bit of butter and fry the filled blintzes for 5 minutes or so on each side until they are golden and crisp.  Serve hot with any of the suggested toppings.
Cheese filling for blintzes
1-1/2 pounds drained whole milk fresh cheese such as ricotta, farmer's or pot cheese
1 large egg beaten
1 teaspoon vanilla extract
3 tablespoons sugar, or to taste
1/4 teaspoon salt
3 tablespoons unbleached all purpose flour
3 tablespoons finely grated orange zest (use a microplane)
2 tablespoons chopped golden raisins or dried cherries (optional)
Suggested toppings
Sour Cream or slightly sweetened thick yogurt
Fresh  seasonal fruits of any kind
Powdered Sugar
Powdered Cocoa
Fruit Syrups
Reduced Balsamic Vinegar
GREEN CHILE AND CHORIZO STRATA
Serves 6
Make sure to use real Spanish Chorizo or a good Italian hot sausage and not Mexican chorizo which is much fattier.
1 pound Spanish chorizo sausage, casings removed
2-1/2 cups half and half
5 large eggs
2 teaspoons ground cumin
2 teaspoons salt
1/2 teaspoon freshly ground black pepper
6 6-1/2 x 4-1/2-inch slices sourdough bread, crusts trimmed
1-3/4 cups shredded hot pepper Jack cheese (about 6 ounces)
1 large poblano pepper, charred, seeded and stemmed and chopped (about 1 cup)
1/2 cup chopped fresh cilantro
Butter 8-cup soufflé or baking dish. Sauté chorizo in heavy large skillet over medium-low heat until cooked through, about 10 minutes. Using slotted spoon, transfer chorizo to plate lined with paper towels and drain.
Whisk next 5 ingredients in large bowl to blend. Place 2 bread slices in bottom of prepared dish. Sprinkle with 3/4 cup cheese and half each of poblano, cilantro and chorizo. Pour 1/3 of egg mixture over. Repeat layering with 2 bread slices, 3/4 cup cheese and remaining chilies, cilantro and chorizo. Pour half of remaining egg mixture over. Top with 2 bread slices. Pour remaining egg mixture over and sprinkle with remaining 1/4 cup cheese. Cover; chill at least 4 hours or preferably overnight.
Preheat oven to 350°F. Bake strata uncovered until puffed and golden, about 55 minutes.
SLOW COOKED EGGS WITH HERB SALAD AND CRÈME FRAICHE
Serves 6 – 8
Before I go into this recipe  – – a little discussion about eggs.  Most of us see scrambled eggs as something that we can do quickly and get on the table.  Unfortunately high heat cooking leaves something to be desired.  If you slow things down a bit, you can turn scrambled eggs into something spectacular: Cooked very slowly, and stirred constantly, scrambled eggs can be a dish that's creamy, rich and luxurious enough to serve as a first course at an elegant dinner.
Try it once, and you may never do the quick scramble again. Try it twice, and you'll never fret again about a brunch menu.
The trick to the magical transformation of the slow scramble is simple enough: Lower the fire and stir with a patient hand.  A beaten egg behaves differently at different temperatures. Cook it over high heat and the egg's protein bonds seize up and tighten quickly, squeezing out the moisture as the egg cooks. You'll end up with large, tough curds.  But switch to gentler heat and the protein bonds stay more relaxed as the egg cooks. You get divinely tender curds; the constant stirring keeps them tiny.
Be sure to use the best and freshest eggs possible. Look for them at farmers markets, if you can; sometimes stalls will even have araucanas (they're the ones with blue-green shells) — their flavor is extraordinary. At supermarkets, buy organic ones.
The eggs can be at room temperature or straight from the fridge, but cold eggs will mean a slower slow-scramble. (Slow-scrambled eggs take at least 10 minutes and up to 25 minutes, depending on the temperature of the eggs, the pan and even your kitchen.)
To get started, break a few eggs into a bowl, season with salt and pepper, and add a little bit of fat (such as butter, oil or crème fraiche). Whisk the mixture to blend completely.
Then place butter or oil in a nonstick skillet over low heat. Once the butter has melted, the pan is ready for the eggs. Pour them in, making sure the heat is at the lowest possible setting.  If your burner is hard to control then cook the eggs over a gently simmering double boiler.  Immediately begin stirring; you'll be doing this constantly, with just a few pauses, varying your strokes to prevent large curds from forming.
In the first few minutes, it might seem as if not much is happening. But the eggs are actually thickening slowly. Curds will soon begin to form; they should be small, like cottage cheese curds. A few large ones may develop but will break up as you continue stirring.
Once you have a panful of curds that are still just a little glossy, take the eggs off the heat so they don't overcook. Continue to stir for a minute or so. The eggs will lose a little more of their shine, but should still be moist and creamy when you serve them.
2 cups gently packed mixed herbs of such as chives, cut into 1/2 inch pieces, Italian parsley leaves and chervil leaves
1 tsp. plus 1 Tbsp. extra virgin olive oil plus additional for finishing
1/2 tsp. lemon juice
Salt and freshly ground white pepper, divided
12 eggs, at room temperature
1/2 cup crème fraiche, divided
1 Tbsp. butter
1/4 cup grated cheese such as Ig Vella's Toma
Roasted fingerling potatoes and tomatoes to accompany
Chop 1 cup of the herbs and set aside.
Toss the remaining cup of whole herbs with 1 tsp. olive oil, lemon juice and salt and pepper to taste. Set aside to garnish the finished eggs.
Whisk together the eggs and one-fourth cup crème fraiche and salt and pepper to taste.
Heat a 10-inch nonstick skillet with 1 Tbsp. olive oil and butter over medium heat. After the butter melts, add the eggs. Reduce the heat to low. Use a rubber spatula to stir the eggs in a clockwise direction (really . . . why?).
When the eggs are cooked three-quarters of the way through with curds forming, stir in the cheese. Continue to cook and stir the eggs until they are still moist with some liquid. Just before they have finished cooking, stir in the chopped herbs. Continue to cook, stirring constantly until they are very creamy and almost cooked, about 15 minutes total cooking time. Remove the eggs from the heat during the last minute of cooking and stir until they are done.
Divide the eggs among the serving dishes. Top each with a dollop of crème fraiche and garnish with the herb salad and a drizzle of olive oil to finish. Serve immediately with potatoes and tomatoes.
MANGOES IN SPICED SYRUP
Serves 4
This simple dessert could also be made with fresh peaches, nectarines or pineapple.  The syrup is also delicious drizzled over fresh berries.
2 small cinnamon sticks
1 whole star anise
1/2 cup sugar, preferably organic
1/2 cup dry fruity white wine or water
2 tablespoons fresh lime juice
3 medium mangoes, peeled, seeded and sliced
1/4 cup loosely packed shredded coconut, lightly toasted
3 tablespoons sliced almonds, lightly toasted
Vanilla bean ice cream, optional (but why not!)
Combine the cinnamon sticks, star anise, sugar and wine in a small saucepan over moderate heat and bring to a simmer, stirring occasionally to dissolve the sugar.  Continue to simmer for 5 minutes.  Remove from heat, stir in lime juice and allow to cool for 5 minutes.  Pour warm syrup over mangoes, cover and refrigerate until cold, about 1 hour.
To serve:  Discard cinnamon sticks and star anise (unless you like their decorative look!) and serve mangoes with syrup topped with a sprinkling of toasted coconut and almonds with vanilla ice cream along side, if using.
John Ash © 2009