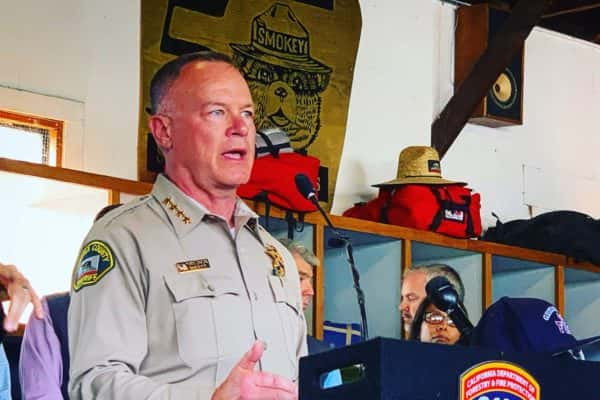 Mark Essick speaks at a press conference in 2019. File/Photo: Mike DeWald
Sonoma County Sheriff Mark Essick released a statement late afternoon on Friday clarifying his position regarding his department's enforcement of the county's shelter in place health order. After the surprise announcement Thursday shocked many, some local officials appealed to Essick to reverse his decision. A mid-afternoon report that the Sheriff would be reversing his decision was then followed by a statement posted to social media that the Sheriff had not in fact reversed his position.
Following conversations with county supervisors, including Chair Susan Gorin and Lynda Hopkins, as well as the Public Health Officer, Essick released a statement clarifying the progress in the talks. A spokesperson for the Sheriff re-affirmed that Essick would not be enforcing the county's health order beginning on Monday, rather deferring to state guidance from California Governor Gavin Newsom.
Full statement from Sheriff Mark Essick:
Earlier this morning Sheriff Mark Essick met with Board of Supervisors Chair Susan Gorin, Supervisor Lynda Hopkins, Director of Public Health Barbie Robinson, and Sonoma County Public Health Officer Dr. Sundari Mase. They met virtually to discuss the enforcement of the Sonoma County Public Health Orders.
The meeting was positive and productive in addressing the Sheriff's concerns about the lack of access to health information related to COVID-19 and lack of access to collaborative meetings occurring at the County level.
There was a commitment from all parties to increase communication and inclusion in regular collaborative meetings. The Health Department agreed to provide additional data about the effects of COVID-19 in our community. Director Robinson and Dr. Mase agreed to accept operational feedback from Sheriff Essick on future Health Orders and their impact on our community. All involved affirmed a strong commitment to the health and wellness of Sonoma County residents.
Sheriff Essick understands that during these challenging times a flexible response is necessary to adapt to the rapidly evolving situation presented by COVID-19. The Sheriff's Office will continue to educate the community, while evaluating newly available data from our public health partners and collaborating with Public Health to determine enforcement priorities and protocols.