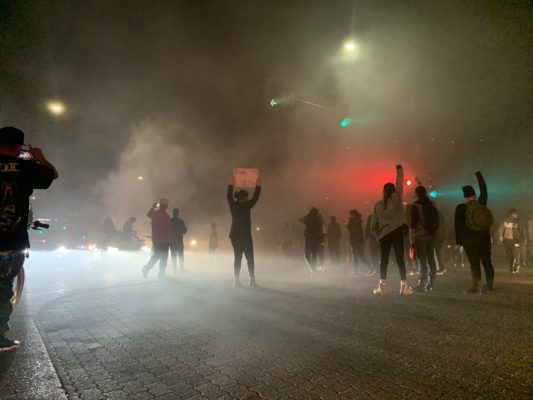 Protestors in Santa Rosa at a demonstration for Minnesota's George Floyd. Photo: Mike DeWald
What started as a peaceful protest of the death of Minnesota's George Floyd in Santa Rosa, simmered to moderate violence and aggression on Saturday night.
Courthouse Square George Floyd Protest
KSRO's Mike DeWald was on-scene throughout, and provided the following rough timeline of events:
–1pm: Protest started at 4th and Mendocino in Courthouse Square.  Thousands gathered, a wide swath of demographics, including many families with children.  Atmosphere was loud and boisterous, but peaceful.
-The crowd moved down Mendocino to the Sonoma County Sheriff's office.  At one point, a Sheriff's Deputy stood on roof with rifle, but the crowd moved on to the Jail without incident.
-At was at this point they made their first attempt to block Highway 101 at Steele Lane, however they were unsuccessful.
-Protest moved back downtown to Courthouse Square.
–830pm: a red pickup truck drove through the crowd purposefully with speed. 20 people were struck, but seemed to be no major injuries.  No calls for emergency medical.
-The crowd then moved briefly to Santa Rosa Police Department, where the crowd and actions began to change.  Fireworks were shot at the station, sideshow car activities, and the name Andy Lopez was spray painted on the Santa Rosa Police Department building.
-The crowd then re-attempted to block Highway 101, on the highway 12 on ramp and were successful.  California Highway Patrol used tear gas to get off the crowd off the freeway.
–1030pm: protestors returned to Courthouse Square, and attempted to break in to the Santa Rosa Plaza mall.  At this point other law enforcement agencies joined, including Sonoma County Sheriff's Department and Sebastopol Police Department.  Bottles and fireworks were launched at law enforcement, prompting more tear gas.
-15-20 law enforcement vehicles lined courthouse square.
-One protestor attempted to shoot a firework at ground level directly at the line of officers, but it exploded prematurely in a group of protestors.  Miraculously, there appeared to be no major injuries and there were no calls for emergency medical.  Officers then brandished rubber bullet guns, dispersing crowd.
-At the time of this writing, there are 15-20 protestors left in Courthouse Square.
-Smashing of windows and violence toward businesses was not part of the flavor of the protest, however graffiti and tagging were and will be prevalent tomorrow morning.
Keep it on KSRO on the radio, KSRO.com and the KSRO app for the latest on this story.