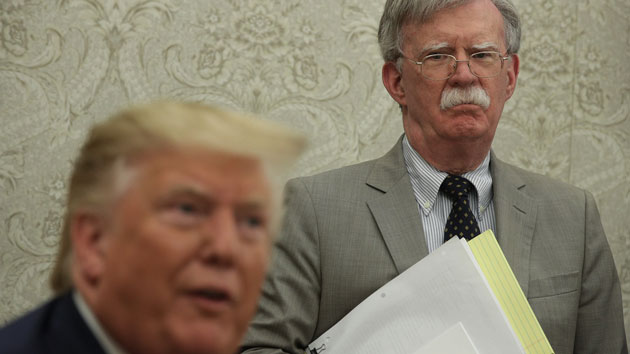 Alex Wong/Getty Images
Listen to the full interview on The Drive with Steve Jaxon with former National Security Advisor John Bolton, author of "The Room Where It Happened: A White House Memoir"
Mike DeWald (@mike_dewald)
John Bolton thought he had a good idea of what to expect entering the White House as a full-fledged member of the administration taking on the role as National Security Advisor to President
"I think I understood the criticisms that were already pretty common about Trump," said Bolton, "wandering through the White House during his first year was not like being in any White House I had seen in operation before."
Prior to joining the administration, Bolton had a number of meetings with the President, as well as advisors like Jared Kushner and Steve Bannon. Early on, Bolton initially hoped for a nomination as Secretary of State, but when the powerful role of National Security Advisor became available he jumped at the opportunity. Despite the unorthodox nature of the White House, Bolton believed he could use his experience to bring a little order.
"I felt that it could be put in order in effect, I thought I could make a contribution, I thought it would work with the President," said Bolton who said they had a number of conversations about their about their collective views, "he had watched me on Fox News for ten years, I assumed he was listening to what I was saying, I'm not shy about my views."
Bolton writes extensively about the time that followed and the unforeseen challenges he faced along the way, he says it's become a similar experience for many former Trump administration officials.
"There's a big alumni association of former Trump administration advisors, they went through many of the same considerations I did before they resigned or were fired," said Bolton, "it's a tough personal choice if you think you can help, but you see all these difficulties and obstacles, and there were certainly plenty."
The former UN Ambassador said the biggest challenge comes for those officials who still want to contribute, but run out of patience for the job.
"When do you leave? Do you leave early? Do you leave just because you wake up one more morning and say you've been there a couple weeks and you've had it and you're leaving?  Or do you stick it out longer?" asked Bolton, "it's not an easy decision to make."
In President Trump, Bolton observed an instinctual style of decision-making with less reliance on briefing, strategy, and planning. He said the lack of interest in briefings became more prevalent as the presidency went on.
"I think he believed that he could seize up a foreign leader, particularly a foreign adversary, quickly and that he could deal with complex issues like the Iran nuclear weapons program or strategic weapons with Russia and resolve it all in a day in a conversation with his opposite member," said Bolton, "[he thought he] could just glide through without really doing the hard work that other presidents have done to be ready to face an opponent at other side of the table of the table like Putin, like Xi Jingping of China."
That unwillingness to learn, according to Bolton, also put the President's staff in the difficult position of trying to figure out what the strategy was and how to advance it while being on the same page. Bolton said that in a leader like Russia's Vladimir Putin, the differences become even more stark.
"When somebody sits across from Vladimir Putin, former KGB agent, been in charge in Russia in affect for twenty years and just got voted another sixteen in case he's interested," said Bolton, "this is a guy who knows Russian interests backwards and forwards, and it's not a fair fight when he sits across from Donald Trump."
More recently, Bolton's name has been mixed in with the alleged Russian bounties being placed on the heads of US soldiers in Afghanistan. While Bolton would not comment on reports that he had directly briefed President Trump in 2019, he said that the President's reaction to the story was not a surprise.
"It's fairly typical," said Bolton, "I detected early in Trump's comments a desire to separate himself so he didn't have to own the consequences of the failing Afghan peace negotiations, maybe something else."
Bolton identified the pattern of blame when negative stories arise as the status quo.
"It wasn't his fault whatever it is – he didn't do it, he didn't know about it, somebody else may have screwed it up but it's not him," said Bolton.
Bolton said in the past number of the days he's seen the President's story change multiple times, as well as contradictory comments from his own staff and advisors.
"In some cases from the press office, they're not really indicating that they understand  what they're talking about," said Bolton, "now I'm worried that this confusion sends yet another signal to our adversaries that we just don't have our act together."
Bolton faced some criticism from Democrats that he should have testified under oath during the impeachment hearings rather than wait for the release of his book to tell all.
"I don't think my testimony, given the way the House advocates shaped it up, would have made any difference," said Bolton. "[they] went hellbent for leather to make this a partisan affair, and they got a partisan vote in the House and a partisan vote in the Senate – what's the consequence? The country is left worse off."
As far as Bolton's future, he expects to go back to what he was doing prior to joining the Trump administration, writing and speaking out on national issues.
"I don't anticipate a future in the Trump administration if there's a second term, we can certainly cross that off the list," jokes Bolton, "I'm not really waiting for the call from Joe Biden either."
More seriously, Bolton spoke to the reckoning the Republican Party faces should the former Vice President unseat the incumbent in November.
"The Republican Party has a serious internal conversation it needs to have after the election, particularly if Trump is defeated," said Bolton, "we need to solve the problems that he's caused within the party to get back to what I consider to be a clear, conservative direction in national security policy – there will be a lot to do, I expect to be busy."