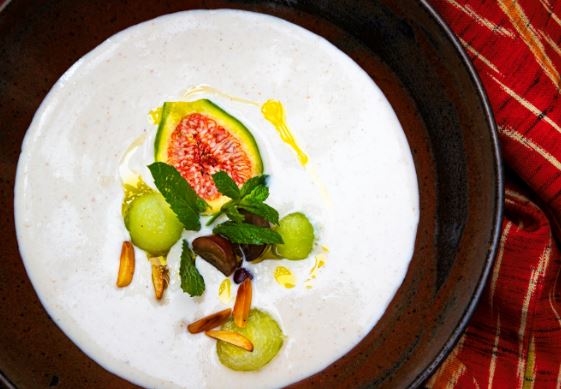 Chilled Soups - photo by Ed Aiona
CHILLED CREAM OF AVOCADO SOUP
Serves 8
A simple, delicious soup that requires no cooking. Make it a main course by adding grilled shrimp, scallops, or chicken.
1-pound ripe Hass avocados (2 large), peeled, seeded, and chopped
1/4 cup roughly chopped fresh cilantro leaves plus sprigs for garnish
4 cups or so chicken or vegetable stock, chilled
1 cup crème fraiche or heavy cream
2 teaspoons seeded and chopped serrano or jalapeno pepper, or to taste
4 ounces (about 3) tomatillo, skin removed and washed
1/4 cup freshly squeezed lime juice, or to taste
1 teaspoon toasted cumin
Salt and pepper to taste
1 cup seeded and chopped ripe tomato
1/2 cup seeded and chopped cucumber
3 tablespoons diced green or red onion
Drops of hot sauce
Grated cotija or feta cheese (optional)
Place avocados, chopped cilantro, stock, cream, pepper, and lime juice in a blender and puree until smooth. Season to taste with salt and pepper. Thin if desired with a little more stock.
Combine the tomato, cucumber and onion in a small bowl and season to your taste with salt, pepper, and hot sauce. Ladle avocado soup into chilled bowls and garnish with a tablespoon or so of the tomato mixture, a sprig of cilantro and a sprinkle of the cheese if using. Soup can be made a few hours ahead and stored covered in the refrigerator.
CHILLED HEIRLOOM TOMATO SOUP WITH A SWIRL OF SALSA VERDE
Serves 6 – 8
Unfortunately, regular hot-house tomatoes don't work in this recipe. Wait until summer heirloom tomatoes are in season and select the most flavorful, vine-ripened ones you can find. This is a great excuse to visit your local Farmer's market. For variety I sometimes will separately add up to a cup or so of freshly juiced cucumber, sweet red bell pepper or carrot to the soup mixture. Salsa Verde is one of the great fresh condiment sauces of the Mediterranean and has lots of delicious uses.
4 pounds coarsely chopped ripe tomatoes
1/4 cup or so balsamic vinegar, preferably white (or to taste)
Kosher or sea salt and freshly ground white pepper
Salsa Verde (recipe follows)
Crème fraiche (recipe follows) or yogurt
Puree the tomatoes in a food processor and force through a medium mesh strainer with a rubber spatula to catch all the seeds and skins. Season to your taste with the vinegar, salt, and pepper. Cover and refrigerate until very cold.
To serve, ladle soup into chilled soup bowls. Swirl a tablespoon of the salsa Verde in the center and garnish with a dollop of crème fraiche, if desired.
Salsa Verde
Makes about 1 cup
This is a quick little sauce of Spanish origin that is delicious on all kinds of grilled, pan seared or roasted meats, fish, and vegetables. Note that I have used blanched or roasted garlic rather than fresh raw. I think this is especially important if you are going to make the sauce ahead. Within an hour, raw garlic can become harsh and hot. Blanched or roasted garlic maintains its more subtle and sweet flavor and doesn't overpower the sauce as it sits.
1 cup coarsely chopped parsley
4 anchovy fillets, rinsed
2 tablespoons drained capers
2 tablespoons blanched or roasted garlic (see note below)
2 tablespoons chopped fresh basil or mint, or 1 tablespoon chopped fresh tarragon
1 tablespoon finely grated lemon zest
2/3 cup or so fruity extra virgin olive oil
Salt and freshly ground black pepper to taste
Add the parsley, anchovies, capers, garlic, basil and zest to a food processor or blender. With machine running, slowly add the oil until just blended. Sauce should still have a little texture. Season with salt and pepper. Can be stored covered and refrigerated for up to 1 day.
Note: To poach garlic, separate cloves but don't peel. Place in a small saucepan and cover with at least ½ inch of cold water. Place on stove over high heat and bring to a boil. As soon as water boils, drain and repeat process one more time. Rinse to cool off cloves. Remove husk from poached garlic and store covered in refrigerator for up to 2 weeks.
To roast garlic, cut off top quarter of a whole head to expose each of the cloves. Drizzle with a little olive oil and season with salt and pepper. Wrap loosely in foil and roast in a preheated 375-degree oven for 30 – 40 minutes or until garlic is soft when gently squeezed. Store covered in refrigerator for up to 2 weeks. Squeeze out as needed.
Making Crème Fraiche:
Lots of recipes call for crème fraiche which is like sour cream but smoother and richer. In France, where it originates, its body comes from the natural bacteria in unpasteurized cream. In America however this is nearly impossible for us to get unless you milk your own animals so we can make a good approximation with the following simple recipe. Crème Fraiche is great for cooking because of its rich flavor and stability – – it won't break when heated, unlike sour cream.
1 cup heavy cream, preferably natural and not "ultra" pasteurized or processed
2 tablespoons cultured buttermilk
1 tablespoon fresh lemon juice
Stir all together, cover and let sit at room temperature for 6 – 8 hours or until very thick. Refrigerate covered for up to 5 days.
WHITE GAZPACHO (AJO BLANCO) CHILLED BREAD AND ALMOND SOUP
Makes about 3-1/2 cups serving 4
When you mention Gazpacho most of us think of the red tomato and vegetable based cold soup whose home is Andalusia in Spain. There are many variations however including green and white versions. One of my favorites is Ajo blanco, literally "white garlic", popular in the province of Malaga and is Spain's other famous chilled summer soup. Containing no tomatoes or other vegetables, it is made with bread, almonds, garlic, olive oil, and a splash of vinegar, then typically topped with green Muscat grapes. Since it is a blank canvas any garnishes can be used such as fresh figs, melon, Spanish jamon, etc.
1 cup blanched whole or slivered almonds
1 cup cold water
3 medium cloves garlic, peeled and chopped
6 ounces (3 cups packed) crustless day old rustic bread cut into 1-inch cubes
2 cups almond milk, plus more if desired
Kosher salt to taste
1 tablespoon sherry vinegar, or to taste
4 tablespoons fruity extra virgin olive oil, plus more for garnish
Garnish: Halved green and red seedless grapes, melon balls (if desired), chopped toasted
slivered almonds and fresh mint leaves
In a blender, combine almonds with water and garlic and blend at high speed until milky; you may need to stop and scrape down sides of blender jar once or twice. Add bread, almond milk, and blend until very smooth, about 3 minutes. Season with salt, then blend in vinegar and olive oil. If using a less powerful blender, you may want to pass the soup through a fine-mesh strainer at this point unless you have a high-powered blender.
Transfer soup to a sealed container and refrigerate until very well chilled and up to 2 days.
To Serve: Cut up grapes in half. Shake or stir soup well. Check consistency and thin with cold water or almond milk, if desired. Adjust seasoning, adding more salt and/or vinegar, if desired. Ladle soup into chilled flat soup plates and decoratively arrange grapes, almonds, and mint in the center. Drizzle with a little olive oil and top with a few grains of salt.
Note: Raw blanched (skinless) almonds create the cleanest-tasting, most delicate soup. Spanish Marcona almonds will add a light toasty nuttiness.
Recipes courtesy of Chef John Ash. Photo by Ed Aiona.