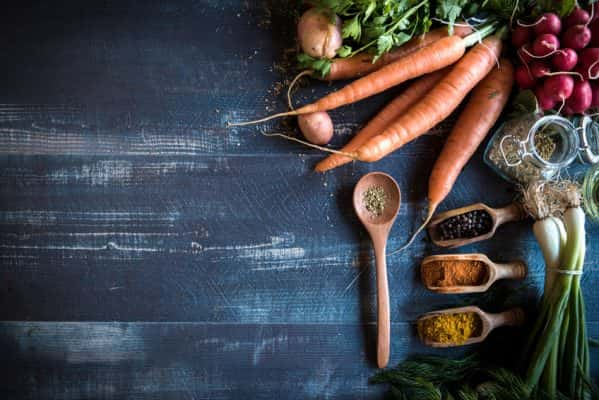 Cooking concept with vegetables and copy space in the middle on wooden background
Serves 4
Blue cheese is called for here but you could use any soft, rich cheese you like. If Asian Pears aren't available use tart-sweet apples, regular pears, mangoes or whatever else is best in the market.  
1 tablespoon freshly squeezed lemon juice
3 tablespoons extra virgin olive oil
1 teaspoon finely chopped shallots
Drops of honey to taste
Kosher salt and freshly ground black pepper to taste
4cups gently packed baby arugula
1 medium ripe Asian pear, cored, peeled and thinly sliced
4 ripe figs cut into fans
2 ounces shaved Parmigiano Reggiano
4 slices thin (2 ounces) prosciutto "bacon" (method follows)
In a large salad bowl, whisk the lemon juice, olive oil, shallots, honey and salt and pepper together. Gently toss the arugula to coat it with the dressing. Add the pears and toss them with the arugula once or twice.
Arrange attractively on plates with the figs and top with the cheese and the prosciutto. 
For the prosciutto bacon:
Heat the oven to 375 degrees.  Set a rack on a rimmed baking sheet.  Lay prosciutto on rack and bake until crisp, about 8 minutes.  Let cool then break into shards and chips.
SC