FISH TACOS WITH CITRUS SALSA AND CABBAGE SLAW
Serves 4
Fish tacos have become all the rage in recent years and trace their roots to Baja Mexico. In this recipe all the components can be made ahead of time and the fish grilled at the last moment.
1/3 cup olive oil
1 tablespoon ancho or New Mexico chile powder
1 tablespoon fresh lime juice
Kosher salt and freshly ground black pepper
4 4-ounce filets of halibut, sea bass, or cod
4 lightly grilled 6-inch flour or corn tortillas
Cabbage Slaw (recipe follows)
Cilantro Crema (recipe follows)
Prepare a charcoal fire or preheat a stovetop grill. In a small bowl, combine the olive oil, chile powder, lime juice, salt, and pepper. Brush liberally on the fillets. Grill the fish until it is just done. To serve, place a warm grilled tortilla on each plate. Top with one quarter of the Cabbage Slaw, a portion of the grilled fish, a heaping tablespoon or two of the Citrus Salsa, and a spoonful of the Cilantro Crema. Fold over and eat.
Cabbage Slaw:
2 cups finely shredded green cabbage
1/2 cup thinly sliced red bell pepper
1/3 cup thinly sliced red onion
1/4 cup finely sliced basil or mint leaves
1 tablespoon seasoned rice wine vinegar
2 tablespoons olive oil
Kosher salt and freshly ground black pepper
Combine all ingredients but the salt and pepper in a bowl. Gently toss and then season to taste with salt and pepper. This may be prepared a day in advance and kept covered and refrigerated.
Citrus Salsa:
3 medium navel oranges, peeled and segmented and membrane removed
1 lemon, peeled and segmented and membrane removed
1 lime, peeled and segmented and membrane removed
1 teaspoon chopped fresh cilantro
1 teaspoon seeded and minced serrano chile
2 teaspoons seasoned rice wine vinegar
1 tablespoon olive oil
Kosher salt and freshly ground pepper
Combine the citrus segments in a bowl. Add all the other ingredients and gently toss to combine. Season with salt and pepper.
Cilantro Crema
1/4 cup chopped fresh cilantro
1 cup Mexican Crema, crème fraiche or sour cream
Lime juice
Kosher salt and freshly ground black pepper
Mix cilantro and crema together. Season to your taste with drops of fresh lime juice, salt and pepper.
TURKEY PICADILLO TACOS
Serves 6
Picadillo is a traditional dish in many Latin American countries and the Philippines (where it is known as giniling). It is made with ground meat (usually beef), tomatoes (tomato sauce may be used as a substitute), and other ingredients that vary by region. It is often served with rice or used as a filling in dishes such as tacos, savory pastries or empanadas or served as is with chips and guacamole. The name comes from the Spanish word "picar," which means "to mince" or "to chop".
4 tablespoons olive oil
1-1/2 pounds ground dark meat turkey
1 large onion, chopped
3 cloves garlic, finely minced
1 large poblano chile, cut in 1/4-inch dice (about 1-1/2 cups)
1 tablespoon ancho chile powder
2 teaspoons ground cumin
1 teaspoon cinnamon
1/4 teaspoon ground cloves
1/2 cup red wine + additional as needed
One 15-ounce can tomatoes, chopped
1/2 cup golden raisins, plumped in hot water, drained
6 pitted green olives, slivered (about 1/4 cup)
Salt and freshly ground black pepper to taste
12 fresh flour or corn tortillas
Accompaniments: cilantro sprigs, shredded cabbage, sliced radishes, lime wedges, sliced avocados and queso fresco or crema
Heat 2 tablespoons of olive oil in a large skillet. Add the ground turkey and brown over high heat. Set aside. Heat the remaining olive oil in the skillet and add the onion, garlic and poblano pepper and cook for 10 minutes, stirring occasionally, over moderate heat.
Return the turkey and its juices to the pan along with the ancho chile powder, cumin, cinnamon, cloves, wine, tomatoes, raisins and olives. Reduce heat and simmer uncovered for about 15 minutes. If too dry add a little red wine, a bit at a time. Season to taste with salt and pepper.
Spoon warm picadillo into fresh corn tortillas and top with any or all of the accompaniments.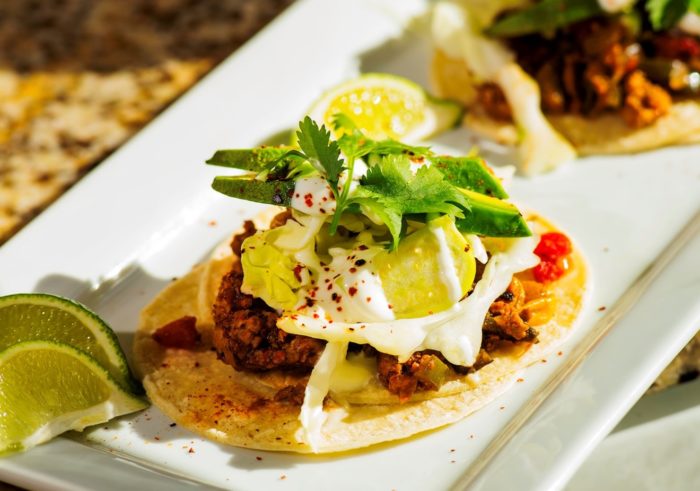 CARNITAS SOFT TACOS
Serves 6 – 8
Carnitas means "little meats" in Spanish and comes in several guises. Some people serve it stringy, like pulled pork. Some people serve it in large chunks with bits of bone still attached and some in smaller cubes, perfect for popping in your mouth. No matter how it's presented, it's always succulent slow-cooked pork that's tender on the inside and crunchy on the out. The state of Michoacán, Mexico is renowned for its carnitas which they crisp in lard. It's a decadent eating experience.
3 pounds boneless pork shoulder
3/4 cup orange juice
1/3 cup lime juice
4 garlic cloves peeled and smashed with the side of your knife
2 teaspoons ground cumin
1 teaspoon chipotle chile powder
2 teaspoons oregano, preferably Mexican
1-1/2 teaspoon kosher salt, plus more to taste
Olive oil
Tomatillo Salsa (recipe follows) or your favorite store bought
Accompaniments for serving: Corn tortillas, finely sliced cabbage, sliced radish, diced fresh tomato, crumbled cotija or feta cheese, diced avocado, cilantro sprigs and lime wedges to squeeze over.
Preheat oven to 325 degrees. Place the pork in a large Dutch oven or pot and add juices, garlic, cumin, chile powder, oregano, salt and enough water to almost cover the meat. Bring to a simmer the cover and place in the oven. Cook for 2 hours or until meat is very tender.
Remove meat and when it is cool enough to handle chop or shred it into smaller pieces. Reduce the cooking liquid by 1/3 over high heat on the stove. Add 3/4 cup or so of these juices back to the meat and stir. Can be prepared ahead at this point and stored covered in the refrigerator. Save any remaining juices refrigerated for later use as a sauce for grilled pork or chicken.
To serve: Heat a heavy large skillet with a bit of olive oil over medium high heat. Add the meat and cook until it is browned and crispy. Can also be done under a hot broiler. Turn the meat a few times so that it gets crispy on all sides. Pile onto warm tortillas, top with tomatillo salsa and the rest of the accompaniments and devour!!
Tomatillo salsa:
Makes about 1 cup
10 ounces husked, rinsed and halved tomatillos
2 large cloves garlic, peeled and chopped
1 small Serrano chile, stemmed and roughly chopped
1/3 cup loosely packed chopped cilantro
1/2 cup finely chopped white onion
1/4 cup or so water
Salt and sugar to taste
Heat the broiler. Place the tomatillos cut side down on an oiled baking sheet and broil until skin is nicely browned, 3 minutes or so. Add tomatillos to a food processor along with the other ingredients and pulse to make a somewhat chunky salsa. Season to taste with salt and add a bit of sugar if the salsa is too tart.
GRILLED MARINATED FLANK STEAK SOFT TACOS WITH PEACH – CHIPOTLE SAUCE
Serves 6 – 8
This Tex-Mex inspired dish shows the tasty possibilities for combining spicy fruits based sauces with grilled meats. Other vegetables besides the onions and peppers could be added to the platter including portabella mushrooms, thick sliced zucchini, grilled corn, etc.
3 lbs. flank steak, well trimmed
Marinade
2 tablespoons minced chipotle in adobo
1 tablespoon minced garlic
3 tablespoons chopped fresh cilantro
1/3 cup olive oil
3/4 cup hearty red wine
1/2 cup soy sauce
3 medium white or red onions, peeled and sliced into thick rounds
3 medium poblano chiles cut in half with stems and seeds discarded
2 medium red or yellow bell peppers cut in half with stems and seeds discards
12 or more white corn tortillas
Peach chipotle sauce (recipe follows)
4 ounces crumbled cotija or queso fresco cheese
Fresh cilantro and mint sprigs
Carefully trim the steak of any fat. Mix marinade ingredients together and pour over steak. Marinate for at least 4 hours or overnight covered in refrigerator, turning occasionally.
Remove excess marinade from steak and grill over hot coals to desired doneness, approximately 4 to 5 minutes per side for medium rare. Let steak rest for a few minutes before slicing across the grain.
Meanwhile, lightly oil and season the onions and peppers and grill until crisp tender and a little charred. Slice vegetables thickly and place on a large platter.
To serve: Slice meat thinly across the grain on an angle and arrange on the platter with the onions and peppers. Briefly grill the tortillas to warm through and wrap in foil to keep warm and set on platter. Place sauce, cheese, cilantro and mint sprigs in separate bowls and set all on the table with the platter for each person to make their own soft tacos.
Peach Chipotle Sauce
Makes about 1-1/2 cups
2 tablespoons olive oil
1/2 cup finely chopped onion
1 tablespoon finely chopped peeled ginger
2 large cloves garlic, peeled and chopped
1/2 cup dry white wine
1/3 cup peach preserves
3 cups peeled, seeded and chopped ripe peaches
1/4 cup ketchup
Big pinch ground cinnamon
1/4 cup cider vinegar
1 tablespoon chopped chipotle in adobo or to your taste
Kosher or sea salt to taste
Heat olive oil in a heavy bottomed sauce pan and sauté onion, ginger and garlic over moderate heat until just beginning to color. Add remaining ingredients and bring to a simmer. Cook uncovered adjusting heat so that mixture just simmers for 20 minutes, stirring occasionally until it is nicely thickened. Carefully puree in a blender and add salt to taste. Can be stored covered and refrigerated for up to a week.