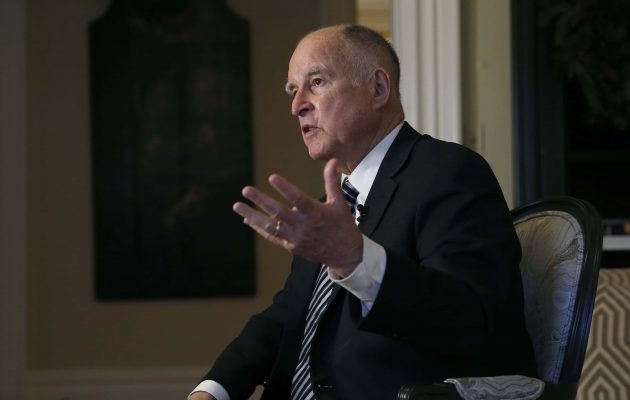 In this Tuesday, Dec. 18, 2018 photo, California Gov. Jerry Brown discusses his time in the state's highest office during an interview with The Associated Press in Sacramento, Calif. Brown, a Democrat, will leave office Jan. 7 after serving a record four terms. (AP Photo/Rich Pedroncelli)
Mike DeWald
— Hear Governor Jerry Brown's complete Sonoma County 'Exit Interview' this Monday at 5:05 on KSRO's The Drive with Steve Jaxon.
SANTA ROSA — Outgoing California Governor Jerry Brown has seen the state change quite a bit over his nearly five decades in the public spotlight. Brown points to the emergence on Silicon Valley as one of the most dramatic and important developments over that time.
"When I first ran for Secretary of State, Apple Computer did not even exist let alone Google and Qualcomm and Facebook," recalls Brown, "The explosion of innovation throughout California and especially in the Bay Area has been astounding."
Brown's long career runs the gamut from local office as Mayor of Oakland to state office as Secretary of State, Attorney General, and sixteen years as California's Governor. Brown even took the national stage, twice running for President of the United States.
"I grew up as this world changed," Brown said. "It looks very different than it did before."
Jerry 2.0
Brown picked up the moniker 'Governor Moonbeam' during his first term in office in the late 70's, but re-invented himself in his more recent third term as a more pragmatic and moderate leader, working from the middle even with the benefit of having Democratic supermajorities in the legislature.
"If you take the extreme version of either Democratic ideas or Republican ideas, you tend to go over the cliff," said Brown of his governing philosophy, "Advocacy by it's nature goes too far and therefore you have to temper."
Brown compares the work of being Governor to a very different type of governor – one you would find on an automobile.
"The governor on a machine controls the speed of the vehicle, it slows it down when necessary." he said.
Brown credits input and votes from Republicans as crucial to some of his key legislation including Cap and Trade, workers compensation reform, and the rainy day fund.
"I've been able to work with Republicans, and that creates a balance," said Brown, "if it's all one-sided, it inevitably gets out of touch with the majority."
'Pleasure' & Climate Pain
Brown's recent policy focus has honed in on climate change as the most immediate need facing the state and the world going forward.  Brown looks at the combination of rising temperatures, rising sea levels, and erosion as one of the most pressing and immediate issues facing California.
"We're not on a good path, it's damn serious, and very few people are alert to the magnitude of the problems we're going to face," warns Brown.
The challenge of climate change is going to require dramatic shifts in both public policy along with lifestyle changes according to Brown. The Governor has presided over what he previously has called the 'new abnormal' of a constant fire season, including 2017's Tubbs Fire in Santa Rosa and 2018's Camp Fire in Paradise, CA.
On President Trump's recent visit to California, his only since taking over the presidency, Brown appreciated the President's attention to the disaster but minced no words about his criticism of his environmental positions.
"Donald Trump is a climate denier, he's denying the science," said Brown, "he's rolling back modest initiatives that were started by President Obama and going headlong into the lap of coal companies and polluters in a way that is very hostile to the well-being of the American people and the people of the world."
Brown was less concerned about the President's missteps during his visit, mistakenly calling the city of Paradise, 'pleasure'. Brown said that beyond being an awkward moment, misspeaks happen when speaking in front of a mass gathering of press and reporters.
No Idle Time
With just a few days left in his governorship, Jerry Brown does not plan to go gently into that good night. After leaving office Brown plans to stay engaged in the political process and policy advocacy.  Beyond his work on climate change, Brown points to the mitigation of the threat across the world as well as prison reform as areas of interest he would like to work on.
"If we don't change course, even beyond what I've done, California will be paying for the biggest gerontology war in the world," warns Brown, "we'll have tens of thousands of people in their 70s and 80s languishing in cages, and I think we can do better than that."
On the issue of the current government shutdown, Brown points to the relationship of the US with the countries of South America as a point of emphasis in the debate over the wall.
"We ought to be working with those nations to foster a stronger economy and a more honest government, in the meantime we have to work with Mexico to handle these people that are desperate," said Brown.
Specifically on the subject of the wall, Brown said he sees it as the wrong path to solving the issue of border security and immigration reform.
"Building this wall is too much like the way the communists saw it, they had a problem in Eastern Europe? OK, then we'll build a wall," Brown said before evoking the Robert Frost quote 'something there is that doesn't love a wall'.
Advice to Governor-Elect Newsom
Brown has positive words for his successor, saying he expects him to be up for the challenge while pointing to the strong state economy as offering a positive climate by which to take over, however he does offer words of caution.
"The bank is stuffed full of billions of dollars, but he has a party that wants to spend even more than that and he has an opposition party that can often be very contentious," said Brown, "it'll be a very exciting job."
Brown offered words of encouragement to Newsom about taking over as the state's Chief Executive, but also warned of the the challenges of the office.
"Being Governor of California is not for amateurs," said Brown, "this is a complex, contentious, unpredictable society and economy. He's up for it, but I always say: 'fasten your seatbelts'."
How does Brown, who hosted his own daily KSRO talk show in the late 80s, look forward to spending a little down time after so many years in the state's highest office?
"I have a house up near the Russian River and I'll be up there enjoying the sun and the rain in no time."