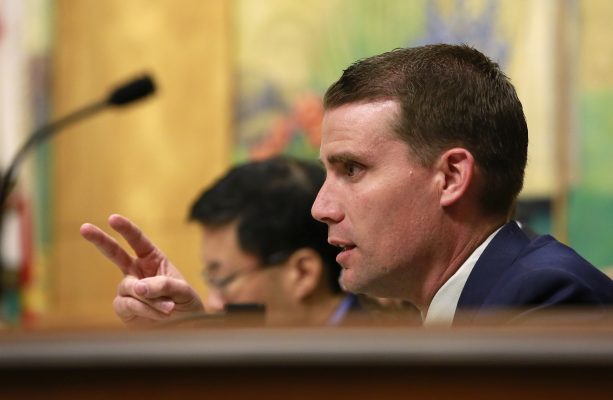 State Sen. Mike McGuire, D-Healdsburg questions Ken Pimlott, chief of the California Forestry and Fire Protection, about his agencies response to last year's devastating wildfires, Tuesday, Feb. 27, 2018, in Sacramento, Calif. Fire officials told McGuire and other members of two Senate committees that more funding is needed to call in extra firefighters and dispatchers when weather conditions are ripe for a conflagration. (AP Photo/Rich Pedroncelli)
State Senator Mike McGuire joined The Drive with Steve Jaxon Tuesday to respond to the Trump campaign's lawsuit against the State of California over newly signed legislation requiring candidates to release five years in tax returns to qualify for the California ballot. SB27, authored by McGuire, requires candidates for both the presidency and the governorship to release their returns to qualify for the ballot. The bill passed the legislature with an urgency clause, requiring a 2/3 vote, meaning it went into effect with the Governor's recent signature – in time for the March primary.
The legislation has faced multiple lawsuits, one from the watchdog group Judicial Watch as well as the Trump re-election campaign, but the North Bay Senator says he believes California will emerge victorious from the legal challenges. As it stands currently, the legislation would not only keep President Trump off of the primary ballot, but also Democratic candidates Joe Biden, Julian Castro, Tulsi Gabbard, and Andrew Yang who have not released the full five years of returns required.
Full Interview Audio with State Senator Mike McGuire on The Drive with Steve Jaxon