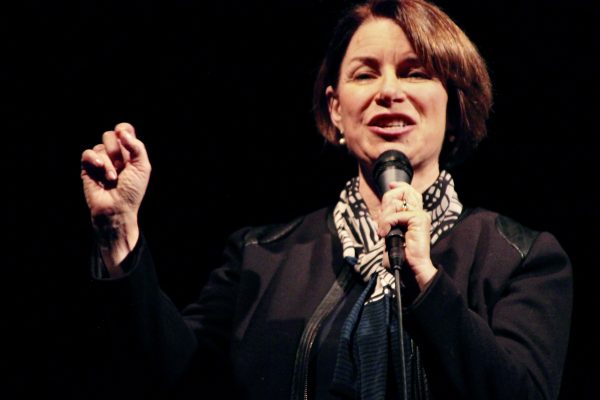 Democratic Senator Amy Klobuchar speaks at a campaign stop in San Carlos, CA on November 14th, 2019 (Photo: Mike DeWald)
[Full Audio] KSRO's Mike DeWald sits down with Senator Amy Klobuchar in San Carlos, CA.
The temperature was a bit warmer inside San Carlos' Devil's Canyon Brewery Thursday night than it was for her snowglobe-esque campaign kick off in Minneapolis some eight months ago. Speaking to a packed in crowd of roughly 450 supporters, Klobuchar laid her moderate, left-of-center campaign platform deeply rooted in pragmatic solutions and reaching across the aisle. The Senior Senator from Minnesota visited California for a meet and greet with Bay Area supporters as she prepares, along with a number of other Democratic hopefuls, for the party's Southern California convention in Long Beach this weekend.
Speaking for nearly 40 minutes, Klobuchar covered a wide spectrum of topics including her take on this week's impeachment hearings, gun violence, climate change, as well as the ways in which events with her family have informed her political upbringing.  Hailing from the midwest, Klobuchar touted her heartland credentials saying that the states she has the ability to win will be key to defeating President Trump in 2020.. Klobuchar also sounded the alarm that the goal for Democrats in 2020 should not only be to win big in the presidential race, but to also attempt to take back the Senate.
"For all of these things that are so critical to the future of Northern California, we can't just eek by that victory," said Klobuchar, "there's no way we're going to get these big things done unless we win big."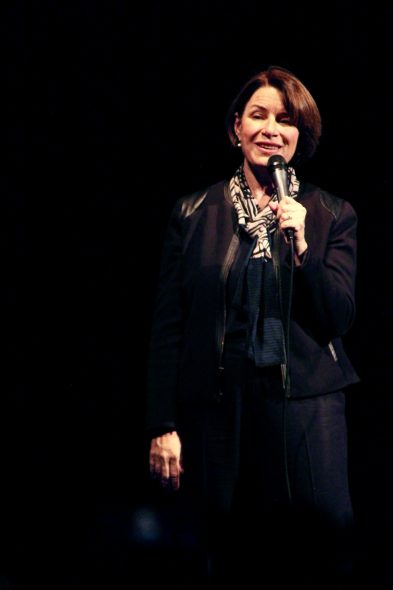 Klobuchar has reason for optimism in recent weeks following her well-reviewed performance at October's Democratic debate, raising over 2 million dollars in the course of six days and seeing some movement in her Iowa poll numbers. October's debate provided an opening for opportunity for the more moderate wing of the party, giving a slow but steady momentum for the campaign as they try to work their way up towards the top tier of candidates. Klobuchar's strategy is about inclusion, making her appeal to not only Democrats and progressives, but to also offer an appealing alternative for independents and disenchanted Republicans seeking a candidate to support. On such bi-partisan rich issues as infrastructure and immigration reform, Klobuchar said there are truly opportunities to engage all wings of political stripes to find solutions.
In an interview with KSRO following her remarks, Klobuchar says both her campaign and her political upbringing has always been informed by pragmatism as the chief catalyst for getting things done.
"I've always believed that as an elected official, at its core, you're supposed to be like your neighbors," said Klobuchar, "you may not always get along with your neighbor, but you've got to find out a way to work with them and get along."
Klobuchar says that there is an appetite among Congressional Republicans to get to work on bipartisan legislation, but that many fear the implications of crossing President Trump and choose not to. She believes that this appetite could be tapped into on issues of common ground, while public pressure could be applied on others to motivate the process.
"There may be some things, like climate change, where it will take a President really pushing it with the public," said Klobuchar, "you have to find those things that you can get done bipartisan first, then push with the public on the rest of it."
On the issue of climate change, Klobuchar referenced California's battle with deadly wildfires as one of the most immediate signs that the repercussions of climate change are already being felt ahead of schedule proving even the best military predictions becoming prematurely true. Speaking specifically to Santa Rosa and Sonoma County, Klobuchar was grateful that the Kincade Fire response from both First Responders and the community was successful at minimizing the fire's impacts, while also adding that the President can play a role in shaping policy at a national level to assist in preventing future wildfires.
Klobuchar also reacted to the morning's latest incidence of gun violence in Southern California, saying that at this point the most direct path to movement on guns is at the ballot box. She criticized the President's unwillingness to stick to his word about pursuing background checks.
"As someone that sat across from Donald Trump after Parkland and he promised multiple times that he'd get  universal background checks but then he balked after meeting with the NRA," Klobuchar briefly paused, "yes, I think we need a new President."
Reacting to the week's events in Washington, Klobuchar commended the work of California Congressman Adam Schiff, saying he did a good job in regaling in what could have easily become a circus of hearing.
Following the weekend convention, Klobuchar will return to the debate stage in both the November and December dates, reaching the increasingly more difficult polling and fundraising parameters to be included in the debate.
Klobuchar delivered a line that's become familiar for her along the campaign trail, but one that summarizes her strategic outlook on the 2020 race well.
"We're not going to shut people out, we're taking them with us," proclaimed Klobuchar, "we're taking our fired base, add in those independents and moderate Republicans who are sick of this guy, and we're going to build a blue wall around these [midwestern] states and we're going to make Donald Trump pay for it!"