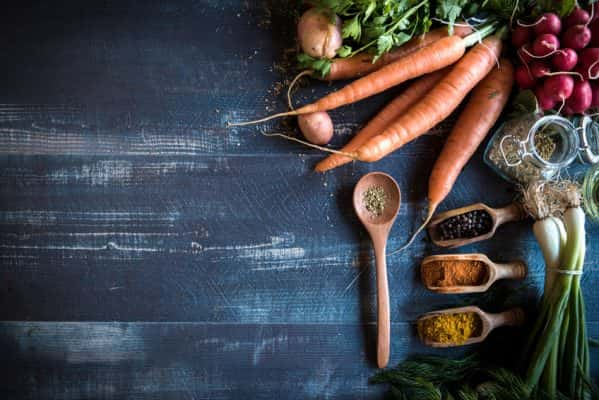 Cooking concept with vegetables and copy space in the middle on wooden background
SWORDFISH WITH GREEN OLIVES AND ORANGES
Serves 4
A couple of decades ago swordfish were severely over fished and we almost lost them as a viable
commercial species. You may remember the chef boycotts about not including swordfish on their
menus. Today however the major seafood resource groups (Seafood Watch, NOAA, Marine
Stewardship Council) have applauded the responsible fishing and habitat preservation that have
allowed North Atlantic swordfish especially to repopulate. You can consume it with a good
conscience. Be sure to check where it comes from and how it is harvested. Swordfish is one of
the easiest fish to grill because of its firm, meaty texture. Be sure to give your grill a vigorous
scrubbing with a grill brush and then lightly oil the grill and the fish ahead. You can also
substitute halibut, salmon or any firm fleshed fish that you like.
2 large seedless oranges, preferably navel
1 small garlic clove, peeled and very thinly sliced
1 cup pitted green olives such as Cerignola, pitted and coarsely chopped
1 tablespoon capers, drained and chopped
3 anchovies in olive oil, drained and chopped
2 tablespoons chopped parsley
8
2 tablespoons olive oil, plus more for brushing
1/4 teaspoon red pepper flakes or to taste
Kosher salt and freshly ground pepper
4 swordfish fillets, about 5 ounces each
For the oranges:
Peel and segment the oranges over a small bowl to catch the juices. Squeeze the remaining
membrane over the bowl to extract all the juices. Discard membrane and season oranges very
lightly with salt and pepper. Set aside.
For the green olive topping:
Add the garlic, olives, capers, anchovies, parsley 2 tablespoons olive oil and red pepper flakes
together in a small bowl. Season to your taste with salt and pepper. Set aside.
For the swordfish:
Prepare a gas or charcoal grill for direct grilling over medium-high heat.
Pat the fish dry with paper towels. Lightly brush the fillets on both sides with olive oil, then
season with salt and black pepper. Lightly oil the grill rack. Place the fish on the grill rack and
cover the grill. Cook, turning once, until the swordfish looks opaque when pierced with the tip of
a sharp knife, about 6 minutes total. Be careful not to overcook.
Transfer the fillets to individual plates, top each with a generous spoonful of the green olive
topping and add orange segments around with some of the juice. Serve immediately.
John Ash (c) 2020