FOCACCIA: A BREAD ANYONE CAN MAKE
Focaccia bread is one if not the most famous of Italian flatbreads. The word focaccia (pronounced "foh-KA–cha") has Latin origin. The translation is "baked in coals".  Many believe that pizza evolved from focaccia and came later.
There are many kinds of focaccia in Italy which vary in terms of toppings, stuffings, sweetness, etc. but the most classic and familiar is the version made in Liguria and its capital Genoa. It's about 1/2 inch thick, a little chewy but still soft and spongy inside.  It's generously coated with extra virgin olive oil and coarse sea salt that helps create the perfect crust. For those bread geeks out there, traditional Focaccia Genovese has a 55% hydration ratio.
Focaccia has many variations which is typical of Italy.  Most of us mainly have had experience to the classic Focaccia Genoese or Fugassa in the Genovese dialect.
Focaccia as it's known today dates to at least the 16th century. Bakers made focaccia early in the morning, before baking first loaves of bread, to test temperature in the wood fired oven and munch on something hot and filling early in the morning.
Though ingredients remain basically for all types of focaccias: water, flour, yeast, extra virgin olive oil and salt. Pretty much the same as those for pizza, there are a couple of variations worth mentioning.  The names change as you move from one region of Italy to another.
In Rome, it's lighter and a bit taller (just enough to slice in in half and make a sandwich). In Rome it's called Pizza Bianca.The best and most classic way to enjoy it is cut in half and make a mortadella sandwich (or mortazza).
In Tuscany"focaccia" is called schiaccia, which literally means "pressed" because of its characteristic dimples.
There are also many other types out there, less famous but still delicious.  One of my favorites:
Schiacciata con l'uva in Tuscany with often a slightly sweetened dough topped with fresh wine grapes. A recipe follows.
I've included 2 similar recipes for the classic Genovese version.  The first made the same day and the second a slow rise/no knead version.  Both are delicious but the slow rise gives the dough a chance to develop more flavor.
Slow rise/no knead breads were made popular by Jim Lahey, owner of New York's Sullivan Street Bakery, in his book My Bread which completely changed bread making in America for home bakers, making bread baking simpler and pretty foolproof.  His no-knead bread recipe is still one of the most popular that the New York Times ever offered.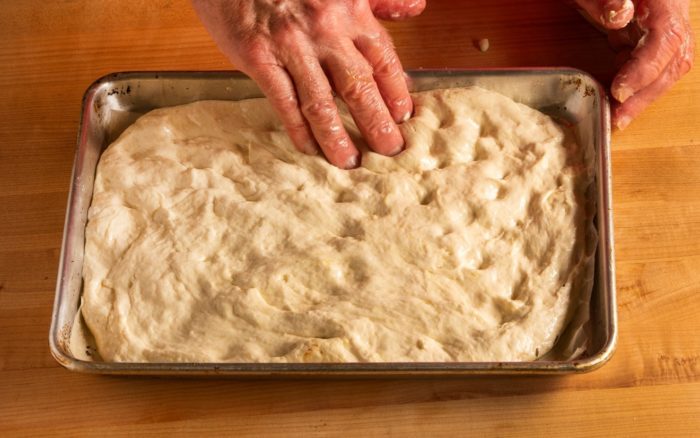 John Burgess Santa Rosa Press Democrat
BASIC FOCACCIA GENOVESE
Makes one 9 x 13 quarter sheet pan
Quarter sheet pans are widely available from your local restaurant supply store or on-line.
2 teaspoons active dry yeast
1-1/2 cups warm water
1/2 cup fruity olive oil
3-1/2 cups unbleached all-purpose flour
1 tablespoon kosher salt (use half the amount if using table salt)
Optional toppings:  Thinly sliced red onions, seeded-slivered tomatoes and or grated cheese
In a large bowl, stir the yeast into the warm water, let stand approximately 10 minutes.  Stir in 1/4 cup oil, then the flour and salt.  Knead on a lightly floured surface until smooth and elastic, 8 to 10 minutes. Alternately you can do this in a stand mixer.
Place the dough in a lightly oiled bowl, cover tightly with plastic wrap and let rise until doubled, 1 to 1-1/2 hours.
Place dough in a lightly oiled parchment lined sheet pan.  Flatten and stretch the dough to cover as much of the bottom as possible, then dimple the tops quite vigorously with your fingertips to stretch it some more.  Cover with a clean towel or plastic wrap and let it relax 10 minutes.
Dimple and stretch the dough again to completely cover the bottom.  Let rest covered
another 30 minutes.
Brush dough with remaining olive oil and bake in a preheated 450-degree oven until it just starts to turn golden, 12 – 15 minutes.  Scatter optional toppings over and continue to bake until golden brown, approximately 20 minutes longer.
Note: A tablespoon or so of your favorite chopped fresh herbs can be added to dough.
SLOW RISE/NO KNEAD FOCACCIA
Makes one 9-by-13-inch pan.
I've included metric measures here which, if you have a scale, insures more consistent results.  Professional bakers will tell you measuring by weight is essential.  Might be time to buy a scale if you don't have one.
3 1/4 cups/415 grams all-purpose flour
1 tablespoon kosher salt
1/2 teaspoon active dry yeast
1-3/4 cups/420 milliliters warm water
4 tablespoons extra-virgin olive oil, plus more for greasing
1 ½ teaspoons coarse sea salt
Whole or chopped fresh rosemary leaves, fresh or dried oregano, fennel seeds or other dried herbs, for garnish (optional)
In a large bowl, whisk together the flour, kosher salt and yeast. Add the warm water to the flour mixture and stir until all the flour is incorporated and a sticky dough forms. (Expect a very wet dough; no kneading required.) Pour 2 tablespoons oil into a medium bowl. Transfer the dough to the bowl, turn to coat, and cover tightly with a lid or plastic wrap. Place in the refrigerator to rest for at least 24 hours or for up to 2 days.
When you're ready to bake, brush a 9-by-13-inch parchment lined baking sheet with oil. Remove the dough from the refrigerator and transfer to the prepared pan. Using your hands, spread the dough out as much as possible, adding oil to the dough if needed to keep it from sticking. (Don't worry if the dough doesn't yet cover the full pan; it will once it relaxes and rises.) Place the dough in a warm place and let rise until about doubled in bulk. The rising time will vary considerably depending on the season. (In the summer, it may take only 20 minutes for the dough to warm up and rise; in the winter, it can take 1 hour or more.) When the dough is ready, it should be room temperature, spread out on the sheet and fluffy.
Heat the oven to 450 degrees. Using your palms, pat down the focaccia to an even thickness of about 1 inch, then, using your fingertips, dimple the entire dough. Drizzle it with the remaining 2 tablespoons olive oil. Sprinkle the entire surface of the focaccia evenly with the sea salt and herbs, if using.
Bake, rotating once front to back, until the top is uniformly golden brown, 25 to 30 minutes. Transfer the focaccia on the baking sheet to a wire rack to cool, then slide out of the pan. Enjoy it warm.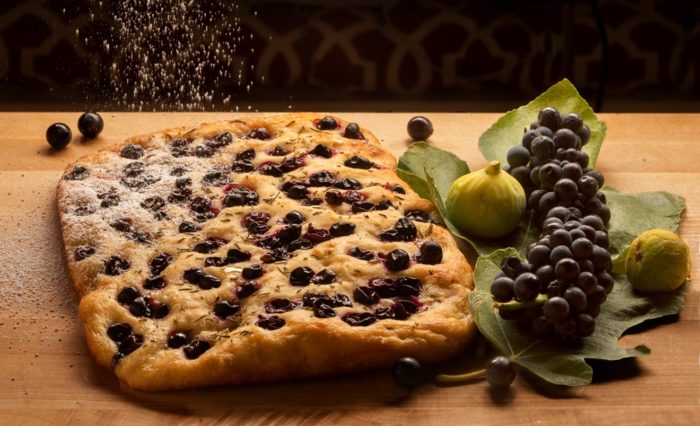 John Burgess Santa Rosa Press Democrat
GRAPE AND ROSEMARY FOCACCIA
Schiacciata con l'uva
Makes one 9 x 13-inch quarter sheet pan
In Tuscany this is typically made at to celebrate the grape harvest.  Grapes with thicker skins are generally used.  This includes wine grapes which have seeds.  The seeds add an interesting "bite". Use seedless grapes if you prefer.  This is basically the same recipe Genovese recipe preceding with a few little twists.   Inspired by a recipe from Giada De Laurentiis.
3 1/4 cups unbleached bread flour
2 cups warm water, at approximately 95 degrees
2 teaspoons active dry yeast
2 teaspoons kosher salt
2 tablespoons extra virgin olive oil plus more for topping
1 cup small wine grapes, washed and patted dry
1 tablespoon roughly chopped fresh rosemary
1 teaspoon or more coarse or flakey sea salt, for topping
Powdered sugar garnish, if desired
Add the bread flour, yeast and salt to the bowl of an electric mixer fitted with a dough hook. Turn the mixer on low speed for just 15-20 seconds to evenly distribute the ingredients. Add the warm water. Turn the mixer on low speed for about 5 minutes, making sure all the ingredients are evenly incorporated. The dough will be very wet, loose and sticky. Remove the bowl from the mixer and cover with plastic wrap or a silicone lid.
Allow the dough to rest in a dry, warm place for 30 minutes. Once rested, wet your hands slightly to ensure the dough doesn't stick to your fingers. With one hand, scoop the edge of dough on the farthest side from you, and stretch slightly to gather it in the middle. Rotate the bowl slightly and continue this process until all edges of the dough have been folded to the center. Cover the bowl up again with the plastic wrap or silicone lid and allow to rest for an additional 30 minutes or until doubled in size.
Prepare a baking sheet by adding a sheet of parchment or a silicone mat and brushing with 2 tablespoons of olive oil to evenly coat. Turn the focaccia dough out onto the oiled baking sheet, using a rubber spatula if necessary to get all of it out. With oiled hands, gently work the dough and stretch until it almost covers the whole pan.
Don't worry if the dough retracts or doesn't reach the ends of the sheet. Be careful to try and not release bubbles in the dough during this process. Allow the dough to rest in a warm place, uncovered, for another 30 minutes. Preheat the oven to 450 degrees F.
With oiled fingers, gently stretch the dough to cover the entire pan. Make indentations in the dough with your fingers to form dimples all throughout the dough. Distribute the grapes over the focaccia. Sprinkle with the rosemary and the coarse or flakey sea salt. Finish with a generous drizzle of olive oil all over the dough.
Bake for 35 – 40 minutes, or until the crust is golden brown.  Lightly dust with powdered sugar if you like and slice into squares to serve.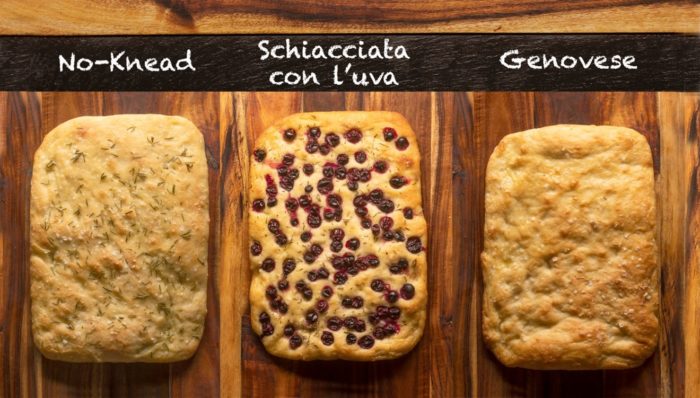 John Burgess Santa Rosa Press Democrat
Note: Focaccia does begin to deteriorate in quality after the first day or two. If there is some left over, wrap it in plastic and store at room temperature for another day.  Unwrap and warm in a 325-degree oven for 8 minutes to refresh. Day or older focaccia has lots of other uses so don't despair if you haven't eaten all of it shortly after baking. DO NOT throw it away! It's gold.  Here are some ideas: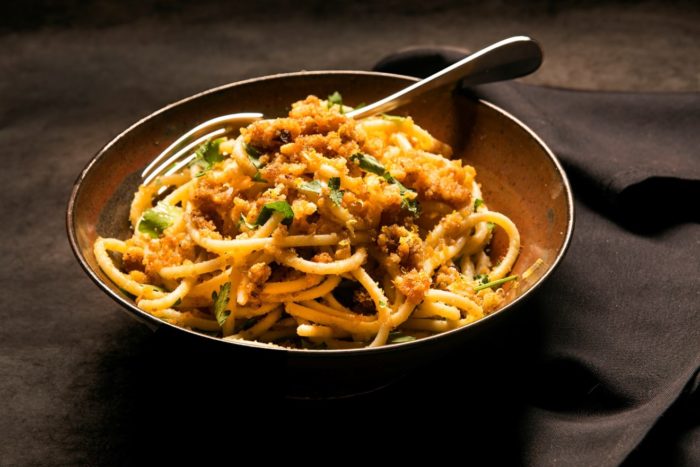 John Burgess Santa Rosa Press Democrat
SPAGHETTI WITH BREADCRUMBS
Serves 4
This is a twist on spaghetti aglio e olio, a traditional Italian pasta dish featuring garlic, olive oil, and chile. The breadcrumbs soak up the spicy oil and garlic in a most delicious way. Be sure to brown the breadcrumbs well, or they'll be soggy in the finished dish. The anchovies are essential. They bring complexity to the dish and I promise you won't make the dish taste fishy.
Kosher salt
1/2 cup best-quality extra-virgin olive oil
Pinch crushed red pepper flakes
4 drained oil-packed anchovy fillets
1-1/2 cups coarse day-old or older focaccia or ciabiatta breadcrumbs*
4 medium cloves garlic, finely sliced
1/4 cup finely chopped fresh flat-leaf parsley
1 tablespoon freshly grated lemon zest
3/4-pound dried spaghetti or other long pasta such as spaghettini, linguine, bucatini
Bring a large pot of well-salted water to a boil over high heat.
Heat the oil and red pepper flakes in a 12-inch skillet over medium-low heat, stirring occasionally with a wooden spatula, until the pepper flakes are sizzling, about 3 minutes.
Add the anchovies and mash them with the spatula until they begin to dissolve. Raise the heat to medium, add the breadcrumbs, and cook, stirring often, until the crumbs are deep golden, about 3 minutes. Add the garlic and cook, stirring, until the breadcrumbs are crisp and brown, about 1 minute. Remove from the heat, stir in the parsley, zest and season with salt to taste.
Cook the pasta in the boiling water according to package directions until al dente. Reserve 1/2 cup of the cooking water and drain the pasta. Immediately return the pasta to the pot over medium-low heat, add half the breadcrumb mixture and toss to combine. If necessary, add some of the reserved cooking water to moisten. Season to taste with salt.
Serve sprinkled with the remaining breadcrumbs.
*For breadcrumbs tear or chop the stale bread into small pieces.  Bake in a 350-degree oven for 15 minutes until completely dry. Pulse in a food processor to create coarse crumbs.  Alternately you can place in a heavy-duty plastic bag and bash with a rolling pin or heavy pot to create the crumbs. They can be as coarse or fine as you like.  I prefer coarser.
GARLIC CROUTONS
Makes 3 cups
This is my favorite to add to soups and to make Caesar and Panzanella salad.  A recipe follows for the latter.
1/3 cup olive oil
3 large cloves garlic, bruised with the side of a knife
3 cups bread cubes cut in 1-inch cubes from good day-old bread with crusts removed
2 tablespoons finely minced parsley
1 teaspoon freshly grated lemon zest
Salt and freshly ground pepper to taste
Add oil and garlic to a sauté pan and sauté garlic over moderate heat till it just begins to color.  Be careful garlic doesn't burn or it will become bitter.  Toss bread cubes with oil and garlic and place on a rack on top of a rimmed baking sheet.  Toast in a preheated 400-degree oven till bread is nicely golden on all sides, 10 – 12 minutes or so.  Croutons should be toasty on the surface but still somewhat soft in the very middle.  Remove and toss with parsley, lemon zest and salt and pepper while still warm.  Store airtight if not using immediately.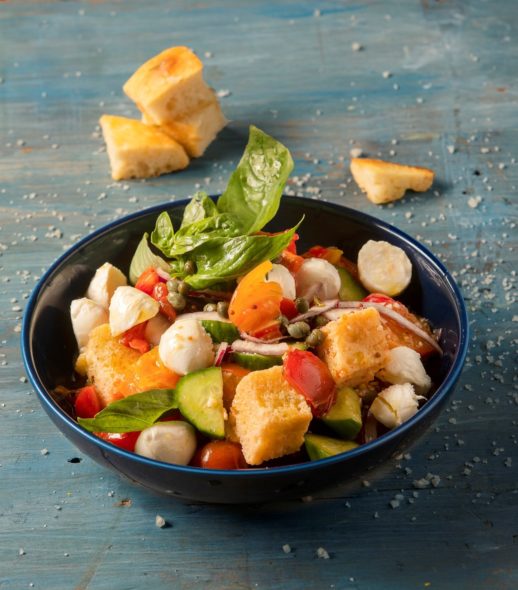 John Burgess Santa Rosa Press Democrat
PANZANELLA WITH MOZZARELLA
Makes 6 servings
A specialty of Tuscany, make when tomatoes are at their peak.  Slightly overripes are perfect here.  It's an ideal make-ahead dish. The longer the mixture sits (up to 6 hours), the better it tastes.  It takes advantage of the croutons above.
2 pounds very ripe tomatoes, preferably a mix of varieties and colors
Kosher salt
1/2 cup thinly sliced sweet red onion, about half a small onion
1/2 cup thinly sliced Persian or Kirby cucumber, about 1 small cucumber
1/2 cup torn basil leaves
1/4 cup flat-leaf parsley leaves, roughly chopped
1 tablespoon capers, drained
2 tablespoons red or sherry wine vinegar, divided and more to taste
1/4 cup extra virgin olive oil
2 small garlic cloves, grated to a paste or finely chopped
1 teaspoon chopped fresh oregano or thyme (or a combination)
Pinch red pepper flakes
1/2 teaspoon Dijon mustard
2 4-ounce balls fresh mozzarella, drained and pulled apart in bite size pieces
3 cups garlic croutons (see recipe above)
Cut tomatoes into bite-size pieces and transfer to a large bowl. Sprinkle generously with salt and set aside for tomatoes to release their juices, 15 minutes or so.  Stir in red onion, cucumber, basil, parsley, capers and 1 tablespoon vinegar.
In a separate bowl whisk together olive oil, garlic, oregano, red pepper, mustard and remaining tablespoon of vinegar until lightly thickened.  Adjust seasoning to your taste.
Gently stir into tomato mixture along with the croutons and mozzarella.  Let sit for at least 30 minutes before serving.  Toss with a little more olive oil, vinegar, salt and black pepper if needed just before serving.
Note:  A few pitted oil-cured olives and baby arugula or frisée would make nice additions.
John Ash © 2021 PD
Chef John Ash Educator, Chef, Cookbook Author | Wine Country Cooking