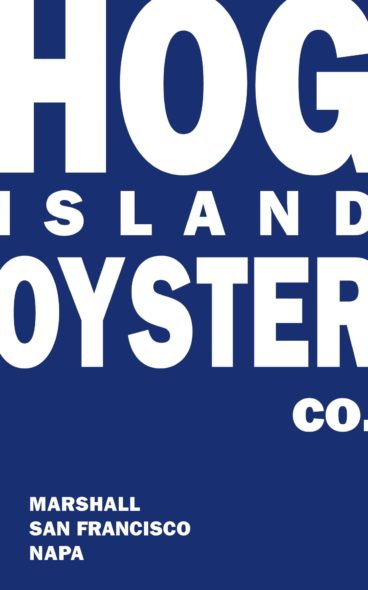 Hog Island Clam Chowder
Besides oysters, Hog Island also grows Manila clams, a small sweet clam that is good both raw and cooked.  Hog Island selected to raise this clam especially for their acclaimed clam chowder, served at their San Francisco and Napa oyster bars.
When developing Hog Island's chowder recipe, co-founder John Finger gave the chef strict instructions to use only fresh clams — and no flour to thicken it. "Where I grew up, nobody puts flour in the chowder," he said. The result is a fresh-tasting, creamy broth surrounding a mass of tiny sweet clams.
'Hog Island Oysters Bring Brine to Wine Country'
By Betty Teller, Napa Valley Register, Tuesday Oct. 6, 2009
Ingredients
• ½ pound high quality bacon, sliced
• 1/2 small stalk celery, thinly sliced
• 2 large leek, white part only, thinly sliced on the diagonal
• 1 large carrot, peeled and thinly sliced
• 3 sprigs fresh thyme
• 2 Tbsp. butter
• 8-10 medium-size Yukon gold potatoes, peeled and cut into bite-size cubes
• 6 pounds small, raw Hog Island® Manila clams in the shell, rinsed
• 1 quart heavy cream
• Salt and pepper
• Parsley for garnish
Directions
Yield: 6-8 servings
Active time: 30 min. total time 1 hr

Preparation
First step: place clams in a colander in the kitchen sink, rinse thoroughly under running water. Pick through and discard clams with broken or open shells. Allow clams to drain in the sink while you prepare your stock.
BASE: In a large stockpot bring about 5-6 cups of water to a low boil (no salt) and cook the potatoes until al dente, or just before fork-tender.
While the potatoes are simmering, in a second heavy-bottom pot, melt the butter with the thyme. Render the bacon in the butter and thyme (over low heat, careful not to burn); once bacon is rendered add leeks and celery, cook until vegetables are translucent. Add carrots and cook until bendable without breaking. Add the potatoes and 4 cups of potato water. Turn off heat and set aside. The base can be made one day ahead and kept chilled.
CLAMS: Portion your clams out per single, or double serving, aprox. 1/2 -3/4 lb per serving. Working in batches, place one or two single serving(s) of clams in a heavy bottomed sauté pan over medium heat. Ladle one cup of the chowder base on top and cover the pan, simmer for about 5-6 minutes, or until the majority of clams open. Skim through and pick out any clams that have not opened. (Don't skip this step — unopened clams may spoil the chowder.)
Add in 1/2-cup cream per serving and bring the chowder to a simmer (1-2 minutes). If it is too thick, add in more of the potato water. When the chowder is bubbling in the middle, it is ready to serve. Pour individual servings into a large soup bowl, or divide double servings between two bowls.
Serve garnished with cracked pepper and chopped parsley, and rustic, crusty warm bread for dipping. Place extra empty bowls on the table for discarding clamshells. Enjoy!
www.hogislandoysters.com
ASIAN CLAM CHOWDER
Serves: 6
1 small baking potato, peeled and cut into 1/2-inch dice
4 ounces pancetta or bacon, finely chopped
3 tablespoons minced fennel
2 garlic cloves, thinly sliced
1 – 2 tablespoons Thai green curry paste
1/2 cup dry white wine
One 13-ounce can unsweetened coconut milk
1/4 cup fresh lime juice
2 dozen Manila or littleneck clams
3 cups chopped clams with their juices
Kosher salt and freshly ground pepper
Cilantro and Thai basil leaves for garnish
Cook the potato in a medium saucepan of salted boiling water just until tender, about 5 minutes. Drain.
In a large saucepan, cook the pancetta over moderate heat, stirring occasionally, until light golden, 
7 to 8 minutes. Add the fennel, garlic and green curry paste and cook, stirring, until fragrant, 1 minute. Add the wine and simmer until reduced by half, about 2 minutes. Add the coconut milk and lime juice and return to a simmer.
Add the cooked potato, Manila clams and the chopped clams and their juices. Cover and cook until the clams open, 5 to 7 minutes. Discard any clams that do not open. Season the chowder with salt and pepper. Garnish with cilantro and basil leaves.
John Ash © 2005