Guests: "The Twin Chefs"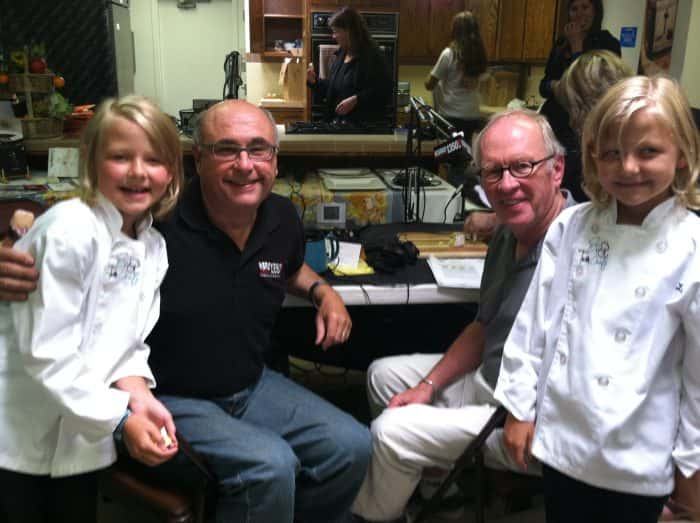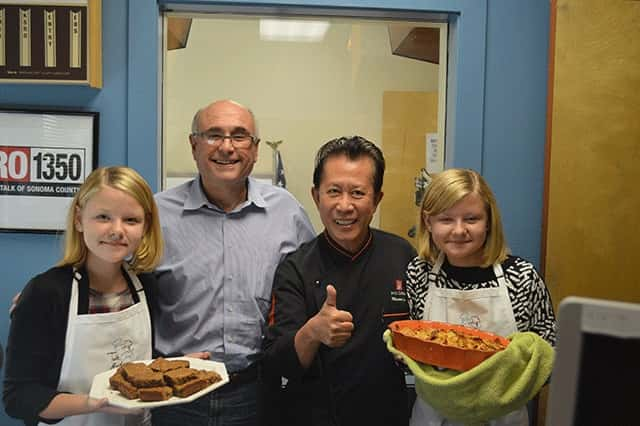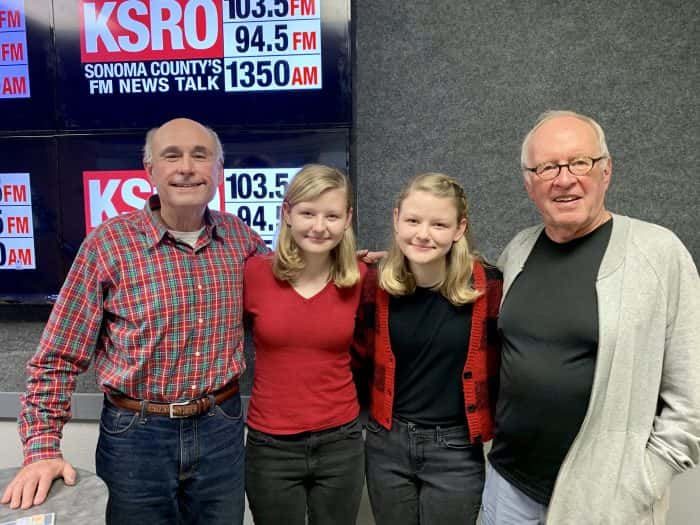 Recipes from the Twin Chefs:
Turmeric Ginger Udon Bowl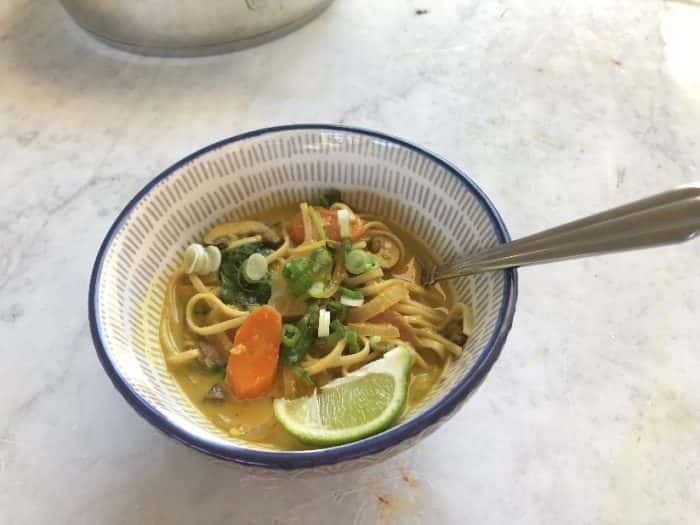 2 tablespoons coconut oil
8 ounces cremini mushrooms, wipe or brush mushrooms
3 garlic cloves, peeled and minced
1 red onion, peeled, thinly sliced
2 tablespoons fresh ginger, peeled and grated
1 ½ teaspoons ground turmeric
2 large carrots, peeled, cut ¼ inch slices
1 ½ cup vegetable broth
1 15 oz. can coconut milk
2 tablespoons fish sauce
1 teaspoon honey
2 teaspoons kosher salt
2 cups baby kale, rinsed and patted dry
4 oz. dried udon noodles
1 tablespoon lime juice
4 green onions, washed, end trimmed off, sliced 1/8 inch thick
1 lime, cut into 4 wedges for garnish (optional)
Follow package directions for the udon noodles or bring a stockpot of salted water to a boil. Add the udon noodles and begin timing when they return to a boil. Turn heat down to simmer and cook for 4 to 6 minutes just until tender but not too soft. Rinse in cold water, place in a bowl and set aside.
Heat a large soup pot over medium heat, add coconut oil. Add the carrots and mushrooms to the pan, cook for 4 minutes stirring occasionally. Add the red onion, garlic, ginger and turmeric, cook for an additional 3 minutes stirring occasionally.  Pour in vegetable broth, coconut milk, fish sauce, honey, and kosher salt stirring to combine. Bring the mixture to a simmer and cook for 10 minutes. Turn off heat, add the baby kale stirring gently to wilt. Stir in lime juice and half of the green onion, add the noodles and stir to distribute ingredients evenly throughout the broth.
Ladle soup into bowls and garnish with more green onion and lime wedge, serve immediately. Serves 4
Shaved Brussel Sprout, Fennel, and Arugula Salad
This salad is light and crisp, a perfect side to any holiday meal. The Brown butter Vinaigrette adds a rich nutty flavor that makes it a little bit more special for your guests.
Salad
1 lb. Brussel sprouts
1 small head of fennel, tough exterior removed, quartered and cored
3 ½ cups fresh arugula
½ cup sliced almonds, lightly toasted
1/3 cup currants
Brown Butter Vinaigrette
1 stick unsalted butter
1 large shallot minced
3 tablespoons sherry vinegar
½ cup extra virgin olive oil
1 ½ teaspoons fresh thyme leaves
¼ teaspoon black pepper
½ teaspoon kosher salt
Prepare Salad-Thinly slice Brussels sprouts and fennel with a mandolin by or by hand, or the slice attachment on a food processor. Place in a large salad bowl, toss with arugula, currants and sliced almonds. Set aside.
Make the vinaigrette- Cook butter in a small saucepan over medium-high heat. When the butter turns a light brown color, add shallots and stir for 1 minute. Add the sherry vinegar, thyme, salt and pepper. Remove from heat, carefully place in blender. Blend on high for 1 minute; slowly drizzle in olive oil to create an emulsion.
Toss salad well with the brown butter vinaigrette, salt and pepper to taste, serve immediately.
Savory Sourdough and Butternut Squash Dressing
This is a savory dressing that can be a great side dish for holiday meals and is also great served with brunch. It is rich and has a nutty flavor that stays moist like bread pudding. It can be prepared up to 2 days in advance, cover and refrigerate. Reheat, covered in a 350-degree oven for 50 minutes.
2 tablespoons butter
1 shallot, finely chopped
3 cups chicken stock, divided
½ cup uncooked wild rice, rinsed
1-pound butternut squash, peeled, seeded, and cut into ½ inch cubes
1 tablespoon fresh thyme, finely chopped
¾ cup chopped onion, about ½ large onion
2 stalks celery, finely chopped
1 ½ cups half and half
6 eggs
1 ½ teaspoons kosher salt
1 tablespoon fresh sage, finely chopped
6 cups dried sourdough bread cubes
½ cup sliced almonds
¾ cup dried cranberries
Preheat oven to 300 degrees and cut sourdough bread into ½ inch cubes stacking a few pieces and using a serrated knife. Arrange the cubes in a single layer on a baking pan. Bake the cubes for 10 minutes, stirring once, set aside to cool.
In a Dutch oven or heavy bottomed pan melt butter over medium heat. Add shallots, cook 2 minutes, stirring occasionally. Add 2 cups chicken broth, rice, and kosher salt. Bring to a boil, reduce heat, simmer covered for 45 minutes. Add squash and thyme stirring occasionally, cooking 2 minutes. Add onion and celery and cook for 10 to 15 more minutes until butternut squash is tender, stirring occasionally. Remove from heat and set aside.
Preheat oven to 350 degrees. In a bowl whisk together half and half, eggs, and remaining cup chicken stock. Stir in bread cubes, sage, cranberries, and almonds. Next stir in butternut squash mixture just to combine. Transfer to a greased 3-quart casserole dish. Bake covered for 10 minutes. Uncover; bake for 30 more minutes or until golden. Serves 8
Good Food Hour December 15th, 2018
Good Food Hour