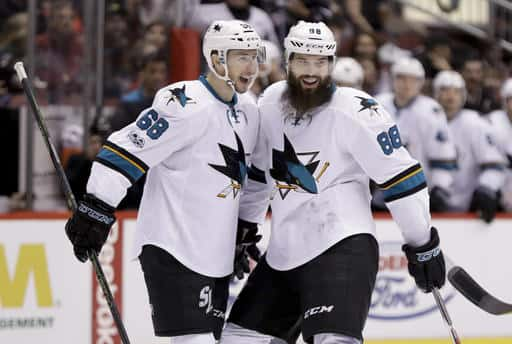 San Jose Sharks defenseman Brent Burns, right, celebrates with center Melker Karlsson after scoring against the Arizona Coyotes during the first period of an NHL hockey game in Glendale, Ariz., Saturday, Feb. 18, 2017. (AP Photo/Chris Carlson)
Karlsson nets overtime winner to give San Jose 1-0 lead in playoff series
By Mike DeWald| April 12th
"We're here now and that's all the matters" Sharks Head Coach Peter DeBoer's words following his team's 3-2 victory in Edmonton rang true.  It wasn't the start the Sharks were looking for against the skilled upstart Edmonton Oilers, a franchise that hadn't seen the playoffs in over a decade.  The Sharks entered the series Monday under a cloud of uncertainty, with injuries to top players Joe Thornton and Logan Couture as well as a string of lackluster performances to close out the regular season.  San Jose got good news with the return of Logan Couture to the line-up, while veteran Joe Thornton sat.
San Jose got off to a quick start, controlling much of the play for the first five minutes of the game, before Edmonton pushed back and dominated the rest of the first.  Edmonton took a 2-0 lead into the first intermission on goals from Oscar Klefbom and Milan Lucic, both of which goalie Martin Jones probably wanted back.  The Oilers out-ran, out-hit, out-gunned, and basically out-everything'd the Sharks through the first period as Sharks fans immediately thought back to last year's Stanley Cup Final against the Penguins and started preparing for another playoff disappointment.
The Sharks made the right adjustments, took back control in the 2nd and never looked back.  The Sharks depth players carried the day, as Thomas Hertl, Timo Meier, Melker Karlsson, and Chris Tierney all pressured the Oilers into mistakes, while the defensive core limited 20-year-old phenom Connor McDavid to few chances.  Joel Ward converted on the Sharks lone Power Play goal (1/6) and Paul Martin netted the equalizer after a herculean forecheck from Thomas Hertl at 5:22 of the 3rd period.  The Sharks dominated the shot clock 44-19, but still went into the extra frame tied at 2.
The Sharks didn't waste time in overtime, with a wide open Melker Karlsson catching a cross ice pass from Captain Joe Pavelski to bury the winner and silence the raucous "Orange Crush" in Edmonton, leaving a stunned arena of fans sure that their heavily favored team would dominate a depleted Sharks roster.  The win was even more surprising as the Sharks finished the season 1-22-1 when trailing after 2 periods.
The road doesn't get any easier for the Sharks, but the Game 1 victory guarantees at least an away split before returning home to SAP Center on Sunday night.  The series continues in Edmonton Friday night at 7:30 for Game 2.