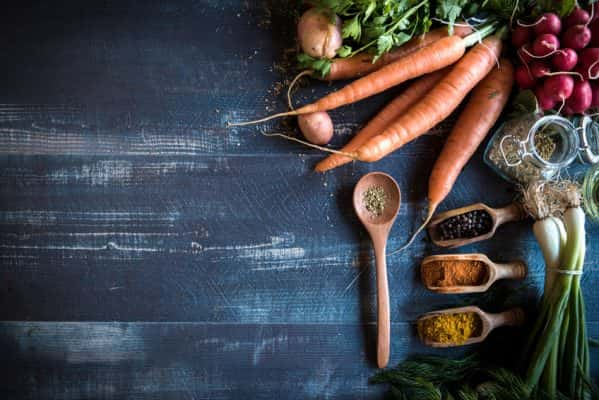 Cooking concept with vegetables and copy space in the middle on wooden background
GRILLED QUAIL WITH PICKLED FIGS AND PROSCUITTO
Serves 4
If you make the figs ahead, refrigerate them in their poaching liquid and return them to room temperature before serving. You get a bonus with this recipe: The leftover fig-poaching syrup is delicious on grilled meats or even ice cream.  Be sure to strain it before using. The figs are served at room temperature, but the quail should be hot, right off the grill.
8 partially boned quail
2 tablespoons olive oil
Kosher or sea salt and freshly ground black pepper
Pickled Figs (recipe follows)
12 thin slices prosciutto
Prepare a charcoal fire or preheat the broiler. Brush the quail with the oil and season with salt and pepper. Grill the quail, breast side down, 3 to 4 minutes. Turn and continue cooking until nicely browned, 4 minutes or so. Alternately place the quail skin side up on a baking sheet and under a hot broiler, broil until crisp on the outside, 4 minutes or so. Turn and continue broiling for another 3 minutes or until done. The quail should be slightly pink and juicy inside. Be careful not to overcook.
Meanwhile wrap each pickled fig with a slice of prosciutto.  Grill or broil for 3 minutes or until the prosciutto is lightly browned. Serve alongside the quail with a little drizzle of strained fig cooking liquid.
Pickled Figs
1 cup sugar
1-1/2 cups red wine vinegar
1/2 cup balsamic vinegar
1 3-inch cinnamon stick
6 cardamom pods, slightly crushed
2 star anise pods
6 quarter size coins of fresh ginger
4 slices lemon, seeds removed
6 whole black peppercorns
12 fresh firm ripe figs such as Black Mission
In a medium nonreactive pot, place the sugar, vinegars, cinnamon, cardamom, star anise, ginger, lemon, and peppercorns. Simmer uncovered for 10 minutes. Add the figs, cover, and continue simmering for 3 minutes. Remove from the heat and let the figs cool in the syrup. Figs can be prepared to this point and stored in their syrup in the refrigerator for up to 2 weeks.  Using a slotted spoon, carefully remove the figs, reserving the poaching syrup for another use.
John Ash ©  8/2/94
Rev 2/06