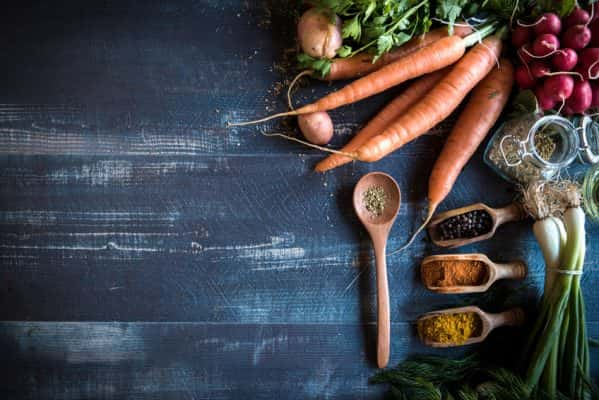 Cooking concept with vegetables and copy space in the middle on wooden background
SMALL BIRDS SARDINIAN STYLE
Serves 6
This is a very old and traditional recipe from Sardinia which is similar to many preparations done around the Mediterranean. You can use partridge, quail, squab, dove or any other small bird.
3 large quail, partridge, dove or other meaty little bird
1 small onion, sliced
2 medium carrots, chopped
1 large stalk celery, sliced
6 anchovy fillets
2 large bay leaves
2 cups dry white wine
Chicken stock
1 cup extra virgin olive oil
1/4 cup white wine vinegar
3 tablespoons finely chopped parsley
2 tablespoons chopped drained capers
Salt and freshly ground black pepper
Rinse the birds and place in a pan just large enough to hold them in a single layer.  Strew the onions, carrots, celery, anchovies and bay leaves in the bottom of a sauce pan just large enough to hold the birds in a single layer and add the wine and enough stock to cover.  Bring to a simmer and then cover the pan and cook gently for 45 minutes or until birds are very tender.
Make the sauce by whisking the olive oil, vinegar, parsley and capers together and seasoning to your taste with salt and pepper.  Remove birds from the pan, cut them in half lengthwise and arrange them in a serving dish. Pour the sauce over them and allow to cool before serving.
Strain and save the stewing liquid for other uses.